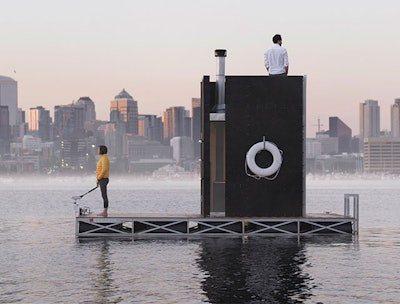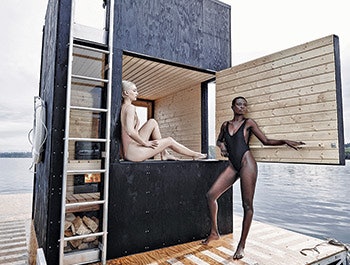 There are few things in life that are not improved by sailing. Eating, drinking, sleeping, reading, fishing, playing chess and thinking are just a few of the millions of activities that are enhanced simply by sitting onboard some type of watercraft. You can now add "taking a sauna" to the list, as goCstudio, an architecture and design firm, has opened a waterborne sauna on Lake Union in Seattle called WA Sauna.
The sauna is a registered vessel, powered by an electric trolling motor and heated by a wood burning stove. The deck features moorings where heat-seeking friends can tie up.
Trolling along the placid waters of metropolitan Seattle, the craft allows users to find peace and quiet in the warmth of the sauna, the views of Seattle drifting by, the sounds of a crackling fire and of course, the gentle swish and glide of the water below.
WA Sauna is the latest in the buoyant architecture trend; that is, buildings built on water rather than land.
"The idea for the floating sauna was born on a cold and wet winter's day in January 2014," goCstudio told the publication De Zeen. "Combining our love of the water, the relaxing dry heat of saunas, and floating structures, the project began to take shape."
WA Sauna is the result of a Kickstarter campaign begun in October 2014, which raised $25,000 to build the craft. The vessel launched in October 2015. It stands 14 feet high, weighs approximately 4,500 pounds, and totals 240 square feet. It can hold up to six users at one time. More than two dozen 208-litre plastic drums keep the vessel afloat.
Perhaps the best part of the whole scheme is the natural cold-water plunge pool that surrounds the sauna on all sides. After heating up in the sauna, you need only open the sauna door and leap!