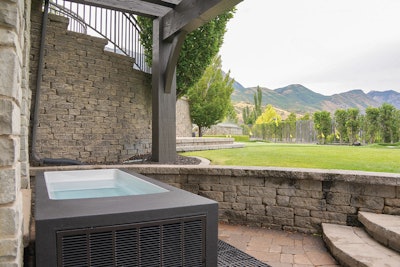 Photo courtesy King Kool Plunge
When Jono James was born with Cystic Fibrosis, he was given less than 10 years to live. But looking at James today, it's hard to tell he has a serious disease. James credits his discovery of the Wim Hof Method, which combines breathing and cold water therapy, for his remarkable recovery. The Method involves exposing oneself to ice-cold water for progressively longer amounts of time. Although the first experience is a shock, with practice, most are able to extend the duration of the submersion period. "An ice bath, as it's called, in combination with the sauna, has dramatically improved my health," says James. "I'm as healthy as a normal person now."
Driven by his own personal health revelation, James founded his own company, Odin Ice Bath, amid rapid market expansion for the category in general. As awareness of the phenomenon of ice bath immersion grows, companies are looking to move the product forward to distance it from makeshift bath vessels — from coolers to freezers to stock tanks — that do-it-yourselfers have popularized on social channels. Instead, inspired by their own health journeys, they are helping to mature the market with standardized products.
"The ice bath market is maturing and a lot of people are looking for a legitimate product, a bit more attractive, something that is an actual bespoke, proper ice bath from a manufacturer who does that, not something that they've converted themselves," says James. That movement is creating opportunities for retailers, ever on the lookout for new products to sell.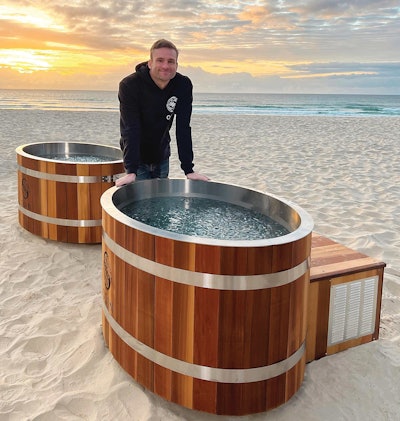 Rapid Growth and Benefits
When it comes to hydrotherapy, the hot tub industry still dominates the global market. But a new report by Grand View Research, an India- and U.S.- based market research and consulting firm, has indicated a significant growth in the world of ice baths.
According to the report, the ice bath market was valued at $298.1 million in 2021 and is expected to grow at 4.1% per year until 2030, reaching a value of $426.8 million in revenue by 2030. The hot tub market, in comparison, is estimated to be worth $1.7 billion and is expected to grow at 1.3% per year from now until 2028, reaching a value of $1.8 billion by 2028.
So while the two markets are disproportionate, the gap between the ice bath industry and hot tub industry (currently six times the size), is predicted to shrink. "These products, including the sauna, have a place next to each other in the wellness industry," says Quince Hewlett, co-founder of manufacturer King Kool Plunge. "I think the hot/cold therapy combination has many perks. Studies show that the hot and cold, when paired together, help you to achieve these peak benefits. I don't think, in my opinion, you can have one without the other."
"They kind of work via the same mechanism. The body makes heat shock proteins in response to changes in temperature," adds James. "If you add the two together, the hot and the cold, it's the most beneficial." (James himself uses the sauna and the ice-bath in succession.)
So what are the health benefits of the ice bath? To start, submersion in cold water helps to ease sore and aching muscles. "I have bad joints," says Koy Hewlett, also of King Kool Plunge. "I have torn labrums in my shoulders, a torn meniscus in my left knee. To be able to sit in an ice bath and let it work my muscles and deep tissues has made a huge difference. My muscles recover quicker, and I have less soreness. I feel I don't need to take Tylenol or Advil. The cold water is a replacement for that — I'd rather avoid pain medicine, and hop in the ice bath."
Cold water therapy can also improve your central nervous system, which improves sleep, resulting in less fatigue. "I always have a boost of energy when I get out," says Koy, "and I'm ready to roll again."
"A decrease in temperature after exercise can also help your inflammatory response," says James. "Inflammation, that's what most illnesses and injuries have in common, so that benefit is very wide-ranging, its effects on the human body."
"Koy and I recently met a man, and both him and his family were allergic to anti-inflammatories," adds Quince. "In his case, he is not able to treat his inflammation and discomfort with medicine, so cold water therapy is a great alternative where people can find relief naturally."
Moving into mental health, the use of ice baths can have a large, positive effect on a person's psyche. Not only can it help to alleviate depression and anxiety, cold water therapy can improve one's mood and reduce stress. "It makes you more resilient to the stresses in life," says James, "because if you are purposely sitting in a freezing cold bath, you are choosing to face adversity. You're controlling your reaction to the cold. And so, I find that when things happen to you in life that are out of your control, you are far more equipped to deal with it."
At what point in their immersion period do users start to see these benefits?
"Right around the two to eight-minute mark," says Quince. "When I first jumped into the ice bath, I lasted maybe 30 seconds. I mean, as a beginner, as soon as you get in, you immediately want out, right? But you really start to see the health benefits as you increase your time."
Pushing Forward
Many of the ice baths consumers have seen are done by do-it-yourselfers, which gives people a preconceived notion that the product can be troublesome — that it needs to be refilled before every plunge, and it melts quickly, among other inconveniences. It pushes potential users away from the would-be beneficial exercise.
Companies are working hard to bring credibility to the category by providing products that control temperature, make water long-lasting and sanitary, and offer a more comfortable soak.
"We decided, look, there are several things that we can do better with the cold plunge," says Finn Brian of King Kool Plunge. "There are several changes that need to be made, so it's not as DIY-looking — to make it more professional, to really eliminate steps from the customer so that it can be more enjoyable and easier to do instead of going and buying $50 worth of ice every day you want to take an ice bath."
"The ice bath is still an immature market," adds James. "At the end of the day, there aren't many products out there, so people are forced to make their own. They go out and buy a chest freezer not designed to hold an ice bath. So it leaks, and you end up throwing the whole thing out. And on top of that, you have electrical safety issues, durability issues, no pump, filter, etc."
James' ice bath essentially copies the traditional cedar hot tubs, but has a stainless steel lining on the inside to make it more durable and better looking aesthetically. "We've designed our ice bath to be very easy to use, low maintenance. You literally just fill it up, plug it in, and it maintains its temperature. The ozone generator makes sure the water is nice and clean. People seem to really like it."
And both companies agree the product has a place within the pool and spa market. "We are really starting to see an influx of traffic from pool and spa retail shops," says Finn, "as well as the personal homeowner looking for a new product for their backyard. We also want it to be used as a wellness product, right next to the hot tub, in athletic facilities and gyms."
It's on the right track: Grand View Research reports that as consumer awareness grows, fitness facilities — as well as hospitals and physical therapy offices — are providing specialized hydrotherapy treatments, like the cold water plunge, to address a range of medical issues. This is expected to drive the commercial applications of the market in coming years.
Residential applications will also grow. The report says, "The pandemic has raised global awareness about health and mental wellness, creating a need for recreational activities and the importance of living a healthy lifestyle. This, in turn, is expected to increase consumer demand and interest in health and well-being equipment, including cold water plunge tubs."
This article first appeared in the November 2022 issue of AQUA Magazine — the top resource for retailers, builders and service pros in the pool and spa industry. Subscriptions to the print magazine are free to all industry professionals. Click here to subscribe.