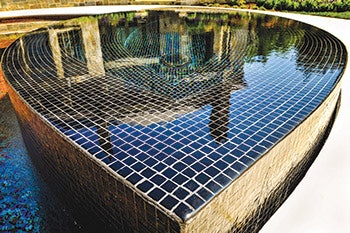 It's an aging paradigm that needs to be retired or at least updated — spas/hot tubs are not simply either "gunite" or "portable." There exists a broad swath of the hot water industry somewhere between those two more familiar extremes. It's a wide niche where some companies find creative and unique ways to customize the hot water experience.
Welcome to what many loosely refer to as "custom spa installations," a dynamic facet of the spa business that combines both the advantages of custom design with manufactured convenience. Although a realm of vast variety in terms of style, features, materials and benefits, there are certain universal imperatives including design flexibility, sensitivity to the setting and a willingness to step into the unknown.
Ultimately, the key to success in all modalities comes down to developing ways to give clients, both commercial and residential, something special no one else has.
RELATED: Closing the Comfort Gap in Custom Spas
SMOOTH AS DIAMONDS
Shannon Knaub is an industry veteran who works in spa sales and design for Diamond Spas in Frederick, Colo. The company focuses on designing, manufacturing and delivering purely custom-designed hot tubs for equally refined residential settings. All are made of either stainless steel or copper.
It's an exciting business, he says, one that brings him in contact with a spectrum of elite designers and ultra-high-end homeowners.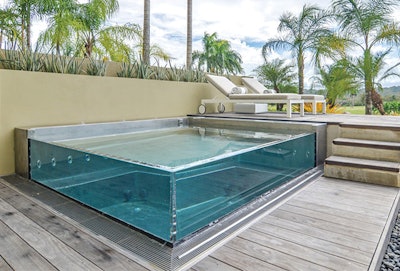 "We're 100 percent custom. Everything is project-by-project and we deal with about the top five percent of the market — landscape architects, landscape designers and general contractors all over the country and all over the world. We design and build each spa and then we ship the spa to the project where somebody receives it and places it."
Ironically, in some respects the company's spas are similar to far more common and less expensive portable spas. "It's not just the shell," he says. "Everything is done in house, pre-plumbed and pre-wired and completely self-contained with frame-mounted equipment. Yes, in that respect they're similar to portable spas — except every one is custom."
Working the purely one-off mode for a discerning residential clientele means being open-minded and highly adaptable to the situation at hand. It also requires understanding the language and process of topflight design professionals.
"We do get to work with some of the best designers in the country," he says. "They will get in touch and share their concepts, which might be very specific or more general. Other times it starts with the client who might show us a picture they've seen and say this is what we want. You have to be flexible."
That flexibility remains crucial as the process transitions to the installation phase. "Our shop drawings are extremely detailed and there's often an education process we go through. We don't want it to take the world's greatest expert to install one of our spas. We've done the hard work so you don't have to."
As mentioned above, all of Diamond Spas' vessels are made with stainless steel or copper, materials that distinguish a spa but also raise its price far above its composite or fiberglass counterparts. Although these alloys offer a range of benefits, such as weight, durability and ease of maintenance, it's the rich, gleaming appearance that inspires most buyers.
"It's beautiful," Knaub says. "It has a very clean look with clean lines. Still, one of the biggest advantages in my mind is the life of the material. There's no re-plastering, no resurfacing of any kind, but the looks are still the thing I hear about the most."
Such custom work also requires keeping up with design trends and learning how to work with materials and features that come into vogue. For example, Knaub has seen a surge of interest in acrylic panels.
"We have a process where we can install acrylic walls or floors into our vessels and we ship it ready to install. That's not typically the way that it's done with acrylic, but that's something that does set us apart.
"We've also had an influx of stand-up cold plunges where someone stands up in a cold immersion well," he adds. "There are health benefits associated with that and it's dramatically increased in popularity. So we're also custom in the depth of our vessels as well."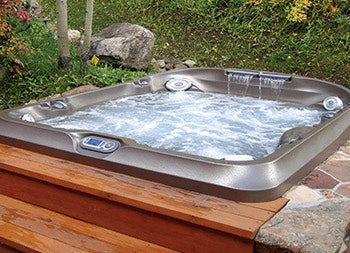 FINE SETTINGS
Juliet Phelps, a.k.a. "Jacuzzi Julie" has gained a strong reputation with her and her husband's firm, Ajax Pool & Spa (Basalt, Colo.), for creating unique installations using mostly off-the-shelf portable spas.
Phelps has taught seminars on the subject and won several design awards for her custom spa installations. She explains that with custom installations that feature portable spas, the primary goal is move past the "box look" by either completely or partially lowering the unit below grade or in a deck or patio of some kind. Doing so, she says, can be relatively simple or extremely complex, but even the most basic alterations to the space require thinking as a custom designer.
Beyond embedding the spa into the perfect setting, a key aspect of Ajax's custom spa work is creating access for future repairs and maintenance — and thinking ahead to the time when the spa itself will ultimately be replaced.
"I look at hot tubs as washing machines that exist outside," she says. "They have to exist in the elements and withstand those conditions. They might last 10, 12 or 15 years, but at some point, they'll need to be replaced. So we try to always install them in these customized environments so that you can easily take it out and put a new one in. After all, no one wants to build a new laundry room every time they replace their washer or dryer."
Unlike some other spa dealers who install manufactured spas in unique settings, Phelps reports that she keeps the skirts in place on the tubs she installs, even though they're often completely out of sight. "The reason we keep the cabinet on is to provide a barrier to bugs and rodents and to help protect it from moisture," she explains.
Phelps also installs a small number of custom stainless steel spas for her wealthy clients, but the company's main focus remains on using portable spas in creative ways. "Every project is different, every setting is different and we're always trying to do build it into the outdoor setting," she says. "I like to say we want the spa to look like it was born with the house."
ALL-TILE GEMS
Jim Milligan has owned Nespa Tiled Spas since the early '90s. As the name implies, the Oroville, Calif.-based company manufactures spas with all tile surfaces — and each one is different. The company places a seemingly infinite variety of tile types over acrylic spa shell substrates.
"I'm very proud of the fact that no one else does what we do," Milligan says. "It's very labor intensive and requires a lot of different skills. You have to be very patient and experienced because you have to process all the aspects of every project, whether it's code issues, design criteria, who's driving the project — the architect, homeowner or both — the site conditions, the contractor or installer and whether or not they're capable of executing the installation. You also have to consider how the spa will be serviced later — will it be safe? You have to multitask mentally throughout the design process."
As is true of the other professionals interviewed for this discussion, Milligan is in constant contact with design professionals who are often working for affluent homeowners or commercial clients. Again, although very different in the means of customization, one of the keys to Nespa's success is its flexibility and ability to respond to different situations.
"You first have to consider the intent: What do they really want?" he says. "That's the basis. Then you consider what you can actually deliver given the construction and technical constraints. Often people do want more than what is practical or even possible. You have to balance what they'll really like with what you can deliver and always be respectful of the dynamics of the project and be realistic. There are times you have to put your foot down and clarify the limitations and practicalities."
RELATED: Photo Gallery: Custom Spa Combos
To say that Milligan is enthusiastic about his design material would be an understatement. As is true of other tile enthusiasts, he sees an almost profound creative flexibility in tile and its grand artistic pedigree.
"Tile is the most enduring and highest quality finish there is, and it's been that way throughout history," he says. "There's nothing like it. It gives us an endless range of choices but some challenges, too. Maybe the client wants it to match or complement the environment so we have to determine the best tile that will do that in terms of quality, size and color palette. It's fun, but it's also a challenge because there are so many products and quality does vary."
Aesthetics are crucial in the success of a tile finish, he says, but so too are the characteristics of the different types of tile when it comes to enduring environmental stresses.
"When someone approaches us and says they want an all-tile spa, the first thing I want to know is where is the project located," he says. "We do a lot of projects in cold climates such as Jackson Hole, Wyoming or Telluride, Colorado, and other places that are colder with very high-end homes. In that kind of situation we'll recommend a porcelain tile because it's a very high-density material with extremely low moisture absorption, so it's more durable."
By the same token, he explains, there are climes where the style, color and texture are a bigger concern. In wealthy coastal areas, for example, Nespa often furnishes shimmering glass tile finishes and mosaics to tie in with ultra-upscale architecture and take advantage of light and reflections.
"In a lot of beach cities land is extremely valuable, and homeowners want to make the most out of every square inch of space. In those situations, they'll often want something very classy, elegant or formal. Glass tile can be the perfect choice in those situations.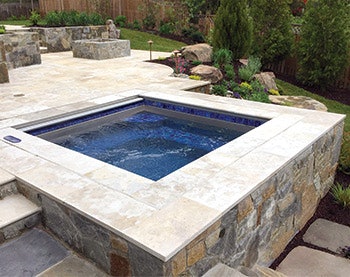 ENDURING VALUE
Bradford Products, located in Leland, N.C., is considered a pioneer in manufacturing stainless steel vessels for pools and spas. Although the company works across a wide spectrum of applications, its "bread and butter" remains in commercial pools and spas.
The company designs and builds purely customized shells and maintains a line of off-the-shelf options as well. Working in the custom spa installation market, the company has become accustomed to idiosyncrasies of design professionals and the rigors of commercial projects.
"Much of our work initially comes to us through the architectural and design community," says Bradford's Development Manager Paul Greenman. "We'll get anything from something drawn on a cocktail napkin to a whole set of shop drawings that just show a square or circle with a line on it that reads 'pool here' or 'spa here.' So, there are different ways we approach it depending on the situation."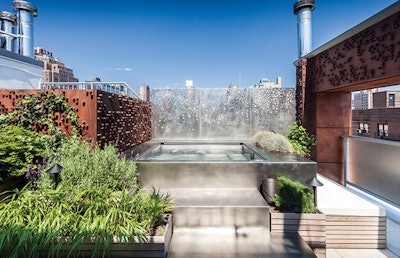 One of the reasons the company has developed such a strong focus on commercial work is due to the physical nature of stainless steel itself. With its characteristic durability, flexibility and light weight (about a third compared to concrete shells) the material is well suited for installations off the ground or on upper floors of a building, most of which tend to be commercial.
"Many of our projects are located in elevated spaces," Greenman says. "It might be on a terrace in a high-end residence, or on a rooftop in a high-rise condominium or in an exclusive resort. Often those are the situations where stainless steel comes into play as a viable option."
In terms of custom spa installations, many of those projects lead to a niche that both commercial and residential.
"There are the projects I call 'resi-mercial'. That might be a high-rise condo development in Miami with 50 stories and spa in every unit," Greenman explains. "In that situation, we're working with a commercial client but it ultimately results in residential spas, so it's a mix of both."
As discussed above, one of the defining principles in the custom spa installation world is the ability to adapt. Because stainless steel is so versatile, Bradford has been able to stay current with shifting design trends and in some cases push the technical envelope. For example, the company developed a proprietary method for mounting tile on stainless steel. (It offers all-tile surfaces, partial or "trim" tile surfaces and a non-directional buff finish.) And it's kept pace with an wide array of popular features such as LED lights, vanishing edges, laminar jets to name a few.
"Right now we're seeing a huge demand for acrylic windows," Greenman says. "In fact, we've done more projects with acrylic panels in the last two years than we have before in the entire history of the company. So, we have to be up to speed on how to work with acrylic to meet that growing demand, but that's just the latest example. We have to be extremely open-minded about working with new ideas."