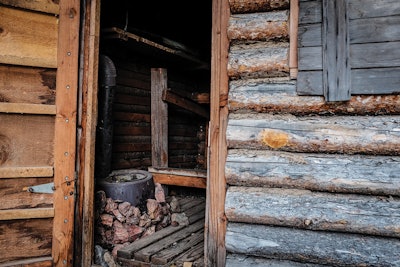 Over the years, the pages of AQUA have seen many gorgeous, traditional saunas. And some, not so traditional. Here, we look back at some of the unusual saunas from the archives.
---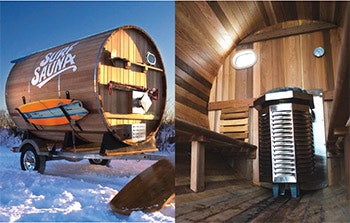 The Surf Sauna
The Surf Sauna is intended to serve as a retreat for winter surfing enthusiasts​, ​but its mobility ​makes it an ideal match for any winter activity.
Each sauna is crafted from Western Red Cedar, a favorite among sauna manufacturers due to its natural resistance to rot, mold and decay. Each sauna is built to customer specifications and seats two to eight people. All you have to do is hang your board on one of the included surf racks and duck inside for the perfect escape.
---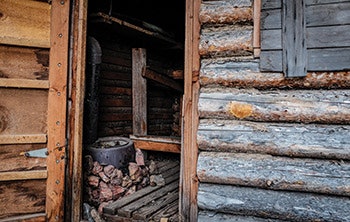 The Battle Sauna
An army cannot go to war without rifles and ammunition, tanks and artillery. If it's the Estonian army, it will need its saunas, too.
On the Baltic country's list of essential equipment for martial operations, the sauna is found amazingly close to the top. That's because Estonian soldiers are sensible and realize that regular use of a sauna is not a luxury, but in fact a necessity of life, both in peacetime and in war.
One might think the practice would vary considerably depending on whether one was stationed near the Russian border in winter or in the deserts of Afghanistan, but one would be wrong. The Estonian army takes its saunas regardless of latitude.
It's almost better in the hot desert, as Sgt. Kalle Huudma told the Wall Street Journal. "After a sauna, Afghanistan doesn't feel so warm."
---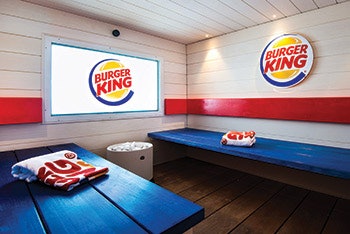 The Whopper Sauna
Burger King's famous slogan is, "Have it your way." And if "your way" means eating a Whopper while enjoying a sauna, well, you can have it that way, too.
That's because a new Burger King in Finland — long considered the champion of sauna culture, with one sauna for every three people — offers a comprehensive spa experience with two saunas, one that seats 15 and another that seats 10, along with showers and dressing rooms. (The latter also includes a 48-inch TV for good measure.)
During their stay at the restaurant/spa hybrid guests can lounge in Burger King-branded towels while servers arrive to take orders. When things get a bit too steamy, guests can cool off with a shower or enjoy the tricked-out media lounge, which features a 55-inch TV and Playstation.
Spa-goers can sign up in advance online. Unfortunately, at 250 euros for three hours (or about $282), it's quite a bit pricier than a good old cheeseburger and fries.
---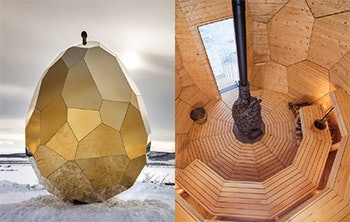 The Golden Egg Sauna
Recently, Swedish architectural firm Bigert & Bergstrom unveiled the "Solar Egg," a gold-plated 16-foot-tall wood-and-steel sauna designed for up to eight people. The wood-burning sauna was part of a community redevelopment project led by Swedish developer Riksbyggen in the nation's northernmost city of Kiruna. Equal parts sauna and environmental artwork, the Solar Egg's exterior — made from a special stainless gold-mirror alloy — reflects the surrounding environment while making a distinct visual statement in the Nordic landscape.
Inside, the sauna features a cast-iron sauna stove and a beautifully crafted wooden interior made of pine with cedar benches. When not in use, the sauna can be broken down into 69 sections and transported to different locations.
---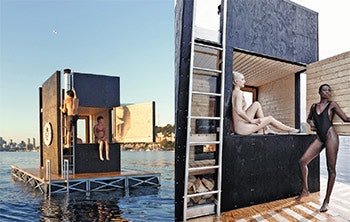 The Floating Sauna
There are few things in life that are not improved by floating on a lake. Eating, drinking, sleeping, reading, fishing, playing chess and thinking are just a few of the millions of activities that are enhanced simply by sitting onboard some type of watercraft. You can now add "taking a sauna" to the list, as goCstudio, an architecture and design firm, has opened a waterborne sauna on Lake Union in Seattle called WA Sauna.
The sauna is a registered vessel, powered by an electric trolling motor and heated by a wood burning stove. The deck features moorings where heat-seeking friends can tie up.
Perhaps the best part of the whole scheme is the natural cold-water plunge pool that surrounds the sauna on all sides. After heating up in the sauna, you need only open the sauna door and leap!