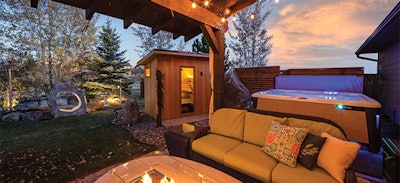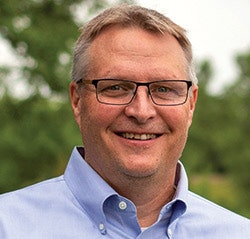 Interest in saunas has been on the rise well before the global pandemic hit – thanks to well-documented health benefits. But when consumers were forced to shelter at home this past year, the product's combined leisure and wellness solutions caused a large increase in demand. We spoke with Mark Raisanen, national sales director at Finnleo, about what the sauna market currently looks like, and prospects for the future.
AQUA: What have you seen this year so far in the sauna market?
Mark Raisanen: With consumers recognizing saunas as a home amenity for living a healthier lifestyle, combined with more enjoyable family living, we have seen a strong surge in both indoor and outdoor sauna sales growth. Rather than depending on the gym's sauna, homeowners are choosing to add a sauna to their home for a wellness solution they can enjoy daily. With the boom of backyard living, outdoor saunas are more popular than ever. The outdoor saunas are incorporated into backyard wellness areas, an integral part of the pool/hot tub/outdoor living areas — providing homeowners with a beautiful place for entertainment, personal and family healthy living, and much needed rest and relaxation.
AQ: How did COVID affect the sauna customer?
MR: Saunas have long been known as a wellness product. The strong growth in past years was accelerated during the pandemic. More than ever, people are spending more time at home. With the COVID pandemic, health and wellness solutions for the home quickly became a major trend — including sauna. People are looking for ways to take care of their personal health and wellbeing in everyday life. COVID made people realize self-care was very important. With social in-person interactions decreased, and just the stress alone of a pandemic, people turned to their saunas for stress relief and quality family time; they could step into their sauna, close the door on the rest of the world and simply relax.
RELATED: Saunas: The Sensory Experience
AQ: As the sauna is a health and wellness product, and we are in a health crisis (COVID and aftermath), do you see customers more interested in the health benefits of saunas in the post-COVID world?
MR: Yes, very much so. Ever since the release five years ago of the 20-year sauna study completed by Dr. Laukkanen (University of Eastern Finland), the health benefits of regular sauna bathing have become more widely known and recognized by reputable health organizations worldwide (e.g. Mayo Clinic, Harvard Health, etc.). We see interest in the health benefits of saunas increasing since the onset of the COVID pandemic; homeowners have a more 'healthy mindset' than pre-pandemic.
AQ: How is the commercial side of things looking?
MR: There was a downturn in the commercial sauna business during the first year or so of the pandemic — with many health clubs putting on hold or canceling their sauna and steam room projects. In more recent months, many of the on-hold projects are proceeding, and the commercial business is coming back nicely.
AQ: Do you predict high demand will continue?
MR: Yes, we do — for several reasons. Sauna has become more mainstream. The health benefits of regular sauna bathing are much more understood and appreciated. We believe many people have permanently changed the way they live their lives — ways that will remain post-pandemic. People will continue to put more focus on quality family life and will focus on living healthier lives. Sauna will continue to gain in popularity as it is integrated into their own home wellness oasis — enjoyed along with their hot tubs and pools.
---
This article first appeared in the September 2021 issue of AQUA Magazine — the top resource for retailers, builders and service pros in the pool and spa industry. Subscriptions to the print magazine are free to all industry professionals. Click here to subscribe.
---