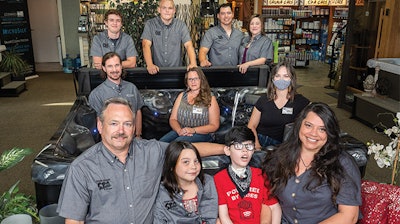 Husband and wife Jeff and Susan O'Con first stood in the Cedar Works showroom as customers, not knowing that about 10 years later, they would stand in the same spot as proud owners.
On that day in 1994, while looking to purchase a hot tub, they were greeted by Steve Spangler, who founded Cedar Works Spa and Hot Tub Company — as it was called back then — in 1977 in Eugene, Ore., a city well-known as a health and wellness hub.
Steve was also a customer of Jeff's, who for 16 years worked in the door and glass industry at Mid-Valley Glass & Millwork, also located in Eugene. Steve, on top of owning Cedar Works, owned a number of rental houses so, naturally, the two became good acquaintances over the years as they visited each other's businesses.
One day, they were having a conversation about Steve's retirement when an interesting idea was proposed. "Steve said to me, 'I really think you can handle my spa business,'" recalls Jeff. "And well, that's how Susan and I came to purchase Cedar Works in 2004."
Together, Jeff and Susan make the perfect team: Jeff, with his strength on the technical and mechanical side of the business, and Susan, with her strength in merchandising and finance. Now called Cedar Works Spa & Sauna, the company has established itself as a top-tier spa retailer, gaining attention from peers and manufacturers alike as one of the best in the industry.
AQUA spoke with Jeff and Susan to discuss the ins and outs of Cedar Works, from successful showroom design, company culture, pandemic conditions and more.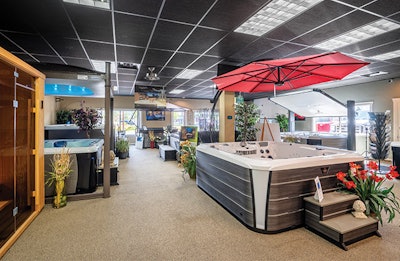 IN THE SHOWROOM
Cedar Works Spa & Sauna is home to a 2,500 sq. ft. showroom, with an additional 1,500 sq. ft. of shop area. When designing the space, Susan wanted to create a boutique-like feel — a multi-sensory experience for customers.
"When we first bought Cedar Works, it had white walls with posters, which is pretty typical of old-school hot tub companies," says Susan. "We ended up doing a massive remodel. From the black ceilings to the old world, acid-stained floor in the sauna showroom, everything is meticulously chosen with careful consideration that it is a smaller space."
Each hot tub display — the company partners with Marquis, which Jeff credits as "the cream of the crop" in hot tubs — is its own vignette staged with accessories, from plants to towels to candles, that enhance the product. Pops of red flowers, for example, might compliment a red umbrella hanging over a hot tub [see photo above].
RELATED: Spa Dealer Profile: Tropical Bullfrog Spas
"I also take into account the personality of each hot tub, if it's very classic, sophisticated, modern or edgy. And much like decorating a home, the accessories are shaped around that focal point," says Susan. "We continue to make changes until it feels right, because the flow from each spa to the next is very important."
The Finnleo sauna showroom has also been staged with every small detail in mind, from posters that list the well-established health benefits of sauna to wellness accessories. Calm music also plays overhead that places customers in "relaxation mode."
"Something that is also very important to me is smell," says Susan. "I would never want anyone to walk in the showroom and smell chemicals. When customers walk towards our chemical area, they are first met with spa scents, natural soaps — stuff that smells incredible. There is a fan there for air flow, as well."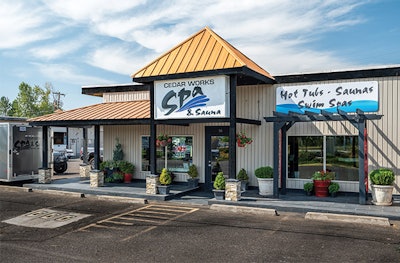 STAFF AND CUSTOMERS
Family-owned and operated, Cedar Works currently has nine employees on its payroll. While most employees are family — the O'Con's son is the head technician, for example — those that aren't have been around a long time. Part of that comes down to hiring strategy: "It's very rare that we hire someone we haven't known for awhile," says Susan. But a company culture, one where employees are people first and workers second, has also helped to develop long-standing relationships between staff.
That family mentality is carried over into customer-employee relationships. "The business has been here for so long," says Susan, "that we genuinely know our community."
The Eugene community values an active lifestyle, so wellness products like hot tubs and saunas are in high demand. Something Cedar Works has put a lot of thought into is the development of the "Eugene feel."
"The Eugene community has a real awareness for the importance of health and wellness," says Susan. "Everywhere you look, people are kayaking in the rivers or they're hiking in the mountains. There are organic farms all over the place. Cedar Works is in tune with the community and environment around us. Every customer that walks through our doors, first and foremost, feels comfortable and at peace. We do not pressure sell them. And second, our staff works with them to find the right product that will create a place of healing in their home."
With Eugene at the forefront of healthy living, it's important that Cedar Works stays up-to-date on industry trends and education. Marquis offers a series of hot tubs with MicroSilk Oxygen Baths, for example, a growing trend and customization that stimulates the immune system and enhances recovery from physical exhaustion, improves serotonin levels, hydrates skin and more.
"We put signs on every spa that offers MicroSilk," says Jeff. "We started with 1 to 2% of customers adding that customization, and now it has grown to nearly 10%.
"We also keep up with sauna trends through Finnleo, who once a year offers a pretty intense two- to three-day training camp in Minnesota with a focus on new employees and helping them to develop a deeper understanding of the product. We go to that camp every single year — for about the past 10 years or so — and take some new and old employees. Most of our staff, anybody that is going to be selling saunas, has been to that camp."
A lot of education also happens in house, from visiting manufacturing reps to hands-on experience with seasoned professionals.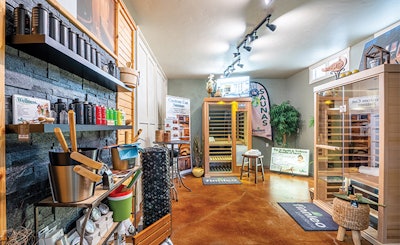 PANDEMIC CONDITIONS
When the global pandemic came down on the pool and spa industry in March 2020, Cedar Works was hit with a wave of demand, which has been "building and building and building," says Jeff, "but has been a bit stifled because of product availability."
The company started ordering product right away, and like many dealers, was selling hot tubs before they even arrived at the store. At one point, the showroom was down to only four floor models, which Jeff has vowed to not let happen again.
RELATED: 3 Dealers on Why They Sell Tubs – and Skip Pools
"This year, I have kept at least six to eight hot tubs on the floor at all times," he says, "which has its own challenges, too. Customers come in and see a hot tub in stock and say, 'Well, I'll just take that one.' And we say, 'You know, that one is already sold.'"
That hasn't stopped Cedar Works from selling floor models, due to one key difference: The model isn't delivered until a new one arrives to take its place. Upon each new spa arrival, Susan reshuffles the showroom around. As part of her merchandising strategy — and something that was extremely handy this past year — she had professional posters made of the whole Marquis spa line. "Customers can hone in on which model will work for them, even if it isn't in front of them," she says. "We also work really hard to make the showroom look full right now, whether in placing signage or various decorative items around, so the customer's eyes travel without realizing there's a big whole where a spa used to be."
The sauna showroom, for example, is currently housing two saunas [see photo above] where it used to house five — but customers would never know. "It still feels really balanced, because we have learned to make the most of the product that we have in stock," says Susan.
The shop currently has hot tubs sold as far out as December and is learning to be flexible, "because you don't know what this economy can do," says Jeff. "You have to look forward to as much product as you can get your hands on, but also be ready to turn on the dime to make sure you don't stick your neck out too far. It's an odd thing to navigate."
As for Susan, she is busy navigating the influx of deposits on product that has yet to arrive. "Customers have put down deposits on spas that have yet to be delivered," she says. "We don't have the offset for the income. Understanding how to handle that within the bookwork, the tax liabilities and things like that, that's been my side in trying to keep everything steady. I'm very careful not to dip below that number, because if things fall apart, you need to be able to return all of those deposits."
Another calculated risk is in sales commission. Prior to the pandemic, Cedar Works' sales staff received commission at the time of product delivery, but that has since changed. "When a spa is six months out from delivery, the enthusiasm as a salesperson goes down when you won't see a commission for six months," says Susan, "so we've really made it a priority that our staff sees their commission sooner."
But even in unsteady waters, Jeff and Susan are enjoying the ride. "We know we're selling something that we feel confident in," says Jeff. "And it's a happy product. You get to help customers pick out something that is really going to enhance their life.
"I just feel like a guy trying to do the best job he can with a small, family company. I see a lot of dealers that have big glass walls and huge square footage. It feels good that we've held our own as such a small package. We must be doing something right."
---
This article first appeared in the September 2021 issue of AQUA Magazine — the top resource for retailers, builders and service pros in the pool and spa industry. Subscriptions to the print magazine are free to all industry professionals. Click here to subscribe.
---