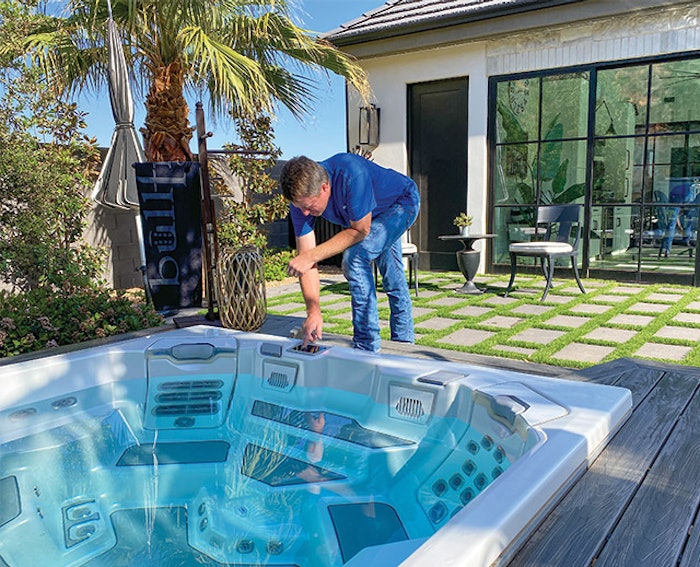 The St. George, Utah, region is well known for its year-round outdoor recreation. With close proximity to several national parks, including Zion National Park and The Grand Canyon, it's a nice, sunny place to settle down.
"The housing market right now has exploded like you wouldn't believe around here," says Brandon Empey, manager at Tropical Fiberglass Pools, located in St. George. And what is on a buyer's list they can't seem to live without? A swimming pool and spa.
"Out-of-towners won't even consider a house if it doesn't have a pool or the opportunity to build one," says Empey. So suffi ce to say, sales have been strong for the family-owned business, founded in 1978 by Neil Hardy.
"My grandfather [Neil Hardy] built a KOA campground and installed a fiberglass pool for the guests. This experience motivated him to start his own business, and he continued building swimming pools right up until the day he passed away," says Empey.
Now proudly on its third-generation, Tropical Fiberglass Pools has been serving Southern Utah communities for over 40 years with a long-standing reputation of strong workmanship, kindness and integrity.
RELATED: 3 Dealers on Why They Sell Tubs — and Skip Pools
The company's retail sector — which is run alongside Tropical Fiberglass Pools but goes by a different name, Tropical Bullfrog Spas — has seen tremendous growth under the direction of Owner Bruce Hardy.
AQUA is joined by Bruce and Brandon in a conversation about showroom design, customer service, company culture and more.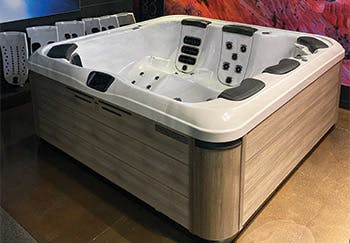 IN THE SHOWROOM
When designing its showroom, Tropical Bullfrog Spas had professionalism in mind. "When people walk in our store, we want to be like the BMW or the Tesla dealerships of the area. In other words, a very high-end looking store," says Hardy.
What helps to paint the professional landscape Hardy was after is a technology-first experience. There are countless examples: The company has made impressive strides, with help from Bullfrog Spas, in their point-of-sale software to boost productivity. Each employee on the showroom floor is equipped with a tablet to give on-the-spot sales presentations. Digital kiosks engage customers with the Bullfrog Spas hot tub line, helping to tailor a spa to their liking.
And when Bullfrog Spas launched a virtual designer program, Tropical Bullfrog Spas was able to implement virtual reality software, which helped customers to "visualize the spa in their own space and the features that are most important to them."
Customers can also take advantage of the company's private mood room, which houses a working spa. And its showroom, at 5,000 sq. ft., displays 20 hot tubs and three swim spas.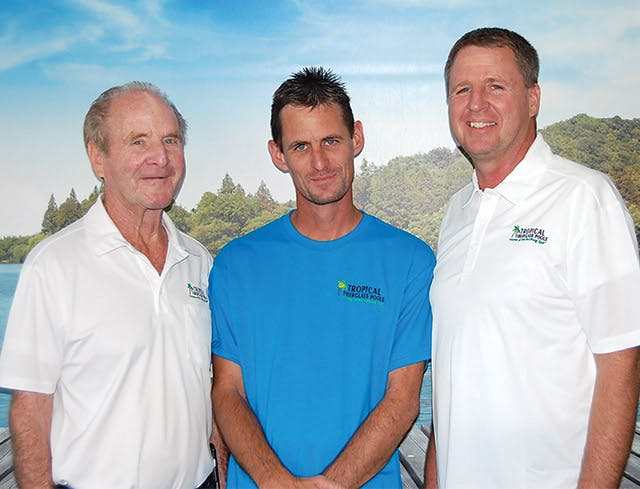 From left to right: Founder Neil Hardy, Manager Brandon Empey, Owner Bruce Hardy
LEADING WITH SERVICE, EDUCATION
Because customer service is largely improved by research and development, Tropical Bullfrog Spas employees are encouraged to further their industry education on a daily basis, which improves customer satisfaction. "We have daily meetings with the sales staff to keep them abreast of anything new to the industry, which was especially helpful during the pandemic period," says Hardy.
Bullfrog Spas continues to update their dealers on product shortages and give tips on how to manage delay, which helps Tropical to speak with customers. "Our top three priorities when dealing with delays is to make sure the customer is aware of the delay, to not give anyone false hope or inaccuracies and to make sure they are not left in the dark as progress is made, to stay in touch with the homeowner," says Hardy.
Home visits also contribute to the company's high customer retention rate. After each hot tub is delivered, if the homeowner would like, a staff member is sent back out to their home to review chemicals and hot tub function. New buyers also re-visit the showroom with a water sample, where staff gives them an informative printout on their water care.
RELATED: In the Hot Seat: 4 Top Spa Dealers Discuss the Hot Tub Industry
"This process has helped to build a long list of loyal customers, who recommend our company time and time again," says Hardy. And it's true — Tropical Bullfrog Spas has a 4.8 customer satisfaction rating on Google Reviews.
One stand-out customer success story from the pool side of things, Brandon says, is having built three different pools for the same customer after they moved three different times. "They remembered us so fondly," he says, "that they came back to us to build their second swimming pool. And when they moved again, they bought a third pool from us."
CULTURE AND COMMUNITY
Tropical Bullfrog Spas has 20 employees on the payroll and like most pool and spa dealers, strives for quality hires and high employee retention. "As Tropical Bullfrog Spas continues to grow, we advertise new positions on Indeed and Facebook, where we have had the most success," he says. The screening process is intensive: after an initial interview, past employers are called, work history is investigated and an MVR report for driving history is made. If everything checks out, the employee is given a 90-day trial period.
"If after that time they have followed through with what is asked of them, we give them a raise, an official offer," says Hardy.
Hardy doesn't shy away from hiring millennials, a group he says could improve on their work ethic, "but we're patient with millenials," he says. "Some of them just have never been taught how to work. We teach them, we train them. We want what's best for them and their life. And we offer them opportunities for growth, because they need to know that they can move up in the business, whether in salary or in job title."
At the company's annual Christmas party, both new and experienced staff come together, from all parts of the business, to celebrate the year. Like most days at Tropical Bullfrog Spas, the event is relaxed — but does offer a more formal way to thank staff. "We let everyone know how much they are appreciated for what they've done for the company throughout the year," says Hardy.
RELATED: The Wide World of Custom Spas
That "thank you" extends into its surrounding communities, as Tropical Bullfrog Spas sponsors annual charity events, from helping the Washington County Children's Justice Center — which supports children who have been the victim of abuse or other crimes — to reaching out to its first responders during the pandemic.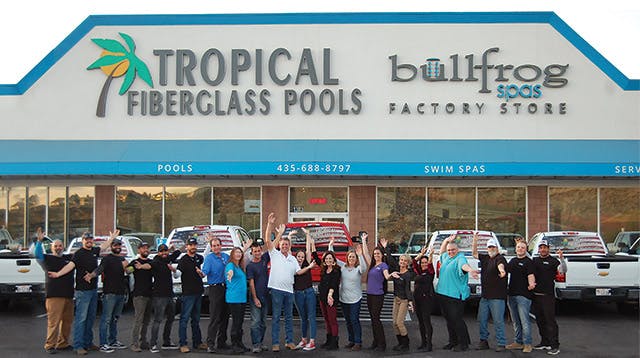 ENCOURAGING PEERS
In line with its ethics, a strict rule within the company is to encourage and support its competitors — if even from behind the scenes. "Here in town, sometimes companies will trash talk their competitors," says Hardy. "But our employees have instructions that no matter what goes on at our competitors, to not talk poorly about them to each other or potential customers."
It's this kind of integrity, Hardy believes, that helps the industry as a whole. "Give kindness to staff, community and competitors — it's the biggest business strength you can have."
---
This article first appeared in the June 2021 issue of AQUA Magazine — the top resource for retailers, builders and service pros in the pool and spa industry. Subscriptions to the print magazine are free to all industry professionals. Click here to subscribe.
---