Many pool and spa companies aspire to be all things to all people — a one-stop-shop, so to speak, for swimming pools, hot tubs, patio furniture, landscaping, decking and more.
While the "more is better" philosophy works for some, it's certainly not for everyone. In fact, with the birth of the hot tub industry came a different business model that's still around today: hot tub dealers who focus only on hot tubs — no pools, backyard furniture, nada. In lieu of generalization, these "solo artists" make niche expertise their trade and focus on specialization as the path to success.
Here, we talk to three such dealers to learn why this model works for them.
Catering to the Customer
In Patchogue, N.Y., near the heart of Long Island, is AJ Spa & Hot Tubs, a company that focuses strictly on spas — partly because it's the way they've always done it, and partly because it's in their blood.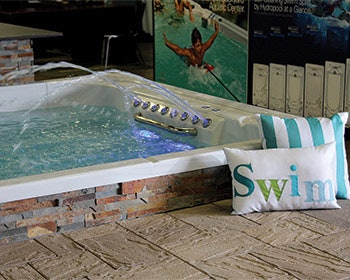 Founded by Artie Jost in 1978, AJ Spa was among the first to manufacture hot tubs in the Northeast. Today, AJ Spa is in the hands of Jost's son and daughter, Greg and Andrea, and retails four lines of spas in a nearly 8,000-square-foot showroom.
According to Greg Jost, size matters. In his eyes, the visual impact of seeing a large showroom filled with hot tubs helps win customers by sending a message: We know what we're doing.
"They don't expect to see this many hot tubs," Jost says. "They're used to going in a pool store where they have only three or four tucked in a corner somewhere, and that's all they have to look at other than a brochure or online."
RELATED: The 3 Keys to a Hot Tub Sale
Focusing exclusively on hot tubs also helps AJ's sales team avoid a common mistake made by pool/spa retailers: making spas an afterthought.
"I think you're able to cater to the customer," Jost says. "A lot of the pool guys in the summertime, when they're busy selling pools, the hot tub customer gets pushed off because they're talking to the pool customer. Where we have a whole section of just hot tub chemicals, so when the customer comes into the store, they know what they're here for.
"I think that's what our advantage is — we just keep it to that industry. I think anybody who's looking to buy a hot tub is going to want to go to a place that just sells hot tubs. You get focused attention."
And while AJ Spa is hot tub-centric, specialization isn't indicative of limited selection. With four lines to choose from, and nearly 30 models on the showroom floor, customers who visit Jost's showroom can take a close look at a wide range of sizes, features and prices.
"We can compete in any aspect of what you're looking at in a price point for a hot tub," Jost says. "I think that's an advantage."
"Knowing It Inside and Out"
Up in the Pacific Northwest, Olympic Hot Tub has been a mainstay in hot tub retailing since 1977, basically since the beginning of the hot tub industry itself. President Don Riling credits Olympic's success to sticking with a formula that works.
"There's something to be said for just carrying a core product, being experts at it, knowing it inside and out, having the service side of the business know it inside and out as well, and being able to market it and support it," Riling says.
Olympic Hot Tub has long championed the health and wellness benefits of its products. The consistency of the company's message — echoed on the Olympic website, social media, regular blog, radio ads and sales pitches — has paid dividends over time, particularly when it comes to referrals and returning buyers.
RELATED: Sell More Hot Tubs By Selling Wellness
"The number of second, third, fourth, even fifth hot tubs we've sold to one customer over the years is more prevalent, I think, here than it is in a lot of hot tub companies around the country. It's been a reliable product, we've always been able to get parts, we've always had the answers to customers' water care questions and we've always been able to coax them through the installation process.
"Because of that, people are confident when they send their friends here. They know when they walk in the door they're going to see a Hot Springs spa."
Personal Benefits
Bill Renter is quite familiar with the "everything to everyone" approach. For 20 years, he was the owner of Deck and Patio Company, an award-winning firm building comprehensive backyard poolscapes.
"We had so many things and we did so many unique projects," he recalls. "I did everything I could to push the envelope, to be known as the guy who did things that other people didn't know how to do, or came up with a new way of doing it or doing it better."
After decades of working with pools, spas, decking, patios, masonry, ponds and more, and trying to maintain expertise in all those products, Renter made a big career change. He sold Deck and Patio Company in 2015 and began working full-time at Best Hot Tubs, a Bullfrog Spas dealership he founded in 2012. Today, Best Hot Tubs has three locations in New York, with plans to expand into New Jersey and Connecticut.
When describing the transition from all-around backyard builder to hot tub dealer — "or as I call it, a simpler life," he jokes — Renter keys in on several benefits that all point to one theme: Ease.
First, there's personnel. Not only do you have a smaller team, which helps keep overhead down, but the threshold of experience required to become a hot tub salesperson versus, say, a pool designer, is much lower. That means the hiring process moves quickly and easily.
RELATED: In the Hot Seat: 4 Top Spa Dealers Discuss the Hot Tub Industry
"I lost one of my key people at the beginning of this year. It took me about three weeks to find the right person," Renter says. "I have people who I've trained for the last 15 or 20 years how to build an award-winning pond. How do you advertise for a pond builder on Craigslist?"
And once you have your staff in place, they can spend their energy focused on one product, which means less time juggling the details of several different product categories.
"You don't have to shift gears six times during the year because you've got to refresh people on what they need to know about selling a fireplace, or installing a fireplace and codes around that — there's so much stuff that goes into some of those products," Riling notes.
There's also the big toll taken on by business owners: the stress of making ends meet, particularly when it comes to the people whose livelihoods depend on you.
"I watch business news all the time, and when they interview entrepreneurs and business owners, you can see stress on their face when they say, 'Every week we have to make payroll because 40 people are counting on us.' That's what I did for 35 years," Renter says. "And now it's easier because we make very good margins on our hot tubs; we don't have to sell a lot of hot tubs in order to survive."
Comments or thoughts on this article? Please e-mail cailley@aquamagazine.com.