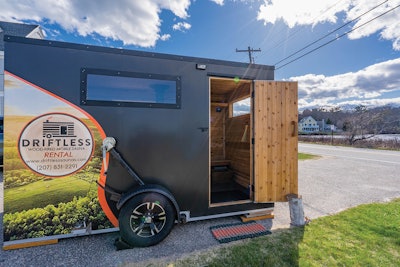 Photos courtesy KR Real Estate Media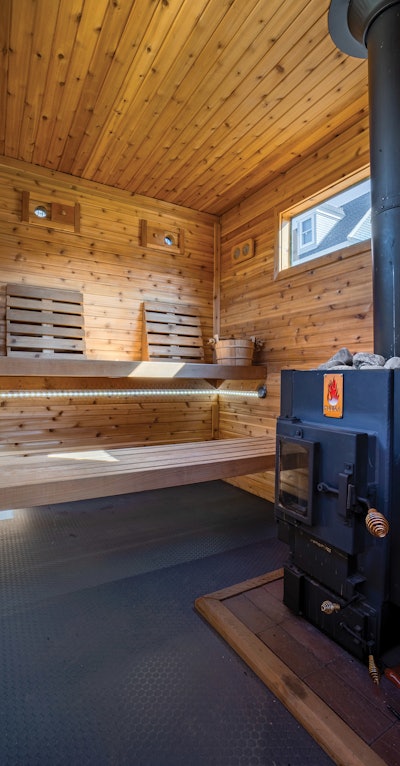 By day, Richard Gadbois works in the real estate business as operations manager of Team Letellier of RE/MAX Realty One. On the side, he's renting out one of the hottest commodities in the neighborhood.
It all began in the summer of 2021, when the original plan to build a sauna for his family became inspiration to start a business with his wife, Karen. "The mobile sauna idea came from what was happening in the Minnesota area, with many new startups doing it there," he says. "We decided Maine has the perfect climate to bring that concept here."
Gadbois purchased a shell from Voyageur Sauna in Minnesota and completed the interior work himself, in about six weeks. Karen and him have been renting out the finished product — dubbed the Driftless mobile sauna — ever since.
At 12-by-7 feet, the sauna can comfortably seat three to four adults. Rental includes two bundles of firewood, an outside mat and aromatic essential oils. Customers can opt for a number of additional luxuries, from a cold bath to a smokeless fire pit.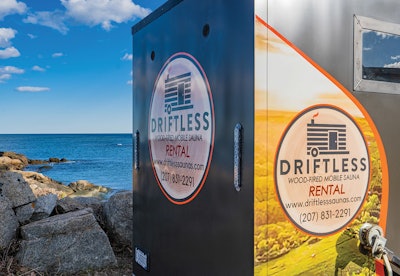 "People are so thrilled with the experience, and so thankful for being able to have a sauna brought to them," says Gadbois. "We launched our business as a way to provide additional income, but it has become much more about bringing the traditional sauna experience to the community."
Driftless offers free delivery within 20 miles of their Saco, Maine, location, and offers quotes for further travel. According to Gadbois, transporting the sauna is the most challenging part of business. "Deliveries can be tricky, with road conditions and access concerns," he says.
Rental rates run $375 for a single day, $599 for the weekend, and $1,000 per week, with longer rentals available upon request.
For now, Driftless operates one mobile unit, with another on the way for summer 2022. But Gadbois hopes to keep branching out to share the benefits of sauna with others, including partnering with health and wellness groups to offer the sauna to their clients. "Sauna is a great practice to relieve stress and improve physical and mental health. It is truly a slice of heaven," he says. We're also looking for pop-up sauna event spots where we can have live music, yoga and educational classes on the sauna tradition and sauna building practices."
---
This article first appeared in the June 2022 issue of AQUA Magazine — the top resource for retailers, builders and service pros in the pool and spa industry. Subscriptions to the print magazine are free to all industry professionals. Click here to subscribe.