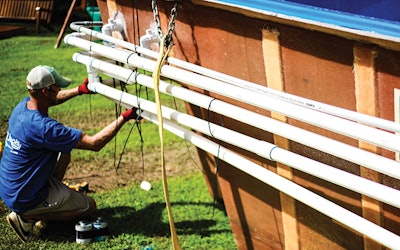 Few would argue that when it comes to hiring laborers these days, it's a sellers market. As is true throughout the construction industry, pool builders consistently report that hiring laborers is one of the greatest challenges they face.
"It's almost impossible," says Brent Handy, owner and president of Paragon Pools in Lake City, Fla. "The vast majority of people we encounter when we try to fill a position are typically either older people who lack skill sets and are just looking for some form of income with no real desire to work. Or, young people who want a paycheck but don't want to work for it. Many don't even know how to use a shovel. It's incredibly frustrating. Finding those people who want to work hard, want to show up and prove they can do a great job, who take pride in their work and are willing to be patient and learn — they are very, very hard to find."
RELATED: Finding the Next Generation
That's one of main reasons why Paragon Pools now focuses almost entirely on fiberglass pools instead of gunite or vinyl-liners. "You can get the job done with fewer people," he says. "There's not nearly as much skilled labor needed compared to other types of pool installations, so there's less pressure on the recruiting and hiring process."
SOMETIMES LESS REALLY IS MORE
According to Jason Hughes, partner at River Pools, a fiberglass manufacturer and installer in Warsaw, Va., simplifying the installation process has several benefits beyond contending with the shrinking labor pool.
"Because the pool shell is made in a factory in a controlled environment, I as a builder don't have to deal with the labor involved in creating that shell," Handy says. "And our exposure to the homeowner is far more controlled and much more limited. You spend so much less time in the backyard. There's far less opportunity for things to go wrong."
"It's something we talk about and promote," he adds. "Not only are there fewer steps to manage and complete, the simplicity of the process makes it much easier to replicate. There's no question that's a big advantage when you consider our industry's labor shortage along with a list of added advantages, from customer relations to scheduling and quality control."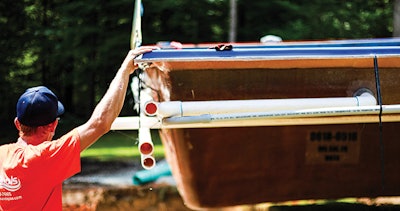 Hughes' crews are able to install a pool in as little as two days. "When you really have the process down, you can take three guys and have the pool in the ground, plumbed, backfilled, full of water and ready for decking. Of course that will vary based on a number of factors — site preparation and excavation being the biggest variable — but it's always going to be a fraction of the time and effort compared to other types of pool construction."
RELATED: 5 Common Fiberglass Concerns, Addressed
For his part, Handy says that his company installs its pools in as little as three days with a crew of four, without subcontractors. "Most companies installing gunite use subcontractors for a number of the phases you need to create the shell: steel, plumbing, gunite and later on, plaster. Naturally the process takes much longer, but it's very hard to make a true apples-to-apples comparison to a fiberglass pool. You could argue that that's there's the labor required to make the shell back at the factory, but that doesn't have anything to do with companies like ours. The fact is, it's much more efficient to create pool shells in a controlled environment and process."
In effect, you're eliminating many of the barriers to a successful project, Hughes says. "Weather is much less of a factor, coordination between subs, people not showing up — all of that is eliminated. With factory production, when a shell is scheduled to be produced on a certain day, it's going to be produced that day. Just that one aspect of fiberglass pools is huge because you've already eliminated one of the main obstacles. Customers get their pools when they expect them.
"And," he adds, "there are no change orders on a fiberglass pool shell. It's the pool you ordered and it is what it is."
CONSISTENT RESULTS
Not only do pre-manufactured shells dramatically shorten installation time and eliminate the project-management challenges of using subcontractors, they also offer greater quality control.
"That shell is going to be the same every time," Hughes says. "It streamlines the process and once you get to know that pool, it's like it belongs to you. You get to know the nuances of the shell. The result is that you get faster and faster installs with a small number of people, especially compared to gunite pool construction where every project is different."
The increased control and efficiency means that as crews become more experienced, the installation process becomes highly predictable and repeatable. That also means training is less of a challenge.
RELATED: The Fiberglass Revolution
"It's important that the four-man crew meshes together pretty well, but we do want them all to be able to do each other's jobs," Handy says. "Again, because there are fewer steps, that's easier with fiberglass installations. We expose the new guys to everything pretty quickly, and we also want the old guys to be willing to jump in there on the shovel when needed."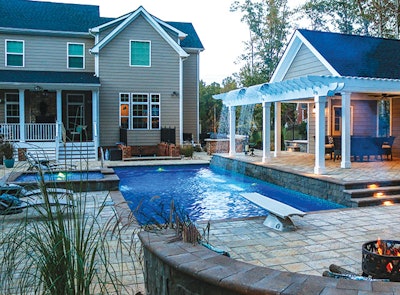 Hughes explains how his company does it: "The pool arrives on site in the morning and we're excavating the site while at the same time plumbing the pool while it sits on the ground. We're also setting the equipment at the same time. So when the pool goes in, the plumbing is done except for what's in the plumbing trench, but that's tied in very quickly."
With so much going on at the same time, it seems installs could become chaotic. "But it's not really that way at all," Hughes says. "When everybody knows what they're\ doing ahead of time and has experience doing it, it goes very smoothly and is not rushed. When they step out of the truck, our crews know exactly what they're going to do and what the other guys are going to do without saying a word."
That sense of calm and confidence is something homeowners notice.
"One of the comments we get from homeowners is how impressed they are with the process," Hughes says. "They see how everybody is relaxed, knows what they're doing and even seem to be enjoying themselves. We pride ourselves on the kind of ease that comes from experience and confidence. Installing fiberglass pools is by comparison to other types of pools not a stressful process."
NOT JUST CONSTRUCTION
Fiberglass pools not only streamline construction, but they also facilitate the sales and marketing process.
"It completely changes the way we approach promoting and selling pools," he says. "In terms of the workforce, where a concrete pool company might need 10 salespeople to sell 100 projects, we can achieve the same numbers with three. That's largely because a lot of our sales process happens digitally. We show them the pool shell online, all the education takes place online and they can take video tours. We're not in there at the kitchen table trying to close deals. Instead, our salespeople are actually more there to fill in gaps in the consumer education and guide them if necessary as they self-select the pool and the features they want.
"When you combine the streamlined installation and reduced sales force, there's no question fiberglass pools require a much, much smaller workforce than gunite pools."