Depending who you ask, fiberglass pools account for anywhere between 12 and 15 percent of the U.S. market for residential pool installations. And according to the manufacturers contacted for the following discussion, that number is growing annually.
Beyond raw sales numbers, increasing numbers of builders are offering fiberglass pools in addition to gunite and/or vinyl pools, according to Tom Straub, president of Latham's U.S. division.
"Many builders are recognizing it makes sense to offer fiberglass in addition to gunite pools. We're seeing that both with experienced builders as well as those newer to the business," he says. "It makes sense because of the economies of scale, but more than anything, there are consumers who are doing their homework and have decided that fiberglass is their best choice, for any number of reasons."

However, despite the continued evolution of the fiberglass pools and their widening acceptance among builders and consumers alike, lingering questions remain in the industry consciousness about the nature of the technology, often as throwbacks to an earlier era of pool building.
In this article we take a look at some the outdated notions about pre-manufactured, fiberglass composite shells and how the state-of-the-art has advanced to meet those concerns.
Concern No. 1: Fiberglass Pools Float Easily
Because fiberglass shells are lightweight, and possibly because of the errant association with boats made of fiberglass, the perception that they are susceptible to floating in the presence of hydrostatic pressure from ground water has remained in the minds of some consumers.
Manufacturers allow that hydrostatic pressure is a concern but point out that all pools are susceptible to damage from groundwater if not installed properly. Prevention of popped or floating fiberglass pools is easily managed with a few simple measures during the installation process.
"It all comes down to site preparation," says Straub. "We train our builders that under the deepest end of the pool they should put in some type of water evacuation system, or sump line, as we call it. We believe that's the most inexpensive insurance you can put on a pool. "
The newly formed APSP Fiberglass Council is weighing in on the issue by developing a standardized detail using a sump or drainage "crock" — a piece of 12-inch pipe that's installed vertically on the side of the pool that extends down two feet below the deepest point of the pool.
When installing the crock, says Curt Prystupa, president of Sun Fiberglass Products and chairman of the Fiberglass Council, "backfill around the pipe with gravel, then run it up to the surface of the deck and put an extra skimmer lid on the deck. Now if you need to drain the pool for some reason, you can remove the skimmer lid and visually check if there's water on the outside of the pool."
He explains that if the pool needs to be partially or fully drained for some reason and water is present, the crock enables the servicer to easily use a sump pump to evacuate the water and avoid any risk of damage. "That's something we want to see on every installation," agrees Straub.
"Once a fiberglass pool is installed properly and filled with water and the decking installed," Prystupa says. "It's not going to be susceptible to floating. "
Concern No. 2: Fiberglass pools offer limited design flexibility.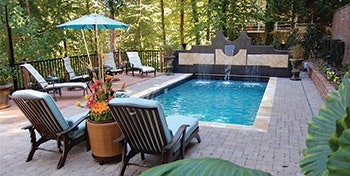 In the early days of the fiberglass pool industry, consumers had limited options when it came to color, shape, size and features.
"The industry has evolved," says David Pain, president of Leisure Pools. "In terms of design, it really started about 20 years ago with color. The advent of color technology was really what started to motivate the consumer. Traditionally the only colors available were either light blue or white, and the finish wasn't very attractive. Now we have grays, dark blues, greens, black, beige, a range of colors. All the manufacturers have embraced color."
In addition to advancements in color, which now includes the ability on the part of some manufacturers to create custom-color finishes, fiberglass pools also offer many, if not all, of the features associated with gunite pools including swim outs, complex step and bench designs, attached spas with spillovers, splash pads, beach entries and even vanishing edges.
In addition, edge and coping treatments have evolved so that the top of the shell is no longer visible, an issue that once prompted some to describe fiberglass pools as "outdoor bathtubs."
"It's a much more finished look," Pain says. "In our display center in Australia we have 12 pools in the ground and we have customers coming and asking which are the fiberglass pools and which are the gunite pools. The whole look and perception of fiberglass pools has changed because pools are being finished as they should be."
With the expanded design possibilities, manufacturers report that their products have experienced a swimming pool version of upward mobility. "We're hearing from our builders who are installing projects in the $100,000 up to $200,000 range, in terms of the pool being installed along with the decking and landscaping," says Pain. "These projects are going into $5 million dollar-plus homes. Our models with all the features are a great fit for these customers who are spending a lot of money to make them look spectacular."
Concern No. 3: Fiberglass pools are an inexpensive alternative to gunite pools and are therefore less durable.
The lightweight construction and smooth-surface appearance of fiberglass gives some consumers the impression that the material is less durable compared to concrete structures.
Manufacturers squarely address that concern: "Quite frankly it's just the opposite," Straub says. "If it's manufactured and installed properly, it's a more durable product than plaster or vinyl. That's why some of us have lifetime warrantees. You don't have to replace the surface every few years. It doesn't have recurring maintenance every X-number of years.
"I had a builder say to me recently that fiberglass is the only type of pool that, because it doesn't require long-term maintenance, actually pays for itself over time," Straub adds. "I believe there is a return on investment. Most manufacturers do transferrable warrantees and obviously in other types of products, they don't. Fiberglass pools have been around for 40 to 45 years. We have pools that were installed in the early days and they're still performing. That's a durable product!"
Concern No. 4: Fiberglass pools are still widely susceptible to cobalt staining.
In the '80s and early '90s, fiberglass pools experienced a problem with blistering that resulted in dark spots that some people ominously referred to as the "black plague." The problem involved a complex chemical reaction that occurred when water penetrated the gel coat.
In response to this concern, manufacturers enthusiastically point to improvements in the raw materials, formulations and manufacturing processes that have virtually eliminated cobalt staining and other issues associated with water intrusion.
"Blisters have pretty much been eliminated. We don't hear about that as a problem anymore," says Prystupa. "The advent of the vinyl ester resins give it more flexural strength and better encapsulate the rest of the composites. That problem is a thing of the past."
Straub adds: "By adding a vinyl ester layer, you've effectively created a water barrier between your gel coat and what we call the general-purpose fibers, meshes and resins. I've been in this business for nine years and I haven't heard of anybody having cobalt staining at all."
Concern No. 5: Manufacturers of fiberglass pools overstate the low-maintenance benefits.
Ease of maintenance is one of the priApry advantages of fiberglass pools promoted by manufacturers, a fact due largely to the relatively impervious gel coat surface. Competing interests and other skeptics have long suggested that these claims may be exaggerated.
Proponents of fiberglass pools stand their ground on this issue, confident their products do, in fact, resist algal blooms, staining and are more forgiving than concrete pools when it comes to water balance.
They do, however, stop short of saying that fiberglass pools are maintenance free.
"You can never fully anticipate how someone is going to care for a pool, and fiberglass pools do require a certain level of maintenance, as does any body of water," says Prystupa. "If customers or their service companies follow the guidelines we recommend, the pool will use less chlorine, and it will require less maintenance.
"Fiberglass is the most impervious surface you can put on a swimming pool," he adds. "We do say that you can maintain a lower chlorine residual in a fiberglass pool than you can in a concrete pool. In terms of balance, you're not fighting pH, you're not fighting alkalinity or calcium bounce that can result from the interaction between water and a plaster surface."
MANUFACTURER BRANDING
An interesting distinction between fiberglass pools and concrete vessels — the fact that they are manufactured in one piece, rather than constructed on site — has potentially far-reaching promotional implications. In other words, because they are a manufactured product, they are promoted by brand name, much as portable spas or boats or RVs.
By contrast, concrete pools are an aggregate of multiple products and it's traditionally up to the individual builder to create brand recognition. According to Latham's Tom Straub: "Installers benefit from the fact that manufacturers are Aprketing directly to the consumer, promoting both the individual brands but also the entire fiberglass concept. In my view, that's something that's missing in the rest of the swimming pool Aprket."
Comments or thoughts on this article? Please e-mail [email protected].