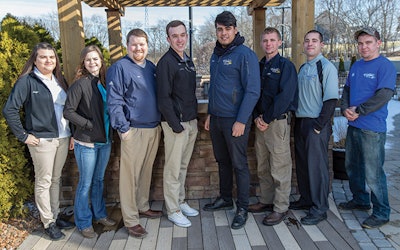 The current weakness started out as the industry's great strength — individual entrepreneurs building unique small businesses as the pool and spa market grew. Few of them grew particularly large; most of them stayed local. And for decades they created a rich national tapestry of tight-knit, often family-owned companies.
But time passes unseen, relentlessly, and that whole generation — the generation that really built the pool and spa industry — has gotten old, and a lot of them are looking for a place to sit down. But it's a tough position. These businesses are their children. They gave birth to them and raised them. Leaving them is painful and confusing.
Meanwhile, just when retirements and growth demand fresh recruits and burgeoning energy, the industry has discovered it's not a millennial's dream job.
In the pipeline of workers moving through our industry, we have an uncomfortable bulge in the over-50 section, especially in management. Meanwhile, at the entrance to the pipe, we are sucking air.
We'll figure it out. As you'll see in the stories we run online this month, there's an ample regeneration pool of young people ready to bring passion and drive to this great enterprise, but they're not in endless supply. We'll have to make a better pitch to the next generation that is now deciding what they want to do with their lives.
As one such inspiring young person put it, "There are millennials out there who have a great work ethic; it's just a matter of finding them."
RELATED: A Wise Succession Decision
The Greatest Generation
You don't really need to see statistics or demographics. Just go to a trade show and check out the predominant hair color — it's gray. It's a graying industry, with a dearth of motivated, qualified people on hand to replace the retiring generation that runs the pool and spa business in North America, or even fill the entry level jobs necessary to maintain growth.
Part of the problem, the bolus at the end of the pipe, resulted from the way the industry evolved. The pool and spa industry saw tremendous growth about 40 years ago — that's when the older generation jumped in and started many of the great pool and spa businesses we have today.
The industry grew and contracted in cycles, but about 10 years ago, the industry fell off a cliff, dropping from 176,000 new inground residential pools in 2005 to 54,000 in 2009 — a drop of 70 percent! — a fall from which it has never recovered. (The story in spas has been similar.) The Great Recession killed off a lot of newer builders and retailers, while the older, more established ones held on, made cuts and survived.
Well done, but that left us where we are today — with our venerable industry pioneers, the "greatest generation" of the pool and spa industry, entering their autumn years expecting to retire on the fruits of their long labor. There are a lot of these good people, and for many of them, an exit strategy is not obvious.
One might assume a family business would look to the kids for succession, but as Rod Sterling, a 35-year industry veteran that now works to help broker pool and spa business sales, has found, that's not really happening.
"Over the last three years I've done about 25 business sales," he says, "but of all those businesses I've been involved in selling, not one sold to their kids. Not one. Parents are just not preparing their kids — or really anyone — to take over. Typically, there's just no exit strategy.
"It's the number one topic for pool and spa business owners today. I typically have a conversation with a dealer about this almost weekly. And it's not that these owners aren't planning for their personal retirement, but their retirement is based on their business, and they typically do not know what their business is worth. A lot of them are in denial."
RELATED: How to Pass Down the Family Business
On the other side of the bargaining table, Josh Henderson, vice president of sales and marketing, Memphis Pool Supply, Memphis, Tenn., and chairman of the Master Pools Guild Next Generation committee, has seen the same phenomenon from the buyer's perspective. He's been trying for several years to purchase a pool company, but through 15 different negotiations, he keeps running into a roadblock: the value of the business.
"Now price is important to everyone," he says, "but the expectations are way off. I have a business broker helping me determine these values, so I feel as though I am being fair to the ownership, but they think I'm lowballing them by a huge number. In every instance the owner has demanded that there is 'a value to 40 years of blood, sweat and tears,' which should be reflected in the price.
Henderson says he uses a standard metric used to value similar businesses, "and I encourage them to take the metric and calculations to their CPA and their lawyer, but they're so turned off at the process and the figure I'm offering is so far from the figure they have in their mind, that they just disengage and say they'll just wait for someone who will pay them what they think the business is worth.
"They have a hard time understanding that, while blood, sweat and tears are valuable to them, their emotions have no value to someone buying the business."
Finding The Next Generation
At the same time that the greatest generation of pool and spa professionals is wrestling with separation and retirement, their natural commercial heirs — young, highly motivated capable people interested in a career in leisure aquatics and ready to take over — are in short supply.
It's not that there aren't any young people looking for work, there just aren't a lot of them looking to fix, clean and build pools. The disparity isn't terribly surprising.
The retiring generation, the one that really built the industry, grew up in the 50s and 60s when people still fixed their own cars and changed their own oil. They dug with spades, hammered with hammers, played rough sports and rode their bikes without helmets. They thought of work as something typically requiring muscles.
On the other hand, the incoming generation spends more time per week in front of a screen than the outgoing one did in school. When they think of someone sweating, it's in the context of a workout, not work.
"For a great many young people, a decent job means you have to work in an office, at a desk, with a computer," Sterling says. "The concept of working in the trades has been denigrated for some time. Millenials see it as low-status work.
"For that reason, I think we're going to struggle to attract millenials. And I don't see anything on the horizon that's going to entice them into the industry in the numbers that we need."
Self Motivation at All Seasons
The challenge of appealing to and motivating the new generation of pool and spa pros has been well documented in the trade media, and pool and spa organizations have been focusing on the problem. Among these is the Master Pools Guild, which has set up a group to look into the issue. Henderson is the current chairman.
"We're thinking about what the pool and spa industry will look like 10 years from now, and how we can attract new talent," he says.
"Something we've realized we need is more savvy business people to recognize and develop and reward talent. To show them they can get to the point where they could support a family working in this business, and then help them get there."
One such savvy businessman is Dan Lenz, vice president of All Seasons Pools & Spas in Orland Park, Ill., a suburb of Chicago. Lenz is an innovator in a number of different areas of pool and spa company management, but particularly in employee compensation.
Over 20 years ago, Lenz focused on the problem of providing a family-supporting wage for employees, and has developed a system to do just that. Some of his service technicians make $80,000 to $100,000 per year or more, figures that can attract the attention of a young person in search of a financially viable career.
How does he do it on pool and spa company revenues? Empowerment. He places the salary in the hands of the worker. If technicians really want to make six figures, they can, because they get a percentage of the revenue they generate for the company. So they quickly come to understand the key is to become better and faster at the work.
RELATED: Wanted: Business Savvy For the Next Generation
"We've been working on the motivation part of the equation for a long time, many years. It's about showing someone who walks in your door they have a career path. That's something that our industry has been really lacking. We need to show a 22-year old that has just come onboard that you can work here for the next 50 years if you want, make a good living, raise a family, and retire comfortably," Lenz says.
"A big key to making the case is showing them proof, examples of people doing just that throughout your company. You have to be able to point to a specific person and say, 'Look at this person putting his kids through college and paying off a mortgage on what he makes at this company. You can do that if you want.'
"You need a written program that spells out, 'Here is your growth potential, and here's what you need to do to achieve it. You're going to start out here, and you'll move to here, and then to here. Your pay will be determined by you — the knowledge that you gain, the revenue that you can generate and ultimately the market.'"
All Seasons hires people in at $10 an hour. Once they have proven themselves capable of working on their own (and there are many things that come into that — not just technical skills but also communication skills with customers and the co-workers), they move to level 1. For each level increase, they receive a one dollar per hour raise, plus a growing percentage of the weekly revenue they generate for the company, up to 12 percent for a level 5 tech. At that level, a tech gets $600 back on every $5,000 in revenue, plus an hourly rate of $16 an hour.
"In season, you're talking about guys working 60 to 65 hours per week, with overtime starting at 40, so these guys frequently bring home anywhere between $1,500 to two grand a week," Lenz says. "And there are many weeks where I have senior techs make $3,000 to $4,000, because they're taking home $1,800 on $15,000 in generated revenue, plus straight time and overtime, plus a commission on any products they sell in the field based on their interaction with the customer.
"So if you get good at this, you can write your own ticket."
The company has recently added a component to its system to motivate and reward teaching and mentoring within the staff. Essentially it provides a monetary reward for the growth and success of your apprentice.
A New Message For Millennials
Money is a key motivator and attraction for young people (as is a sense of control of one's compensation and career). But there are other aspects of worklife that are important to millennials that should be highlighted to the incoming generation, Henderson says.
"The message we have to spread is the pool and spa industry gives you the chance to work outside, interact with customers in a positive environment and bring enjoyment to people. That's a message that can resonate with millennials, who are not all about profits and dollars, but are more interested in good relationships, connections and a flexible work life than previous generations," he says.
"Speaking for myself, I've never missed my kid's ballgames, I never missed a school play, and there are a lot of professions where people can't say that. There's a lot of flexibility in this line of work."