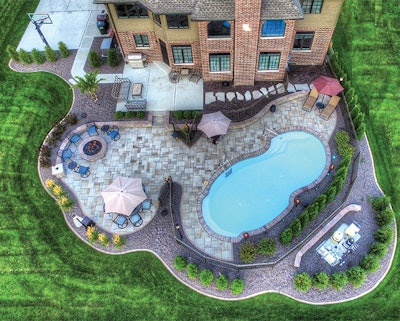 As summer winds down, the pool industry is still spinning in the wake of a dizzying year. There's no telling when pros will finally get a moment to gather their balance, but for now, we can use data to gauge how demand is holding up.
Historically, pool construction loan applications have been a useful measurement tool for this endeavor. That said, Sarah Bess — marketing director at Lyon Financial, a company specializing in outdoor home improvement loans — reports that demand remains strong. It seems the "staycation" sentiment that fueled a backyard renaissance still carries weight.
"For the most part, consumers' attitudes have stayed the same as last year," says Bess. "They still want to invest in that backyard dream, that backyard oasis. That way, they don't have to leave their home, or at least not as often, to be able to enjoy it."
But in terms of raw application volume, things aren't as busy in comparison. In 2020, Lyon took 55,000 applications for consumers nationwide. This year, the company is on track to do about 45,000, a nearly 20% decrease.
"We're not as busy, but we're seeing more people who are actually committed to getting approved for financing, and then actually building a pool," says Bess. She attributes this to a shift in homeowner decision-making patterns.
"For a lot of people last year, it was just shopping and trying to pull the trigger as quickly as they could because of emotion," she explains. "You're in COVID, you're in your house, you're just trying to do something to get the kids out of the house. But now, builders can't get to people as quickly as they want. The delays in the industry are forcing consumers to make a more budgeted and well-thought-out decision. It's become a calculated investment versus an emotional purchase."
WAITING GAME
Bess unravels an all-too-familiar tale while explaining the biggest problem she's seen. "A lot of these consumers are essentially being put on hold because of the demand and the delays in the industry," she says. "Last year, people were applying for financing and getting pools built all within the six to nine month turnaround. Now, people are applying but not actually starting their pool for 12 months."
RELATED: Finance Partnerships: A Smart Choice for Builders
This has caused builders to experience a significant loss of the control they once had over the process, notes Brent Handy of Paragon Pools in North Central Florida.
"[The time] it took for a pool builder to complete the pool build process used to depend on the pool builder's management, skill and experience. But materials needed have always been readily available," he says. "Moving into 2021, material shortages and availability have become a logistical nightmare...Materials that we had grown accustomed to our wholesale supply warehouses having in stock,
we are now having to order weeks in advance."
Still, even with knowledge of these delays, most consumers decide their pool is worth the wait and are committed to following through.
"Especially right now, homeowners are trying to lock in pricing before it goes up because of surcharges and delays," says Bess. "So a lot of consumers are going ahead and applying for financing, locking down their budget, so that way they can lock in pricing before it goes up again."
ALL ABOUT FIBERGLASS
Gunite pools are most popular with Lyon, as much of their business is in Texas, California and Florida. But Bess emphasizes a huge spike in demand for fiberglass pools, as well.
"It's a lot easier to build 10 or 15 fiberglass pools in a couple of months, versus gunite pools, you can't build that many," says Bess.
Handy, who specializes in the category, confirms. "Demand for inground fiberglass swimming pools is still off the charts," he says. "In our area, we build pools year-round. Our swimming season is not over, and even as kids are going back to school, the pool business is not slowing down."
Unfortunately, fiberglass pool shells are no exception to the delays plaguing the rest of the industry. "Up through spring of 2021, fiberglass pool shell manufacturers could fill orders that they had committed to," says Handy. "Demand throughout the summer has been greater than the fiberglass pool manufacturers can produce pool shells. Currently, we are expecting eight to 12 months between ordering fiberglass pool shells and taking delivery of the shell."
Any sign of "catching up" with this demand isn't yet in sight. "Industry growth is unprecedented. We are building more pools than ever before," says Handy.
In the face of it all, he's optimistic about the year ahead. "I'm hopeful that building materials availability and pricing will stabilize. And I am completely confident that the fiberglass pool segment of the inground pool industry will continue to outperform the rest of the industry...I absolutely see the demand for fiberglass pools staying strong through the rest of the year and into next year."
IN THE MEANTIME
Beyond swimming pools, Bess has seen continued high numbers of financing applications for the whole backyard. With staggering lead times for pool installation projects, consumers are financing everything from patios to outdoor kitchens.
RELATED: A Better Way to Borrow
"We're seeing a lot of people who can't get a pool right now. Say, for example, they want a fiberglass pool, and it's taking six to nine months to get one — so they're getting a patio, an outdoor kitchen, now," she explains. "And then they'll get their pool in nine months."
"[There are] a lot of porches, screen rooms and room additions — things that are still outdoor related that are not a pool," adds Bess. "So people can still enjoy that mix of the indoor/ outdoor lifestyle. We're definitely seeing an increase in those projects by themselves, but also those projects along with a pool. We're financing a lot of very large contracts and projects that include just about everything."
But even when consumers opt for those other backyard choices, they're not totally avoiding delays. "Pavers are a little behind. Appliances can be hard to get. But because of the big delays in pools in our major areas, consumers would rather, at least, get some part of the backyard to go ahead and enhance," says Bess. "[They want to] go ahead and use it before winter comes and then wait on the pool."
NO SLOWING DOWN
Demand is still high, but with travel restrictions loosening and homeowners escaping hibernation, it's slightly lower relative to last year's record numbers. Ultimately, consumers are still choosing to invest in their backyards.
"Right now, we have a backlog of customers on the waiting list, hoping for and anticipating their pools to be completed for use next summer," says Handy. "The cost of a complete backyard pool installation is significantly more than it was last year...At some point, the skyrocketing cost of materials to build the pools will be more than the market can bear."
"Last year, quite honestly, was pretty chaotic with all the demand. This year is a little bit slower, but I feel that post-COVID, there's still some fear and concern out there," says Bess. "We hear from consumers that they are interested. They want to still invest in the home, and put the pool and the outdoor living in there, so they can enjoy it with their family."
---
This article first appeared in the September 2021 issue of AQUA Magazine — the top resource for retailers, builders and service pros in the pool and spa industry. Subscriptions to the print magazine are free to all industry professionals. Click here to subscribe.
---