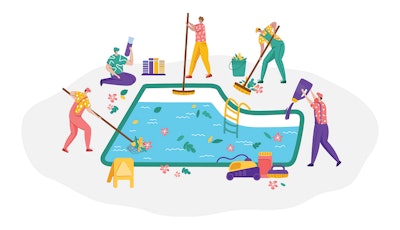 Pandemic-fueled demand for service has transformed entire industries – including roofing, landscaping, plumbing, pool service, solar installation and many more.
According to the Hearth National Tradesmen Day Index – a study of the demand for critical home services based on home improvement loans taken on the Hearth platform and Google search volume for tradesmen service providers — 2019 to 2021 represented an unprecedented rise in industry growth.
According to this research, pool service has increased 89.12%in demand on average!
Major trade industries ranked by increase in demand from 2019 to 2021:
House Painters
Plumbers
HVAC Techs
Electricians
Solar Installers
Pool Service
Roofers
Door Installers
Pest Control
Landscapers
General Contractors
Here is a complete list of states ranked in order of highest to lowest demand for service workers:
Idaho
Washington
Arizona
Oklahoma
Kansas
Maryland
South Carolina
Michigan
Ohio
Oregon
Alabama
Indiana
North Carolina
Louisiana
Rhode Island
Georgia
Arkansas
Tennessee
Florida
New Jersey
Pennsylvania
Missouri
Wisconsin
Illinois
Iowa
Kentucky
Minnesota
Colorado
Nevada
Texas
Utah
West Virginia
Maine
California
Delaware
Virginia
Connecticut
Mississippi
New Hampshire
New York
Massachusetts
South Dakota
Nebraska
Vermont
New Mexico
North Dakota
District of Columbia
Hawaii
Montana
Wyoming
Alaska