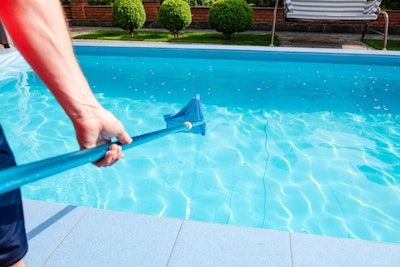 The past year has seen skyrocketing demand for pool service — in both commercial and residential accounts — leading to decreased availability of chemicals and equipment, along with a surge in prices.
Company leaders are working hard to keep their heads above water and adhere to the growing demand for pool maintenance while dealing with the supply challenge. Fortunately, pool service companies can help manage this problem by adopting emerging mobile technology — and by re-evaluating some aspects of their business operations to see what they may need to change or update.
Here are some steps to get them started.
Carefully Monitor Chemical Use
This allows a business to know how many times they can visit a customer since recurring revenue from loyal customers is critical. Additionally, using emerging technology like a field service management software will help track the monitoring of chemical use and allow on-site technicians to enter what chemicals they used for each customer.
Stay Aware of What's Going on With the Pool's Equipment
If pools aren't getting chlorine, it might shorten the life of other equipment. If your company is out of chlorine, it is vital to ensure the customer's equipment is workable. Digital tools can help with this process by cataloging details of the pool equipment such as the make, model, serial number, bar code, warranty and service schedule. Keeping the rest of a client's equipment intact will save time and money once the availability of chlorine makes a comeback.
Use Field Management Software
In addition to updating your company's services, using field service management software will help simplify business operations and reduce the risk of losing clients and revenue during this demanding time by tracking all aspects of the job — from routing to invoicing to proof of job completion. Below are some ways this technology can help streamline the business operations of a pool company's predominantly mobile workforce:
Scheduling & Dispatch: A priority of pool customer service is to ensure field technicians are getting to the customer on time and completing the necessary tasks. Being on time is everything, and it gives businesses a competitive advantage in the industry. That's why field management systems provide easy ways to track technicians and notify dispatch of updates on their arrival time to the customer. Additionally, the scheduling tool offers a simplified digital calendar to give pool businesses visibility into jobs and team member availability. Map-based scheduling can help reduce your technicians' time in the field by quickly assigning jobs based on the team member's current location.
Work Orders & Estimates: Companies can provide technicians with electronic work orders that include easy access to customer service history for each client and the ability to upload photos, sketches and signatures. Field techs also can list details of any additional repairs performed and process payments immediately. In addition, streamlining work orders and estimates enhances communications between the company and customers to save time and reduce the possibility of errors.
Customer Care & Feedback: Robust customer data records help customers and field technicians ensure customer care and positive feedback. As every business leader knows, word-of-mouth can make or break a company, so focusing on customer satisfaction and tracking business leads are critical to cementing a company's reputation and success.
Processing Payments: The right technology makes it easy to create and track invoices, process payments and manage timesheets. This alleviates some of the time-consuming work of tracking expenses and charges from company representatives and allows them to spend time on what matters most — providing quality customer care.
In Conclusion
As businesses in every industry know, with challenges comes an increased need to re-evaluate business operations. And to ask the right questions like, "How does this affect my business?" or "What does my business need to do to respond to the shortage?"
If the pandemic has taught anything, it's that we can survive during the toughest of times. As the pool service industry tackles the chlorine shortage, increased demand, regulation changes and more, companies should lean into the changes and equip themselves with the tools needed to succeed and move forward stronger than ever before.
Ryan Driscoll, vice president of marketing for GPS Insight, has been with GPS Insight since 2009. He is responsible for overseeing the management of GPS Insight's brand, creating market awareness and advocacy, and driving customer preference through all channels. He works diligently to be a trusted resource for thought leadership in the areas of GPS technology, fleet management and field service management.