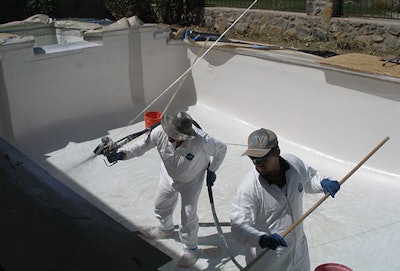 Have you ever wondered why boats and surfboards are made of fiberglass? You don't need to be a materials scientist to recognize that fiberglass is the containment material most resistant to the corrosive effects of water.
In the same sense, containment material is one of the most important choices made by swimming pool builders and repair/renovation specialists, followed by the techniques they use to apply it. It's the difference between long-term performance of the chosen finish versus inevitable and often premature failure.
For years, I've been both amazed and frustrated by the status quo of the pool, spa and water feature surfacing and resurfacing businesses. By and large, plaster has been the material of choice, which, objectively speaking, is far from the best option. The main problem is that any cementitious material is susceptible to a range of issues/defects including staining, mottling, etching and scaling, among others. And industry professionals have insisted on placing this vulnerable material in constant contact with water, the universal solvent, treated with powerful oxidizers.
As a corrosion and composite materials specialist with years of experience in multiple industries, it's long been my view that the pool industry needs to rethink its preferred surface materials.
It's not just the reliance on plaster that needs to change; the same can be said of vinyl, steel and even tile, as they all are susceptible to damage that inevitably occurs when exposed to water.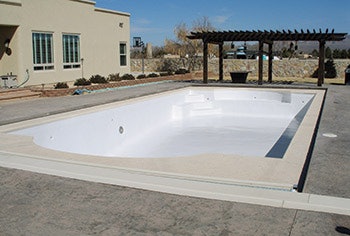 That's all part of why I have become an ardent promoter of fiberglass as the best material for use in contact with water. The reason is simple: years of field experience demonstrate that fiberglass can dramatically reduce construction or renovation cost, limit maintenance and extend the life of a swimming pool or aquatic facility. Fiberglass is not sensitive to out-of-balance water chemistry and it does not leach material like cement-based surfaces.
Fiberglass provides superior strength, far beyond that of conventional plaster, coatings or vinyl liners, and is not susceptible to corrosion like steel. Yet for whatever reason, that verifiable set of facts remains obscure to the mainstream pool and spa industry, which has all but refused to see fiberglass as a wonderful option for both resurfacing existing vessels and as well as finishing new ones.


Glass Fiber Reinforcement and Resins
With all that said, let's start with a basic definition of the material: Fiberglass is a composition of glass fibers in a thermosetting resin matrix. It is hardened/cured by an organic peroxide catalyst into a homogenous mass of various shapes and sizes.
The material is best known in the pool industry in the form of the factory-made pool shell, first fabricated in the 1950s. While the material is the best choice for pool surfaces, prefab manufacturers have been limited by the size and shape of the vessels they can produce and deliver, which has hampered its growth in the pool market. For customers who want a concrete pool with a fiberglass finish, a concrete forming system is available, and the fiberglass finish is applied to the structure interior.
That's an old story that has been handed down through generations of pool professionals, and that thinking needs to change. As far as pool refinishing is concerned, there is this almost institutional resistance to fiberglass that has prevented the industry from adopting what should be its go-to surface material.
Part of that sweeping disconnect is partly due to the fact that by contrast, the application of fiber-reinforced polymer lining systems, the modern heir apparent to traditional fiberglass, is relatively new to the pool industry. In all fairness, however, the composites industry is also little known to the broader engineering fraternity. That's why the composites industry is reaching out to materials engineers and specifiers to educate them on the benefits of using composite materials, i.e., corrosion resistance, long service life and low life-cycle cost.
Fiberglass usage for fieldwork falls under the jurisdiction of coatings technical societies, not pool industry standards. These coatings societies create consensus standards for coating applications.
What professionals in these organizations know, and what hopefully someday will become accepted in the pool and spa industry, is that cement-based materials do not offer any structural or corrosion resistance benefits and should not be considered for cracked/or leaking pools.
Historically, however, before FRP linings were an option, and in addition to re-plastering, many owners with cracked pools installed vinyl liners. Yet installation problems were common with this method, including inaccurate cutting and sizing of the liner and the need to alter the pool structure for liner attachment purposes. Prefabricated fiberglass pools were also used for cracked pools, but this has proven impractical and expensive, as well.


How it Works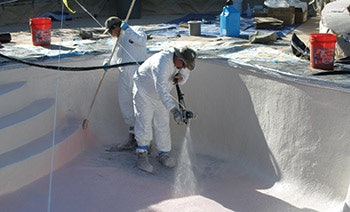 An FRP lining system is applied as a liquid and upon curing, it conforms to the shape of the concrete structure, steel or existing fiberglass structure. There is no need for special sizing, fitting or deconstruction of the vessel. In particular, FRP performs exceptionally well in commercial spas. High water temperatures are very aggressive on cement finishes, causing spalling, roughness, algae growth, staining and compromised aesthetics, not to mention an uncomfortable experience for bathers.
There are two types of fiberglass application methods:
• Hand-applied: In this method, the fiberglass mat is applied to the surface and the resin is rolled on. Because the field is easier to break into — no equipment needs to be purchased, and applicators receive no training — this is the most common method of application, but it products an inferior outcome.
Because these jobs are not performed to industry specifications, most applications fail, often due to bonding problems and the incidence of glass fiber exposure, i.e., fiber bloom, which occurs after exposure to pool water and the lining begins to degrade, causing fibers to become fuzzy or "bloom." With this method, no high-build topcoat is applied. A lack of training for applicators and the use of inappropriate materials are the major reasons for poor performance.
• Spray-applied: In this method, recommended in the consensus standards, the resin and glass fiber are sprayed concurrently with plural component equipment. It ensures excellent bonding to concrete and eliminates all of the problems found in the hand-applied method. Bonding is achieved by roughening/fracturing the surface to create an anchor profile for bond, i.e., a mechanical tooth. With this method, the material is never applied over smooth plaster. Additionally, an elastomeric epoxy primer is first applied to further assist with the bonding process. Special resin and catalysts systems are also employed to slow down the reaction and promote bonding.
A niche is cut at all termination points to stabilize the lining and waterproof those points. Special resin heaters are also used to maintain the proper temperature during changes in ambient temperature to facilitate proper resin processing. The incidence of fiber bloom is eliminated by the application of a high-performance high-build topcoat.
This material is UV stable, osmosis and blister resistant and displays outstanding weathering characteristics. There are many other technical reasons for employing the spray-applied method.
The overall benefit of using FRP linings are corrosion resistance, long service life, low life-cycle cost and aesthetics retention. If you think of it, there's really nothing in our system that can corrode or degrade.
With all of the science, research and logic behind it, one can effectively argue the pool and spa industry owes it to itself and its consumers to rethink their choice of interior surface materials.


A MARKET READY FOR CHANGE
In 2011, market research firm P.K. Data reported that there are as many as 5,371,000 in-ground residential pools and 309,000 commercial pools in the U.S. alone. About 10 percent of these, annually, are scheduled for refurbishment — a growth market in the making for composite materials.
Comments or thoughts on this article? Please e-mail [email protected].