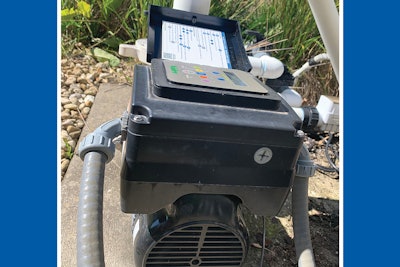 Pool pump motors usually have a four- to five-year life span before they must be rebuilt or replaced. You'll know it's time to take a closer look when the motor is loud, smokes, vibrates or won't run at all. Many times, pool techs or owners will replace the entire pool pump when only the motor needs to be repaired or replaced. Here are some installation tips to help get the longest life possible from pool pump motors.
1. Make sure the motor is the right size.
Many motor issues arise because the motor is simply not appropriately sized to do the intended job. If you are replacing an existing motor, your first job is to ensure that the new motor rating matches the original one in horsepower and service factor (total horsepower, or THP), RPM, volts, phase and mounting. For reference, a sizing table can be found in the e-book "Pool Pump Motors – Caring for the Heart of the Pool's Circulation System," which provides a comprehensive listing detailing the proper motor sizing.
If your customer is worried about high energy costs, variable-speed cross references are also listed and are a good solution for energy efficiency.
If the previous motor failed due to being overloaded, check the amperage. See Step 2 and Chapter 5 in the e-book referenced above.
2. Check the power and electrical fit.
Over time, voltage that is too high or low can stress a pool pump motor, causing failed windings or blowing out the capacitor. Motors that are miswired or use incorrect wire size can also experience problems. Supplying 240V to a motor wired for 120V, for example, can result in sparks, smoke and — if you don't turn the motor off quickly — motor failure.
It's also important to check the motor load amps with a meter to avoid overloading the motor. Load amps should be no more than 10% over the nameplate rating — load amperage greater than 10% higher than nameplate amps indicates the motor is being overloaded, and you may need the next larger motor size.
3. Match the wire size.
If you are also replacing old wires, make sure to match the wire size with the original as well. Using a larger wire size is okay but never a smaller size wire. When installing a replacement motor, double-check to see that the line voltage matches the motor voltage. Review the wiring diagram on the motor label to be sure that your power leads and ground wire are correctly connected.
4. Installation extra steps.
In addition to following the manufacturer's instructions, there are other things to always keep in mind when installing a pool pump motor:
Make sure your motor shaft turns freely by hand before starting the motor.
Confirm proper voltage at the motor terminals.
Follow the motor connection diagram on the motor nameplate.
Make sure the motor is properly grounded and complies with local and national electrical codes.
Key takeaway: A pool pump motor has a particular job. If the motor or the pump it drives is improperly sized, it can be overworked, which is a leading cause of pump failure. So, know what you are installing and be wary if you are told a replacement motor is "close enough." That is no guarantee that it actually meets your customer's requirements.
Jim Ellis is the Market Manager at Nidec Motor Corporation.
---
This article first appeared in the September 2022 issue of AQUA Magazine — the top resource for retailers, builders and service pros in the pool and spa industry. Subscriptions to the print magazine are free to all industry professionals. Click here to subscribe.