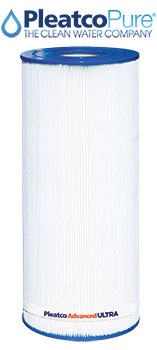 What Do They Win, Bob?
All three winners will receive $100 in Pleatco product, and our top prize winner will receive a bonus $100 Visa gift card from us at AQUA.
If there's one thing that can band together a room full pool professionals, it's gross stories of ghastly filters. Everyone has one — if not several — and trading tales of wacky water quality, shocking skimmer baskets and foul filter systems is a quick way to make friends.
In honor of this unique tradition, we asked you to share with us the most horrifying filter disasters you've come across while on the job. We quickly received quite an assortment of entries, most of which had one thing in common: neglect over the course of months, if not years.
In addition to testing your gag reflex, these photos underscore the critical importance of pool and spa service technicians. After all, if a professional had been on hand for regular service, none of these disasters would have happened in the first place.
Without further ado, here are the three winners of our first Filthiest Filter Contest. Congratulations to the winners!
---
3RD PLACE
A COMMERCIAL CAUTIONARY TALE
Bret Petermann
Superior Pool Products
Indianapolis, Ind.
With high bather loads (including swimmers of various levels of cleanliness), commercial pool filters are designed to withstand quite a lot of wear and tear — up to a point. As Bret Petermann (Superior Pool Products, Indianapolis, Ind.) found out, sometimes its friendly fire that causes gnarly filtration issues.
"My lifeguards were doing a fantastic job vacuuming the pool daily. That is...until they couldn't get the pump primed. Upon closer inspection I found about 30 pounds of sand embedded in the cartridge. This is a perfect example of why it's never a good idea to have a sandbox anywhere near a pool."

---
2ND PLACE
AN ANCIENT SANDTRAP
John Flynn
ASAP Pools
Point Pleasant, N.J.
In this case, the story of the filter might be more horrifying than the filter itself:
"This was the customer's original sand filter installed when the pool was built in 1991," writes John Flynn of ASAP Pools. "This is the original sand, too — 27 years worth of crap. The original call came in that the customer couldn't get his pool water to clear up. He also spent the entire 2017 season with unclear pool water. After further inspection, the entire lateral assembly was broken in several pieces. It wasn't hard to convince the homeowner he needed a new filter. He definitely got his money's worth from this one, though.
---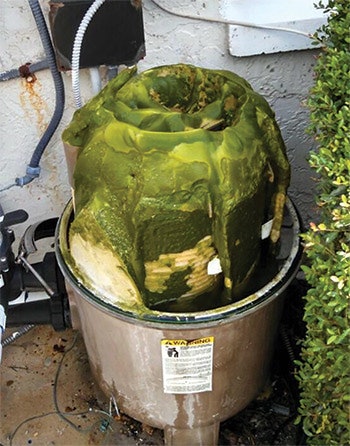 1ST PLACE
PUZZLING POOL PROBLEM
Christopher Hodges
Owner, Pinch A Penny #52 and #72
Tampa, Fla.
Christopher Hodges is an experienced pool pro who's seen his share of filth. But when he got a peek at this D.E. filter gone horribly wrong, he admits even he was horrified.
"I've seen some bad cartridge filters, I've dug some nasty sand out of filters, but this is the most shocking thing I've ever seen," he says.
The story starts with a customer bringing in a bucket of pool water, which you may guess was also not great. "It was hideous," Hodges recalls.
He asked the customer when the filter was last cleaned. She didn't know, and explained that was her late husband's job, and he'd been gone for a few years. Hodges sent a technician to investigate. The tech opened the filter, and then, after taking a few moments to shake off the horror, regained his composure enough to snap a picture with his phone and sent it to the boss.
An investigation ensued. Witnesses were interviewed, clues were catalogued, and Hodges made a preliminary determination as to the identity of the perpetrator.
"The customer was getting her water tested at our store, and she was buying the alkalinity and she was buying the calcium, but when it came to stabilizer, she got that from Walmart," Hodges says. "She put that generic stabilizer in the skimmer, like we tell all our customers to do, but it wasn't dissolving. So I think a layer of that undissolved stabilizer built up on the filter, provided a surface for the stuff to accumulate, and didn't allow it to work properly."
RELATED: The Dirt on Filter Cleaning
Actually, it wasn't working at all. The swimming pool sleuths determined that the water was slowly circulating, but when it passed through the filter it never actually got filtered, instead bypassing the system and returning to the water. If anything, the water that came in contact with the blob of bacteria and algae came out worse.
Asked who got stuck cleaning up the crime scene, Hodges said, "Oh, there was no cleaning, there was no nothing. You know the manifold that holds the grid system inside the filter? That was fused together. There was no lifting it out. Those elements were not going anywhere. So we took the whole filter out and put a new one in."
In addition to blaming the low-rate stabilizer, Hodges named Florida's daily rain as an accomplice for wreaking havoc on the pool chemistry and providing a perfect breeding ground for the sludge that built up.
Hodges may have closed the case, but he'll never erase the image of the grisly photo, now burned in his memory.
"I've been in backyards that were so bad you couldn't even see the pool because there was grass growing in the water," he says. "But this was worse. This was just horrid.