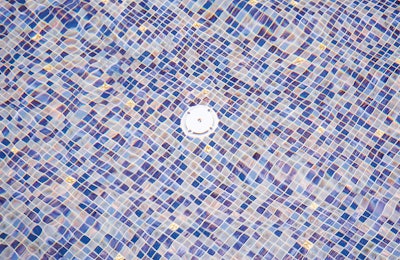 Back in 2007, the federal government shook up the pool and spa industry with a new law, called the Virginia Graeme Baker Act, intended to eliminate the hazard of drain entrapment.
While the implementation of the law caused some controversy at the time, it has had the intended effect of dramatically reducing entrapment incidents and has likely saved lives and injuries.
In May of this year, that law was updated with the enactment of the standard APSP-16/2017, and for industry personnel who deal with pool and spa drains, the new law means important changes in procedure.
RELATED: Stepping Up Safety With PHTA Standard
"These are critical changes in federal law that will definitely impact public pool owners, operators and anyone who's installing, designing or servicing pools or spas with a suction outlet fitting assembly," says Steve Barnes, director of science and compliance at AquaStar, chairman of the drain cover standard writing committee.
WHAT DOES THIS MEAN TO ME?
In simplest terms, what's happening in drain covers roughly mirrors what's happening in pumps due to the new DOE regs: As of May 24, 2021, manufacturers stopped making old, VGBA 2008 drain covers. The VGBA 2008 drain covers still in distribution and on company shelves (and there are a lot of them) will remain valid and legal. However, when you inevitably buy and use the new, VGBA 2017 drain covers, new installation rules will have to be followed. Those rules will be included in the product packaging.
So it's simple: Old, VGBA 2008 drain cover = old rules. New, VGBA 2017 drain cover = new rules.
But how do you know which drain you have?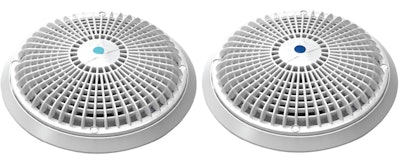 Look at these two drains above. They appear identical. In fact, they are not. Certainly the plastic shape is the same, but the drain on the left has a light blue dot in the center. The drain on the right has a dark blue dot, and dark blue means it's new.
Most importantly, the one on the left says "VGBA 2008" on it. And the one on the right says "VGBA 2017."
Note: not all old drains are marked VGBA 2008 or have color-coded dots. Some old drains will have other designations, but what you're really looking for is that blue dot and "VGBA 2017" stamped on it. That's how you know for sure.
RELATED: Tech Notes: The Crucial Role of Standards and Codes
All the new drains have new instructions concerning flow rates, pipe sizes and sump depths. You have to follow these new rules to make it a legal installation.
"These rules will include a flow rating for every pipe size and every sump configuration," says Barnes, "so if it says a minimum sump depth of 3 inches, you can certainly use it on anything deeper, but if, for example, you have field-built something that's 1 inch deep, you can't use it there. Again, you have to follow the rules on the product."
WHOSE RESPONSIBILITY?
It's important to remember the distinction between public and private pools. The enforcement of the VGBA has always been in place for public pools.
"Under federal law, if a drain cover on a public pool is broken or missing or just expired, the pool has to be closed immediately until repairs are complete," says Barnes. "If it's a residential pool, there's no federal oversight, but we would encourage you to tell the property owner, 'Hey, you got a hazard here. Let me give you a quote on how to fix this. In the meantime, don't swim with the pump on, or if it's missing a cover, don't get in the pool because you can have limb entrapment and things like that.'
"In general, the responsibility for VGBA compliance is on the pool owner/operator. But once you as a service professional get your hands on the project, once you're doing the installation, you have to follow the instructions and federal law. That's not new, that's been the law all along."
---
Don't Sit on the "SOFA"
A new term that accompanies the new VGBA 2017 regulation is "SOFA," which means "Suction Outlet Fitting Assembly," which refers to both the cover and everything it takes to attach the cover to the pool suction piping (screws, fasteners). If it's a multi- part drain where you have a cover and a riser ring, or a cover and a vented riser ring, all of the parts that come with the drain cover are part of the SOFA.
---
ANY QUESTIONS?
Q: Do we have to replace all drain covers even if they're not expired?
"No. The product is valid until it's been installed for its lifespan, which is typically five years. So if the cover is in a pool now, and it's been there less than five years, you're legal. If you buy a cover and it's a VGBA-2008 version, you still get to install it for its lifespan. You could even buy an extra set and have them on standby. All of them are legal and comply with the new federal law until they've been installed through their lifespan, even if you don't install them for some time."
Steve Barnes is director of science and compliance at AquaStar and chairman of the drain cover standard writing committee, ANSI/ APSP/ICC-16 2017. This article is based on a much more in-depth webinar Barnes presented on June 22, 2021, and which can be viewed here.
---
This article first appeared in the October 2021 issue of AQUA Magazine — the top resource for retailers, builders and service pros in the pool and spa industry. Subscriptions to the print magazine are free to all industry professionals. Click here to subscribe.
---