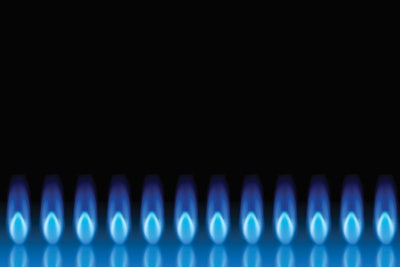 On February 24, five people were evacuated from a Hampton Inn & Suites in San Antonio, Texas due to carbon monoxide (CO) exposure from the facility's pool heater. Fortunately, everyone impacted was okay, but two were hospitalized.
Carbon monoxide poisoning, sadly, isn't an extremely rare occurrence. In January of 2022, a pool heater failure in Ohio sent 14 people to the hospital. There were 13 other reported carbon monoxide related incidents in the United States last year.
One of the most regrettable things about carbon monoxide poisoning events is that the vast majority of them are preventable. Whether the culprit is a pool heater, boiler, water heater, furnace or unit heater, the cause usually isn't the piece of equipment itself but, rather, improper installation or inadequate maintenance.
As pool professionals, we have the responsibility — even the legal obligation — to install and maintain gas-fired equipment, as outlined in the manual and local code.
READ THE MANUAL
I cannot overstate the importance of understanding the product you're installing. Read the manual completely. Become intimately familiar with the codes that apply to these appliances. Maybe most importantly, it's critical to know the venting category of the piece of equipment being installed.
Venting appliances with the incorrect material is one of the leading causes of venting system failure.
Gas-fired pool heaters are typically Category 1, 3 or 5 appliances. To muddy the waters a bit, certain models can be Cat 1 or Cat 3, depending on the installation and how it's vented. If the heater features a blower, it's most likely a Cat 3 appliance. If it doesn't, it's most likely Cat 1. High-efficiency appliances are generally Cat 5. Installers must confirm the category in the manual and vent the appliance accordingly.
A Cat 1 gas-fired appliance is a negative pressure, atmospheric vent system. This means that there is no fan or blower in the unit. A natural draft, or convection current, is created simply because hot gasses rise. Because there is negative pressure within the vent, the venting system isn't required to be gasketed or otherwise sealed.
Cat 3 appliances have an induced draft, which is created by a fan or blower. This creates positive vent pressure. Most manufacturers of Cat3 appliances require AL29-4C venting systems. This is a stainless steel, gasketed vent material. If a positive pressure vent isn't gasketed, flue gasses will leak into any space through which the flue passes.
Cat 5 appliances are high-efficiency, condensing appliances. The heat exchangers in these appliances are so efficient that flue gasses remain below 140 degrees Fahrenheit when properly installed and maintained. The low flue gas temperature means that the appliance will generate condensate within the heat exchanger and flue. This condensate is highly corrosive and will, over time, destroy all material aside from plastic vent pipe.
Because Cat 5 appliances produce much lower stack temperatures, PVC, CPVC and Poly vent pipe can and must be used. These materials are impervious to the caustic environment created by the condensate.
While PVC is permitted by most jurisdictions, I recommend using a polypropylene venting system instead, like Centrotherm. It's specifically designed for venting systems and can withstand higher temperatures than PVC or CPVC. It also assembles via a gasket and clip system, instead of PVC primer and cement. In the event of a clog within the flue, it can be easily disassembled and reassembled.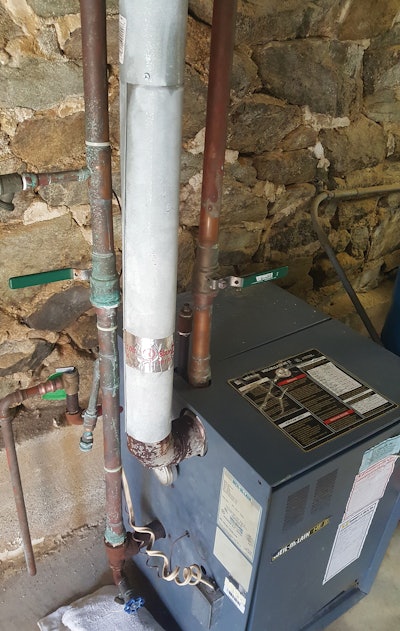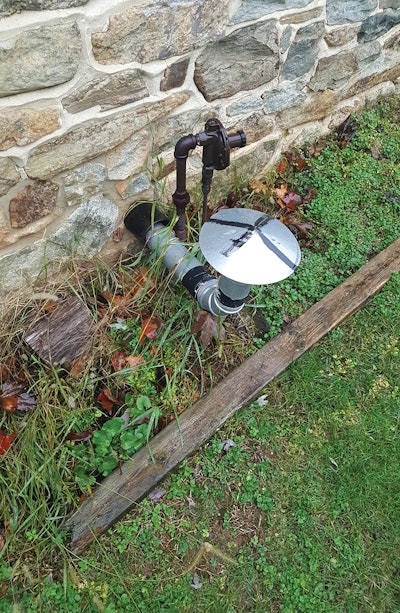 SERVICE WORK
If your company has the service contract for a pool facility or you are the facility's service manager, it's extremely important to check the equipment on a regular basis, especially the venting system.
As rudimentary as this sounds, the most effective way to check the integrity of the venting material on a Cat 1 or Cat 3 appliance is to take the handle of a screwdriver and knock it against the metal venting material. Obviously, if punctures occur, the venting must immediately be replaced. More likely though, you could hear metal flaking off the inside wall of the vent pipe. If this occurs, it's time to do further investigation, requiring the vent to be disassembled and likely replaced.
This screwdriver test and a visual inspection should, at minimum, be conducted annually, though I suggest every six months. The heat exchanger should be inspected and cleaned once a year as well. A clogged heat exchanger or insufficient water flow through the heat exchanger will create high flue gas temperatures. This will destroy incorrect vent material. While inspecting the system, ensure that adequate combustion air is being provided.
Cat 5, high-efficiency units feature sealed-combustion burners. This means that intake air should always be provided from outside the building. This typically includes PVC through a wall or roof, terminating directly in the burner. At no point should a Cat 5 appliance draw air from inside the building.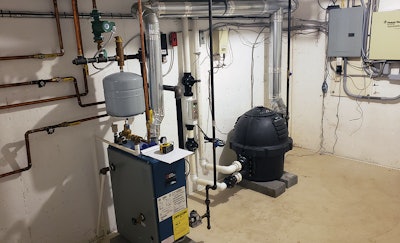 Cat 1 and Cat 3 appliances can draw combustion air from inside the building, but for a variety of reasons, the best practice is to supply outdoor air. If there isn't enough air permeation in the enclosed space, operating the appliance will create a negative pressure indoor environment. This lack of combustion air will result in incomplete combustion, reducing the efficiency of the appliance, causing premature fouling of the heat exchanger, generating higher flue gas temperatures and, ultimately, damaging the unit.
Many mechanical rooms that contain Cat 1 or Cat 3 appliances feature louvers on an exterior wall. These louvers, which are supposed to actuate when the heating appliance fires, should not be trusted. We've witnessed far too many situations in which louvers have been bypassed, are broken, obstructed, frozen shut, or otherwise inoperable. This is simply one more reason to provide outdoor air directly to the unit. Most manufacturers make a fresh air kit for their units.
It should also be noted that many pool heaters are installed in close proximity to treatment chemical storage. These chemicals are caustic and will lead to premature heater failure if present in the combustion air, even in extremely low concentrations.
There's yet another risk to supplying a heater with combustion air drawn from indoors. Most pool mechanical rooms are adjacent to a natatorium. The negative pressure created by the heating appliance creates a vacuum in the mechanical space, often drawing makeup air from the natatorium. The pool treatment chemicals suspended in this air will cause damage to the heating appliance and other susceptible equipment in the mechanical room.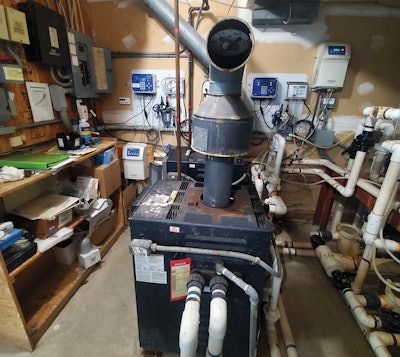 TRAINING AND SUPPORT
Understanding the installation and maintenance requirements set forth in the heating appliance manual and local codes is critical, but so is being familiar with the intricacies of the specific appliance.
When questions come up, do not hesitate to contact the manufacturer's representative directly. Also inquire about training opportunities for yourself or your technicians. Sometimes, this training is provided by the manufacturer while other times, it may be hosted by a manufacturer's representative or supply house.
It's also important to be aware of local codes, which supersede manufacturer specifications. It's a good idea to build a relationship with your local code officials. These people can be a resource for information, but if they learn that you do quality work, they may also become a source of service work and replacement leads.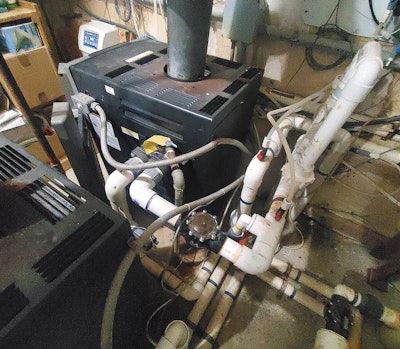 BEING PROACTIVE
A passive approach to venting installation and maintenance is dangerous. Pool heaters and venting are one of the most overlooked systems at a hotel, motel or aquatic facility. A proactive approach should be taken when acquiring service contracts on systems that your company has installed.
Don't be afraid to lock out (red tag) a heating appliance if it's not installed or maintained properly. This can literally be a life and death scenario, and if you were the last professional to touch the system, the liability may be in your hands.
If we red tag a system, we capture photos and videos of the issue and send it to the owner. This reduces our exposure in the event that something bad occurs. If the customer isn't taking steps to rectify the issue, it's good practice to notify your local official that has jurisdiction. This may be a code enforcement officer, gas company official, etc. Every step you take to notify others of the issue is risk mitigation for you. Make notes and save copies of all communications.
The vast, overwhelming majority of carbon monoxide poisoning events are preventable and the direct result of negligence. While carbon monoxide poisoning events are not everyday occurrences, they present serious consequences. Make every effort to ensure public safety and insulate your business for the consequences of someone else's negligence.
This article first appeared in the July 2023 issue of AQUA Magazine — the top resource for retailers, builders and service pros in the pool and spa industry. Subscriptions to the print magazine are free to all industry professionals. Click here to subscribe.