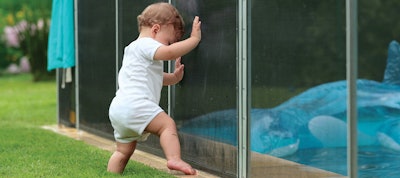 After years of record demand, a historical number of backyard pools will be in use this swim season — making the conversation around water safety more critical than ever.
Strides have certainly been made over time (the Virginia Graeme Baker Act, for example), but the fact of the matter is that drowning remains a leading cause of unintentional death throughout the world. In the U.S. alone, drowning takes an average of 3,500 to 4,000 lives per year — for an average of 10 fatal drownings per day.
"Customers don't want to even think about the risk that they're exposing their family to when they install a swimming pool. So it's just become a taboo topic," says Aaron Gurley, president at Premier Pools & Spas. "It's something we've swept under the rug for a long time."
New technology combined with traditional common sense practices, however, has the potential to change this paradigm. As executive director of the National Drowning Prevention Alliance (NDPA), Adam Katchmarchi is on a mission to open up an industrywide conversation about water safety — and keep it going. "I work with several families who have tragically lost a child to drowning, and the number one thing I hear from them are the words, 'I didn't know…,' often followed by, '…what to do to prevent this accident from happening.'"
Drowning is preventable, and there are plenty of resources available to guide pool pros and homeowners through best practices. Specifically, the NDPA's guidance outlines five recommended layers of protection around every pool.
"This concept involves using multiple water safety strategies at the same time to reduce the risk of a tragedy. The idea is that one layer is never enough, as layers can fail," explains Katchmarchi. "These five layers include supervision, barriers (such as pool fences and covers), alarms, learning to swim and making a water safety plan for your family."
Alarms, notably, have been advancing far beyond the simple motion detection capabilities of the past: New systems use cameras equipped with artificial intelligence.
"The new AI and camera-based drowning detection systems coming on the market are really exciting," says Katchmarchi. "There's still a long way to go to make these systems standard and widely used…but our hope is that technology will play a huge role in reducing the number of injuries and fatalities that occur in and around pools."
AI IN ACTION
One such innovator behind this technology is Sai Reddy, CEO of CamerEye. He's a former competitive swimmer with a PhD in artificial intelligence. "Hearing and reading about drowning just broke my heart," he says. "I decided that my next passion project would be something for water safety, and that's how CamerEye really started."
The CamerEye system uses highly trained, adaptive AI technology through overhead cameras to detect distress and near-drowning. It can reduce "false alarm" occurrences thanks to its ability to rule out pool toys, leaves and other nonhuman items.
"The way I look at it is, you already have sensors and hardware solutions out there — camera sensors, motion detection sensors, all sorts of things — but the problem is that the hardware can only do and sense so much," Reddy explains. "Traditionally, the pool industry has been using sonar-based systems, motion detection systems, draw alarms, and so on. They all work, obviously, but the biggest problem is the fault alarms, because they sense any motion. You can have a bird flying in your backyard, floaties in the pool, moving tree branches — all of these scenarios will trigger an alarm."
This tends to create a "cry-wolf" situation that frustrates homeowners. "It's almost an inside joke that the alarms come down the minute the inspector leaves," says Gurley. "People start to get so many false alarms that it really becomes useless, because they'll either take it out, or become numb to the noise."
With the capability to differentiate between sources and types of movement, AI could help keep drowning detection systems in place and make them trusted, reliable sources of protection instead of a nuisance.
"By creating a layer of intelligence on top of safety barriers, AI gives homeowners the information that they really care about," says Reddy. "It can differentiate someone in trouble, in distress or near drowning versus someone just playing in the water or swimming around."
THE POOL PRO'S ROLE
Whether they realize it or not, pool professionals can be highly influential when it comes to their clients' safety practices. After all, they've already earned enough trust to build, service and repair homeowners' backyard investments on a regular basis.
"[Pool pros] are the champions of what goes into the pool — from chemicals to pumps and heaters," says Reddy. "They're the right people to educate pool owners and create awareness about why this technology is needed."
Ari Rolnick, chief technology officer at SwamCam, a fellow AI-based drowning prevention system, agrees. "Builders need to be enthusiastic about these products. They have to encourage their use, and they have to be pro-safety," he says. "The advancements of artificial intelligence and their practical applications are abundant."
"As builders, our job is to educate customers about products that are available," adds Gurley. "Then consumers, with that understanding, can make a decision about what's important to them and their family — and we can feel good knowing that we've educated them and talked to them about all of the possibilities."
LOOKING AHEAD
Gurley's company is only just beginning its exploration towards offering this type of technology to customers, but he's optimistic about it. "I think it's going to be a big breakthrough for our industry over the next five or 10 years," he says. "Our industry as a whole is pretty slow to change, and is not always at the forefront of technology. That's what excites me about this new area — I think this thrusts us into the forefront of technology and allows us to enhance our customer's experience, and ultimately, protect families."
And AI is only the beginning. "The future is wide open," says Rolnick. "There's work right now with LIDAR lasers, similar to radar. You can set up LIDAR fencing around a pool, and if anything else fails, that beam will always work. It's so exciting. With innovation and the willingness to have a conversation, the sky is the limit."