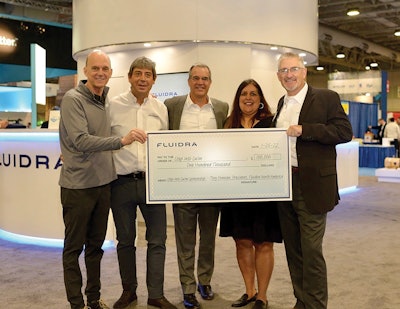 Photos courtesy PHTA / the U.S. Swim Schools Association
At the 2022 Pool & Spa Show in Atlantic City, Fluidra rang in the new year by announcing a $100,000 commitment to the Pool & Hot Tub Alliance's (PHTA) and its foundation's, Pool & Hot Tub Foundation (PHTF), Step Into Swim water safety education initiative. The donation supports Fluidra's stated goal of bringing the joy and benefits of swimming to children across all communities.
"Being able to swim isn't a luxury, it's a necessity," says Troy Franzen, president of Fluidra North America, who also serves on the Step Into Swim Champions Board. "The ability to swim is essential to improving the health and safety of this and future generations, and we are fully invested in the effort to teach people how to swim and be safe around water, regardless of their socioeconomic situation."
Master Pools Guild, seeking to help make swimming lessons accessible to all children, also committed $40,000 to the cause. "We are very excited to be partnering in the Step Into Swim Program," says MPG Executive Director Teri Wiltshire. "Creating more swimmers and providing safe swim education are goals we share and believe must be promoted by all our industry. With Rowdy's enthusiasm and leadership, we are confident he will bring this year's program to a very strong finish, and we are proud to be part of the team."
Since its inception in 2012, Step Into Swim has actively advanced drowning prevention by providing children with swimming lessons and other water safety resources. According to the CDC, drowning is the leading cause of death among children ages one to four — but a case control study found that learning to swim from a qualified instructor reduces the risk of drowning by 88%.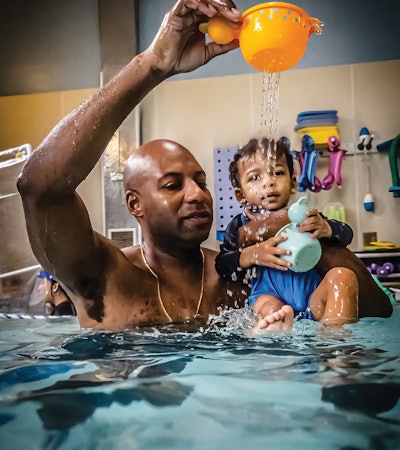 After a remarkable fundraising effort in 2021, PHTA raised over $500,000 for Step Into Swim, which will be matched by its Board of Directors for a total of $1 million. With donations from the pool and spa industry, the initiative was able to fund swimming lessons for 6,297 children last year. In addition, Step Into Swim provided grants to 22 facilities across Arizona, California, Connecticut, Florida, Georgia, Kansas, Michigan, New Jersey, North Carolina, Ohio, Pennsylvania and Texas.
"We are making strides to combat childhood drowning thanks to the generous donors who share in our mission to create more swimmers," says three-time Olympic Gold Medalist and PHTA's Vice President of Partnerships and Development, Rowdy Gaines. "The aquatics industry has a unique opportunity to come together in the name of safe swim education. Our partners truly delivered on that in 2021."
"I am in awe of how far Step Into Swim has come thanks to the leadership of Rowdy Gaines and our Champions Board, as well as the support from our members and partners," says Sabeena Hickman, CAE, president and CEO of PHTA. "Everyone plays a special role in helping us mobilize against an important initiative to provide educational resources and access to free swimming lessons. The future is bright as we continue to build upon this momentum in 2022."
Step Into Swim is fully funded through donor contributions, and 100% of donations go directly to educational initiatives and learn-to-swim programming. To learn more about Step Into Swim and how to get involved, visit stepintoswim.org/donate.
---
This article first appeared in the March 2022 issue of AQUA Magazine — the top resource for retailers, builders and service pros in the pool and spa industry. Subscriptions to the print magazine are free to all industry professionals. Click here to subscribe.