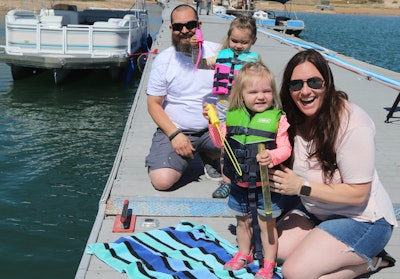 Eighteen years ago, decorated pool builder Joseph Vassallo, founder and president of Las Vegas-based Paragon Pools, and company publicist Mary Vail decided they'd had enough of the harsh scare tactics of anti-drowning programs. The duo worked together to develop a more family-friendly program focusing on the positive elements of pools and water activities, and in 2003, Float Like a Duck was born.
Since then, the initiative has offered activities and outreach promoting water safety skills to the Las Vegas Valley and beyond. Each May, an annual event is held to kick off the summer swim season and celebrate National Water Safety Month.
"Water and water sports are an integral part of our lives, whether it be in the bathtub, a pool, at the lake or at the beach," says Vassallo. "Our goal through the Float Like a Duck program is to prepare the entire family with water safety skills, practices and preventative measures to ensure every experience is an enjoyable one."
He has received requests for water safety information from as far away as Alaska. To accommodate the long distance, Vassallo — alongside organization mascot Duckie — create personalized, topic-specific PSA videos to address various concerns. Float Like a Duck's most recent PSA was released in collaboration with the UMC Children's Hospital, Nevada's only designated pediatric trauma center.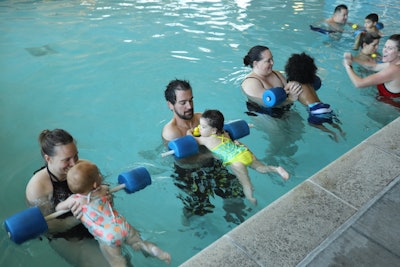 Titled "Family Time: The Joys of Water Activities with Your Child," the PSA features hospital personnel including Dr. Jay Fisher, medical director of the Pediatric Emergency Department, and Xochitl Kambak, registered nurse of the Healthy Living Institute. According to the CDC, drowning is the number one cause of injury-related deaths for children ages one to four. In an effort to raise awareness regarding water safety for young swimmers, Dr. Fisher and Kambak provide five crucial tips in English and Spanish.
RELATED: Float Like A Duck Establishes Water Safety Hero Award
As the script explains: "Some of the most joyful, fun and memorable moments you will spend with your children involve water activities, but much like other activities, such as going for a ride in the car, playing with toys or visiting the park, you need to take precautions to ensure your child's safety."
Appearing with Dr. Fisher and Kambak on-screen is a group of families demonstrating the water safety tips. YMCA Aquatics provided filming opportunities, including several parent/ child swim classes.
"UMC Children's Hospital takes pride in working alongside our community partners to raise awareness about the importance of water safety," says Dr. Fisher. "While [we are] always ready to provide the highest level of care for Southern Nevada's youngest and most vulnerable patients, our team recognizes the importance of prioritizing community education to help prevent life-threatening accidents."
"We are always striving to create new water safety messages and mediums to share with the public," adds Vassallo. "UMC is a renowned voice in our community, and the authority in pediatric care. Their participation in the PSA provides another level of credibility and expertise to the messaging."
---
This article first appeared in the September 2021 issue of AQUA Magazine — the top resource for retailers, builders and service pros in the pool and spa industry. Subscriptions to the print magazine are free to all industry professionals. Click here to subscribe.
---