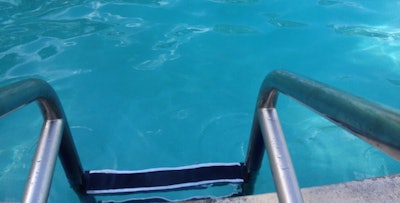 Last month I posted a blog all about the importance of addressing the all-too-common fear of deep water. At the time, I was working on a small suite of articles for upcoming issues of AQUA that, to varying degrees, deal with different aspects of aquatic safety and how the industry can approach safety from a positive standpoint. Those recent forays reinforced two aspects of safety that warrant further discussion and, hopefully, widespread attention.
First, safety is complex. The pool, spa and aquatics industries tend to focus on child drowning and suction entrapment, and for good reasons, but there are other aspects of aquatic safety that are equally important but don't get quite as much attention. Diving accidents, for example, can result in catastrophic injuries and multi-million dollar lawsuits that have led to specific construction standards designed to make pools safer for diving.
Slip and fall accidents, by contrast, do not tend to result in major injuries or litigation, but nonetheless can present significant hazards. Electrical safety, risk of waterborne diseases and even accidents related to chemical transport and storage all in different ways fall under the aquatic safety umbrella.
Second, the issue that unites all of those risk factors is fear. As I reported last month, fear of deep water impacts a huge percentage of U.S. adults. Broader fears of water in general likely impact even larger numbers. Ultimately, that means overcoming fears spawned by common water-related risks is imperative for individuals, companies and entire industries that rely on the desire to get wet. As is true of most types of fear, there is really only one magic bullet: information. The fact is, most of us are more likely to fear those things we don't understand and for which we are not adequately prepared. However, when we become better informed and understand how to mitigate risk, those fears will often diminish or vanish altogether. Therefore, it is in the arena of ideas and education that we find the best weapons to fight water-related fears.
That's all part of why I admire the work of Jeff Kreiger, CEO of Water Phobias and founder of Strategies for Overcoming Aquatic Phobias. As the name suggests, Kreiger's program "combines aqua phobic-specific water adjustment techniques with group and individual counseling dynamics and skills, technical information and traditional learn to swim activities, all allowing participants to ease into an aquatic environment and to be able to enjoy the many emotional and physical benefits of aquatic activities," he explains.
At 63, Kreiger is passionate about the health and psychological benefits of swimming and dedicates himself entirely to helping people overcome their fears so they can realize the advantages of an aquatic lifestyle. "When I'm in the water, I feel 33, not 63," he says. "Unfortunately, people all ages, genders, ethnicity, educational backgrounds and life experiences suffer from anxieties in varying degrees associated with water."
Kreiger is quick to point out that not all fears are bad; in fact, fear is essential to human survival. "It's why we don't do stupid things like jump off of buildings," he says. "But there are also fears that prevent us from fully enjoying our lives. Aquatic phobias definitely fall into that category. It's a problem we can effectively address with the right approach."
While Kreiger is an advocate for swim instruction, when it comes to people with phobias, he believes that traditional methods often fall short. "Many fearful swimmers/non-swimmers are unaware that they can overcome their fear and live an aquatic lifestyle," he says. "This is not only a shame and a lapse of responsibility by aquatic professionals, this fear impacts those affected on multiple levels and often leads to other problems throughout their lives."
Kreiger reports that he's run into resistance among other safety and learn-to-swim organizations, which rely on more traditional methods of instruction, despite his program's apparent success. To help promote SOAP, he recently established a "Fear of Water Think Tank," which he hopes will bring aquatic professionals together by way of shared information.
"This think tank can serve to allow those who do work with these individuals by sharing information, experiences, as well as training workshops and material," he explains. "The group can also serve as a referral center that can assist members of the group who receive requests for help from individuals to overcome their fear from across the globe."
Whether or not Kreiger will succeed on a large scale remains to be seen, but clearly he understands the importance of using information and education as the front line strategy in combating fears that keep people away from the water. For my small part, I take tremendous pride in leading people to the information resources that empowers others to step ahead of safety issues and ultimately defeat the fears that inevitably come with those risks.