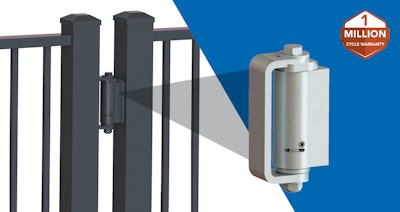 The following content is supported by one of our advertising partners. To learn more about sponsored content, click here.
When specifying components for a new fence around your pool or upgrading an existing gate, the key criteria for selection is how those components will ultimately provide safety and reliability to the property owner. Because self-closing gates automatically close and latch, they help deliver peace of mind, particularly around a swimming pool.
Nationwide Industries™ recommends taking the following 11 considerations into account when selecting a self-closing hinge and latch for your next project:
1. Gate size and weight have a significant impact on hinge and latch selection by limiting the options to those that work optimally at the width, height and weight of the gate. Selecting a self-closing walk gate is possible at almost any size and ensures that it has closed and latched every time.
2. Tension is needed to close a gate automatically, but there are options for adjustability. Gate closing hinges that are nonadjustable close at one speed. This may be the right solution for a particular project, but you might need to adjust the force and speed of the gate close due to site conditions. Selecting one with adjustable tension can eliminate that limitation and ensure a proper closure. Additionally, installing a hinge with proper tension will deliver a better close, assuring a secure gate.
3. Traffic through the fence leads to specific needs as well. Do children or pets play in the backyard unattended? When children and pets are present, self-closing gates provide peace of mind that the gate will close and latch to keep them safe.
4. Budget is an important piece of the selection puzzle, though the material, size and weight should guide the decision to ensure safe operation. Self-closing hinges and latches come in many styles, so while cost always plays a part in specifying components, you should be able to find an array of appropriate solutions at a variety of price points.
5. Gate material will indicate which gate hardware material and type should be used. Self-closing hinges come in a variety of options that can meet many budgetary and operational requirements. Gravity hinges let users open the gate and have gravity pull it shut. Spring coil hinges, the most common residential style, fit best with nylon, aluminum, and even chain link fencing, ensuring a tighter and faster gate closure. Hydraulic hinges deliver a smooth and adjustable closure for heavy-duty uses.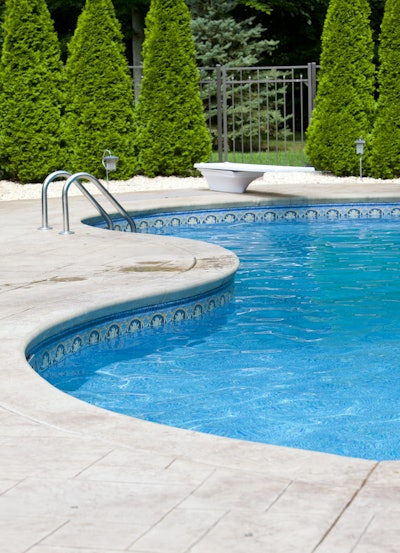 6. Color and mounting screws enhance fence and gate aesthetics when the color of the hinge, latch and mounting screws match the fence material. They can also help narrow the options when selecting.
7. Warranty is important. Quality, self-closing hardware should come with a comprehensive warranty, which means the product is replaced if anything fails so the homeowner is not held financially liable.
8. Installation time and effort are key considerations from the contractor perspective. An easy and quick installation means faster project completion.
9. Maintenance is another important factor. In most cases, homeowner's associations and city codes drive selections that require little maintenance (PVC, aluminum or vinyl color-coated chain link) to maintain aesthetics without constant updates.
10. Codes in the region also play a part in component selection, particularly when the fence or gate will be used near pools. Check local city code and homeowner's association guidelines for guidance on aesthetics and to determine if the gate is required to be self-closing. Self-closing gates often help to fulfill all code requirements when installed properly.*
11. Adjustability makes for an easier fit. All gates and gate openings are not created the same, and one size does not fit all. Allowing for adjustments over the course of the gate's lifetime extends its durability and reliability.
For more information on how Nationwide Industries can help you deliver optimal solutions for self-closing pool gates with million cycle warranties, visit the company's website here.
*Determine mounting height based on local requirements. Swimming pool fences, gates and latches cannot be substituted for adult supervision. If using on a swimming pool gate, consult all appropriate local authorities for safety requirements.