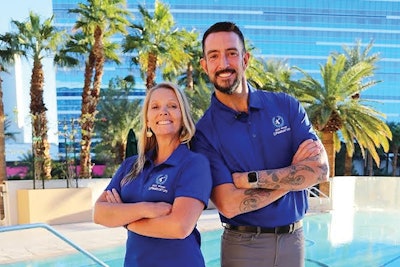 All photos courtesy Pleatco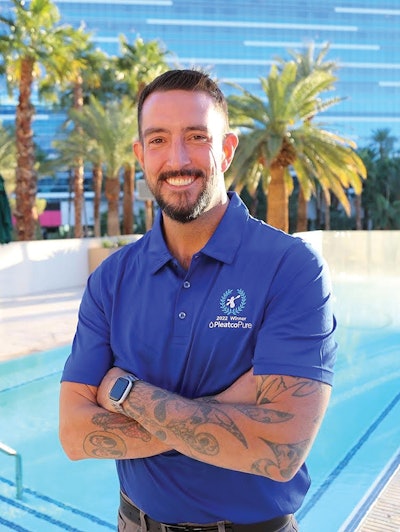 2022 Pleatco Perfect PoolGuy
FRED GOSS
Heritage Pools
North Charleston, S.C.
Fredd Goss entered the pool industry at 17, working for a classmate's father's pool company — Heritage Pools — in Indiana. "They needed help one year. I ended up working there for about four years, doing liners and renos and things like that. Maintenance, openings and closings."
Eventually, Heritage Pools moved operations down to Charleston. Goss stayed put, but he kept in touch — and later, when he decided to move his own family to Charleston, there was a job waiting for him.
"I fell in love with pools all over again," he says. "So I've stayed on. It's been a long time since I've had a job that I love and really care about, and it's so great."
Heritage Pools has some history in the Pleatco award scene: Last year, one of Goss' coworkers made it to the Perfect Pool Guy finals. This year, after the office rallied to nominate Goss, he managed to win the coveted title.
"I was completely blown away and honored," he says. "It just means a lot that they selected me collectively, and felt that I was a worthy nomination. Being recognized for something that you love doing, it's such a rewarding, amazing feeling. And it says a lot about Heritage Pools."
"As the industry moves away from the old stereotype of the pool guy in cutoff shorts in an old van, we're more professional," he adds. "We're definitely more technologically advanced. So to be able to continue that and keep growing, and try to be a good example and show people that this is a professional service industry, and we're here to take care of you…that's a great side of it."
As for his favorite part of the day-to-day job? "Happy customers," he says. "When you know what you're doing, you can educate someone. I personally have a pool that we built last year, and it's such a big part of our life in the summer. To be able to give that to customers — whether it's their relaxation getaway when they get home from work every night, or where they spend time with family on the weekends — being able to contribute to that is a great feeling."
Goss is particularly looking forward to the education aspect of the Pleatco prize. "I was so excited about the potential of getting to go to a GENESIS course for free. That's amazing to me," he says. "I'm constantly trying to grow my knowledge base so that I can share it and be the best that I can be, and help the company be the best that they can be."
Special thanks: "I want to thank Michael, my boss, for always giving me the opportunity to grow. And my wife for always being supportive, even when I'm answering customers' text messages and emails, sometimes off-hours. She loves how happy I am with it. It's always a great thing to have someone who supports you like that."
---
2022 Pleatco Perfect PoolGal
AMY LEMIEUX
Patchouli Pools, LLC
Englewood, Fla.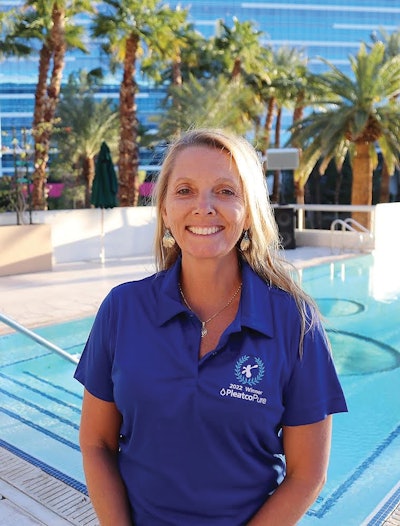 Amy Lemieux got her start in the pool business six years ago. "I had moved back to Florida, and I needed a job," she explains. "I like being outside, and I like doing physical work. The pools were everywhere, so I thought, perfect."
"I had to convince people to hire me, being a woman in the industry, with kids and everything," she says. "But they took a chance on me, and I did it. And then I found out that the customers are just fantastic, and the knowledge and amount of education in every corner is unbelievable. The people in the industry just have open arms. They are welcoming and wonderful, and they have been so supportive."
Eventually, Lemieux ventured out and launched a pool business of her own. "That was what started me in the path of the Pleatco contest," she says. Inspired and encouraged by former Perfect Pool Gal Andrea Nannini, Lemieux decided to apply for the prestigious award. "I reached out to anybody and everybody, and they just jumped on board with me and started voting and writing recommendations for me," she says. "And it was just such a heartwarming thing, to know that they came to bat for me and brought me this far. Without them, I wouldn't have this."
Later, Lemieux received the phone call that would change her professional life. "When I won, I was home alone, so nobody was around me. The call seemed like it went in slow motion…they told me, and it was just such excitement. It was joy and then tears."
"This award is an amazing thing," she continues. "It boosts your confidence knowing that all these people out there voted for you…and [with] a brand new company, it starts you out on the right foot."
When asked about her favorite part of the job, she doesn't hesitate: "The customers, first and foremost, are fantastic. They're basically why you do it, you know? It's the joy that you see on the customer's face…You get to see so many in one day when you're a service technician. It's like having a friend around every corner."
Special thanks: "'Industry standard' is a big phrase for me. My former boss at Pelican Pools — Larry Kaydas — started using that phrase, and that's what started me on the path to finding industry standards. Then I found Rob Romano at the National Plasterers Council, and all of his advice just led me to go further down the path of researching and finding people that have high standards of care. That's when I found Rudy Stankowitz and Andrea Nannini…and they all have podcasts. The content that they bring to anybody that will listen is just fantastic. I wouldn't be here without the knowledge that they were so willingly sharing."
---
This article first appeared in the January 2023 issue of AQUA Magazine — the top resource for retailers, builders and service pros in the pool and spa industry. Subscriptions to the print magazine are free to all industry professionals. Click here to subscribe.