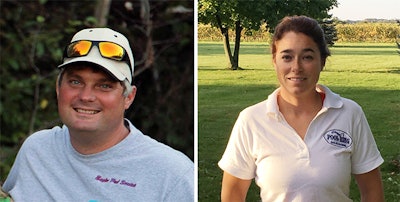 Pleatco, along with co-sponsors Genesis and the National Swimming Pool Foundation, has officially announced the winners of the 2016 Perfect Pool Guy and Gal Search: Cory Eagles (Moncton, N.B., Canada) and Jennifer Del Vaglio (Southold, N.Y.).
Eagles is from Moncton, N.B., Canada, and owns Eagles Pool Services. "Cory not only has a heart of gold, he has the work ethic of steel! Cory is celebrating the 10th anniversary of opening his own business and his success in Canada is due in large part to his determination, great customer service, honesty and integrity," says Howard Smith, CEO of Pleatco.
In response to winning the award, Cory replied, "I am deeply honored and humbled to be receiving one of the top awards in the industry!"
Perfect Pool Gal Jennifer Del Vaglio hails from Southold, New York, where she manages East End Pool King. From building pools and excelling in perfect water chemistry to maintenance and retail expertise, there is nothing Del Vaglio does not do. In particular, she takes pride in her success as a woman in the pool industry. "Her customers rave about her and say she is upbeat, positive and caring," Smith says.
"I am overwhelmingly thrilled to be honored with recognition from my clients, peers, and an industry leader like Pleatco for my dedication and hard work," Del Vaglio says. "It is heartwarming to know I do make a difference."
With so many worthy entrants, Pleatco once again expanded the contest and created additional awards. "During our final interviews, we were impressed by the caliber and diversity of so many individuals that we felt it was proper to recognize the outstanding achievements of several other entrants," says Battista Remati, CMO. "In that spirit, we selected contestants for special awards based on their contribution to their community and the pool and spa industry."

Backyard Hero Award
Todd Riddick, Outer Banks, NC

Outstanding Service Award
Erin Thibodeau, Pace, FL

Industry Leadership Award
Jason Lehmann, North Richland Hills, Texas

Lifetime Achievement Award
Douglas Hoerber, Lake Worth, FL

Big Heart Award
Mark Howard, Phoenix, AZ

For nine years, Pleatco has held the Perfect Pool Guy/Gal contest with co-sponsor Genesis. A big highlight of this year's contest was the addition of NSPF as an event co-sponsor. Because of NSPF's involvement, every finalist in this year's contest won its new Advanced Service Technician Certification Course, a significant contribution raised the level of the contest to impressive new heights.
"The service industry is extremely important when it comes to helping owners fully enjoy and appreciate their pools," says Brian Van Bower, Genesis ambassador and co-founder. "Skip Phillips and I started our careers in pool service and it has always been near and dear to our hearts. We are proud to help honor our hard working service professionals through the Pleatco contest!"
"We are fortunate to be the new co-sponsor of this wonderful contest," says Thomas Lachocki, CEO of NSPF. "At NSPF, we fully support initiatives that keep pools safer, keep pools open and assure more people can enjoy the water. We recognize the crucial role every pool service technician plays, we are honored to celebrate them, and we are pleased to offer our new AST online course as a major prize for each and every finalist to nurture continued growth."
This year's Perfect Pool Guy and Perfect Pool Gal will each receive a trip for two to the International Pool, Spa, and Patio Expo in New Orleans. More importantly, both winners are invited to attend the Genesis Basic Pool Construction Course free of charge ($5,000 value). The winners will also be honored at a high-profile awards ceremony, a gala dinner, star in a nationwide advertising campaign and take home thousands of dollars of free Pleatco products.
"On behalf of Pleatco, Genesis and NSPF, we'd like to thank everyone who entered, nominated and voted in our ninth annual Pleatco Perfect Pool Guy Contest," says Mary Villegas, VP of operations at Pleatco. "We have been truly overwhelmed by the sheer quality of the nominations and the thousands of votes cast. The entries were extremely powerful and heartfelt across the board. And we look forward to a great awards presentation at this year's PSP Expo in New Orleans."
The official awards ceremony will be held Thursday November 3rd, at the Pleatco booth #2101 at 1 p.m. Everyone is welcome to attend and congratulate the winners in person.