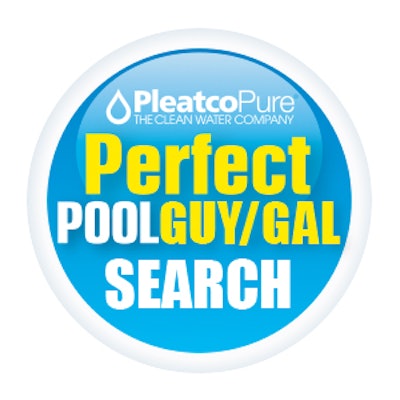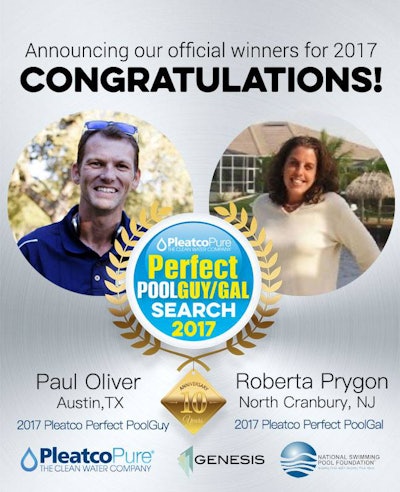 Pleatco, along with longtime co-sponsors Genesis and the National Swimming Pool Foundation, announce the winners of the 2017 Perfect Pool Guy and Gal Search: Paul Oliver of Patriot Pool and Spa (Austin, Texas) and Roberta Prygon of The Pool & Spa Place (North Cranbury, N.J.).
"When we made the calls to Paul's references in the final judging stage, every single person commented on his great customer service, honesty and integrity. They universally testified that he is one of the most passionate and dedicated pool guys in the industry," says Howard Smith, CEO of Pleatco.
"The quest for perfection has no final destination, it's a continuous journey that I'll forever be on," Oliver says. "The Pleatco Family and Patriot Pool and Spa have let me know that I'm truly on the right path and where I need to be."
Prygon was nominated by John Magliaccio. "Roberta brings her 'A' game to work every day and makes all her co-workers feel wanted, happy and part of the team! She has chlorine for blood and her pH is always perfect," he says.
"I am stoked to have been chosen as this year's winner," Prygon says. "To be recognized and regarded so highly by my co-workers, clients, peers, family and friends is overwhelming and humbling. I love my job and the amazing people I encounter on a daily basis! Thank you all again for this honor and everything associated with the contest. I look forward to the whirlwind of adventure."
The annual Pleatco Pool Guy/Gal Search is an innovative way to honor the hardworking men and women of the pool and spa service industry. With over 100 contestants, this year's entrants were as impressive as ever. Once again, Pleatco expanded the contest and created additional awards.
"During our final interviews, we were impressed by the caliber and diversity of so many individuals that we felt it was proper to recognize the outstanding achievements of several other entrants," says Battista Remati, CMO. "In that spirit, we selected contestants for special awards based on their contribution to their community and the pool and spa industry."
Bryan Norris | Community Leadership Award
Justin Word | Big Heart Award
Josh Kopischke | Future Leader Award
Jessica Sanders | Customer Service Award
Bob Barzilay | Industry Leadership Award
Cathy & Mike Snyder | Perfect Partnership Award
This year's Perfect Pool Guy and Perfect Pool Gal will each receive a trip for two to the PSP Expo in Orlando. Both winners are invited to attend the Genesis Basic Pool Construction course being held at the show free of charge ($5,000 value).
Winners and finalists will receive NSPF's AST certification course, also offered at the show, free of charge ($1,100 value). To celebrate with Pleatco on the 10th anniversary of the contest, NSPF is offering its AST Certification course free of charge to all Perfect Pool Guy/Gal alumni.
"On behalf of Pleatco, Genesis and NSPF, we'd like to thank everyone who entered, nominated and voted in our 10th anniversary Pleatco Perfect Pool Guy Contest," says Mary Villegas, VP operations at Pleatco. "We have been truly overwhelmed by the sheer quality of the nominations and the thousands of votes cast. The entries were compelling and heartfelt across the board. And we look forward to a great awards presentation."
The official awards ceremony will be held at the PSP Expo Thursday, Nov. 2, at 1 p.m. at booth 931. Everyone is welcome to attend and congratulate the winners in person.