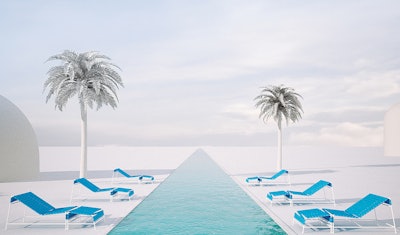 All photos courtesy @smarin
Smarin, a French design studio, recently launched a new collection of pool lounge chairs, which play on the artistic themes of the artist David Hockney, internationally known for his artwork centering around swimming pools. In 2018, his painting titled "Portrait of an Artist (Pool With Two Figures)" sold for $90 million at an auction in New York City — one of the most expensive pieces of art sold at an auction by a living artist.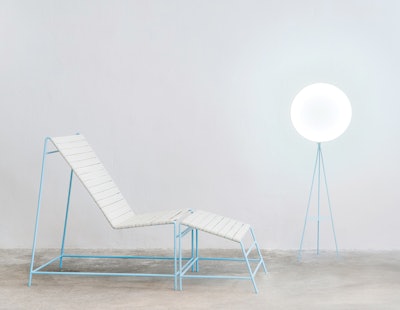 Designer Stéphanie Marin founded Smarin in 2003, and since then, she has developed and produced accessible and sustainable projects including furniture, textiles, space planning and set designs. Although the projects are manufactured in Nice, they have become a global sensation. The company specializes in high-end furniture and continues to develop new and improved designs by collaborating with designers, artists and countless others who possess creative flairs. Smarin's mission is to offer furniture made from natural and durable materials, something the company succeeded in when launching the Schaise.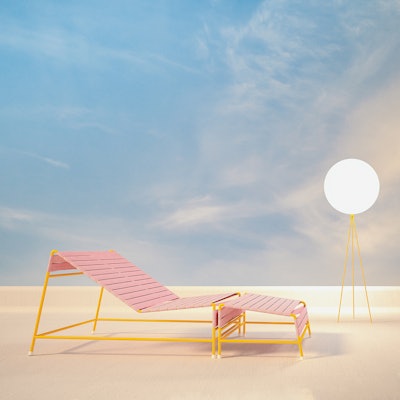 The Schaise is a collection of pool lounge chairs that naturally induces a healthy posture, better blood circulation and tonicity due to its flexible and ergonomic design. The chairs contain a steel frame, epoxy paint and fabric elastic straps, making them functional to sit in and lightweight to move around, closer to the edge of a pool on a warm, summer day. Marin paired the chairs with a floor lamp, which contains a circular light disc and is supported by a trio of black legs.
When asked about the Schaise design, Marin said she focused on the feeling of the body, and made a seat that allows the body to be unrestrained. "The mechanics of the body's functions and movements is an essential matter for me," says Marin. "That is why this furniture is so minimal. The chairs follow the body, instead of having the body adapt itself."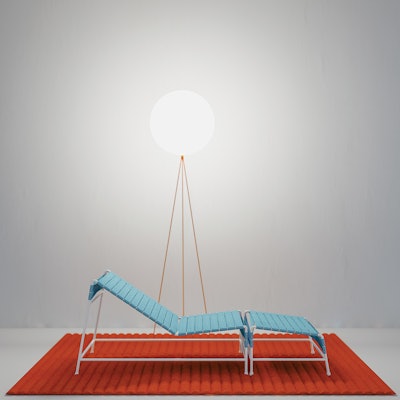 The vivid, soft colors of blue, white, yellow and pink embellishing the Schaise chairs were also used in many of Hockney's swimming pool paintings during the 1960s and 1970s. The similarities caused The Centre Pompidou Boutique in Paris to invite Marin to exhibit her collection in 2017.
"I think it might be the space in the pictures," says Hockney about the popularity of his work on CBS This Morning. "You don't know why things become memorable. If there was a formula for them there'd be a lot more of them, wouldn't there?"
This article first appeared in the March 2023 issue of AQUA Magazine — the top resource for retailers, builders and service pros in the pool and spa industry. Subscriptions to the print magazine are free to all industry professionals. Click here to subscribe.