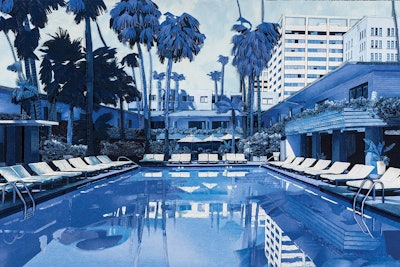 Photos courtesy Ian Berry / Debbie Bragg
Believe it or not, the images you see here are not paintings. In fact, these works of art were meticulously crafted from many layers, washes and fades of upcycled blue jeans.
Artist Ian Berry, based in London, has been working exclusively with denim for over 15 years. "It is simply his medium for seeing the world," reads his artist statement. "And what a material to use in this modern world; with all its symbols and dualities, as well as being such a common item of clothing that unites many around the globe."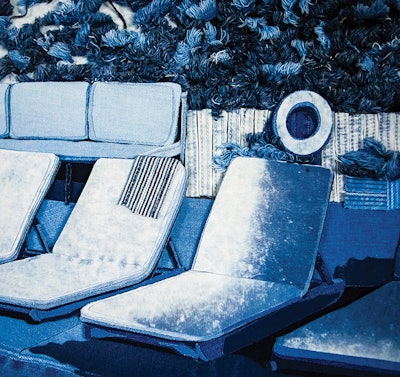 It all began as an experiment, the statement continues, with some scissors and glue. "While working with denim, [Berry] started to realize his own connection with jeans — and especially other people's."
This particular collection, from his "Hotel California" series, was inspired by Berry's travels in San Francisco and Los Angeles. "It was the light and the pools there that got [my] attention," he says.
While there, Berry stayed at the historic Hollywood Roosevelt hotel, which appears in some of these pieces. Opened in 1927, the Roosevelt is the oldest continually operating hotel in Los Angeles. It was home to the inaugural Academy Awards and even Marilyn Monroe, for a couple of years. In 1988, painter David Hockney created a mural on the bottom of the Roosevelt's Tropicana pool, one of the elements seen in the "Hotel California" series.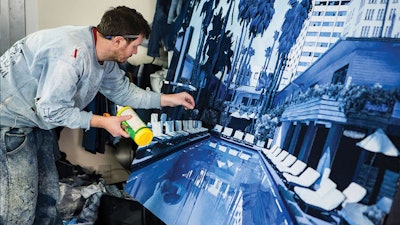 Berry's work has been exhibited around the world, earning a number of accolades along the way: Art Business News listed him in their '30 Under 30' list in 2013, and in 2019, he was recognized by denim magazine Rivet as one of the 50 most influential people in the denim industry. In addition, the Levi Strauss Museum in Buttenheim, Germany, ran a special exhibit dedicated to Berry and his work.
---
This article first appeared in the July 2022 issue of AQUA Magazine — the top resource for retailers, builders and service pros in the pool and spa industry. Subscriptions to the print magazine are free to all industry professionals. Click here to subscribe.