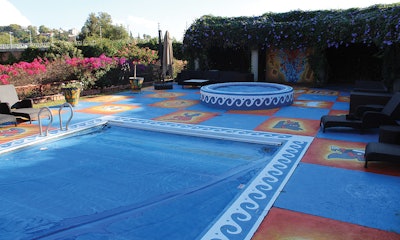 Photos courtesy Jesus Lopez Vega
Channeling the rich tradition and culture of his hometown, a Mexico-based artist painted a series of stunning murals across a pool and its surrounding deck.
Artist Jesus Lopez Vega is a native of Ajijic, a town surrounded by mountains on the shores of Lake Chapala. A childhood class sparked his artistic ability, which is mostly self-taught.
"I was so fortunate to find myself at the Neil James' children's art program each Saturday," he says. "There, I learned technique and was given confidence."
Today, Vega's work can be found in exhibitions throughout Mexico and in private collections around the world. He spends his spare time volunteering as an art teacher for local children.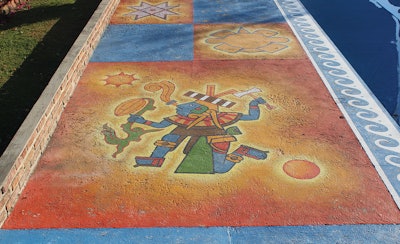 Vega's unique designs use vivid shapes and colors to blend folkloric style with Mexican magical surrealism. In his work, he explores "the visions of the ancients, the energy of Mexico's native traditions, the schemes of its political reformers and an individual's psychological experience of it all."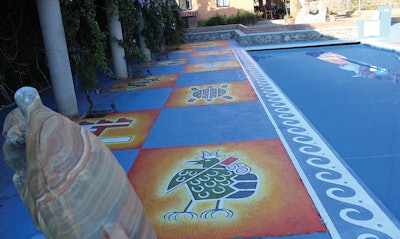 Up until the arrival of the Spanish in 1522, the Ajijic region was nomadically occupied by the ancient Nahua, Cora and Huichol tribes. Eventually, the Nahua settled around the shores of Lake Chapala. In their ancient language, the word "Ajijic" actually means "place where water is born" or "place where water bubbles up." History says this was because of long-gone natural springs in the area, but what better-fitting place for such a beautiful swimming pool?
---
This article first appeared in the February 2022 issue of AQUA Magazine — the top resource for retailers, builders and service pros in the pool and spa industry. Subscriptions to the print magazine are free to all industry professionals. Click here to subscribe.