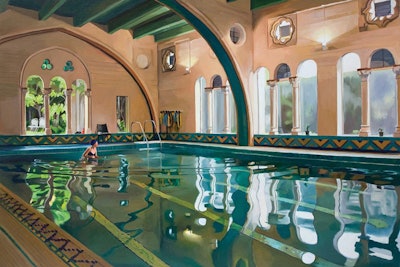 Photos courtesy Sullivan Goss Gallery
In a recent exhibition at the Sullivan Goss Gallery in Santa Barbara, artist Patricia Chidlaw showcased a series of swimming-pool-inspired paintings.
Her collection, aptly titled 'The Pool Show,' illustrates various effects of light on the water.
"I have always been interested in transparent and reflective surfaces, so water has always held a huge attraction for me," she explains.
Chidlaw, while born in San Francisco, had a nomadic childhood experience that spanned a number of countries. "My father was a career Army officer when I was growing up. As a teenager, I lived in France, Italy and the Netherlands, so I had an opportunity to visit many of the continent's great art museums," she says.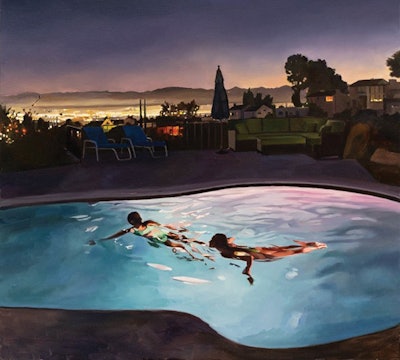 Those opportunities instilled a lifelong interest in art: Chidlaw went on to study painting at the University of California, Santa Barbara, where she graduated in 1973. She has lived and worked in the area ever since.
"The best part about painting is [that] you make a habit of observing the world very carefully," she says. "As you attempt to render it in paint, you notice more and more, and the world expands in complexity and visual interest."
Chidlaw employs a traditional process, working with oil paint on linen or canvas. "Everything I paint is based on actual observation," she says. "[And] when painting the landscape of Southern California, the swimming pool is a constant, dramatic presence."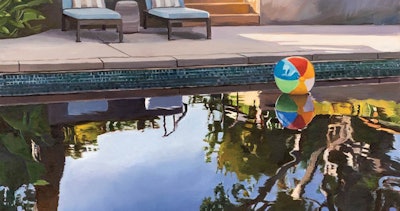 "I think the most beautiful pool I've ever painted is the indoor pool at the Berkeley City Club Hotel, which was designed by architect Julia Morgan," she adds.
Julia Morgan's other two famous pools are the two at central California's Hearst Castle, but Chidlaw hasn't painted those — yet.
To view more of Chidlaw's work, visit www.patriciachidlaw.com.
This article first appeared in the November 2022 issue of AQUA Magazine — the top resource for retailers, builders and service pros in the pool and spa industry. Subscriptions to the print magazine are free to all industry professionals. Click here to subscribe.