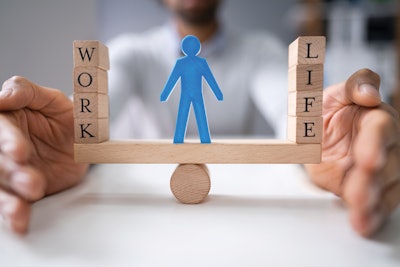 Amid the tightest labor market in memory, retaining and engaging younger employees is more important than ever. Mallory Bjekich-Wachowski, a former retail operations manager at DesRochers Backyard Pools and Spas in Chicago with over 15 years of experience, and Maggie Wood, current retail manager of Hansen's Pool & Spa in Kenosha, Wis., have a lot of insightful things to say when it comes to managing — and just working effectively with — millennials and Generation Z, the up-and-coming generations of employees who are "working to live" rather than "living to work." AQUA spoke to them recently about the challenges of engaging this vital workforce.
1. HIRING EMPLOYEES
There are a variety of options available in order to reach potential employees, such as referrals, social media and/or advertisements, or just plain old face-to-face recruiting; however, finding a good employee who is willing to learn, work hard and stay with your company for more than just a few years has become much more difficult to find than it once was.
Years of AQUA State of the Industry surveys attest to the fact that the most popular source of pool and spa workers is referrals. That's where Bjeckich-Wachowski started as well, before she began to hone her approach.
"When I first started, I primarily used referrals from my employees, which worked for the most part," says Bjeckich-Wachowski. "I also used Indeed, but that's a lot of work because you have to sift through a lot of resumes. Social media platforms like Facebook were another great place to find people, especially the millennial generation because they basically grew up on that app. I think Instagram is even a great place now, but you really have to be proactive about looking and re-recruiting. I know LinkedIn is another common platform, but I only ever used it as a resource to really find out about someone's experience, not as a hiring tool.
"My business partner, Jane Merritt, does a lot of recruiting within local businesses actually. If she's out shopping and experiences exceptional customer service, she'll try recruiting that person and, oftentimes, has great luck. It's kind of like a 'shotgun' tactic. There's also value in letting your customers know that you're looking for help, especially seasonally; letting them know it's a great summer job for college kids is an effective way to find people."
Successful recruitment hinges on recognizing it as essential to the future of a business and prioritizing it, which isn't as easy as it sounds for managers who face a welter of priorities. Still, keeping it top of mind is crucial to achieving the goal of a full staff of competent employees.
"Honestly, one of the best pieces of advice I've been given over the years is to always be hiring. Meaning, you should always accommodate and hire someone, even outside of the busy season, if that person is a great fit because it's an investment towards your company's future."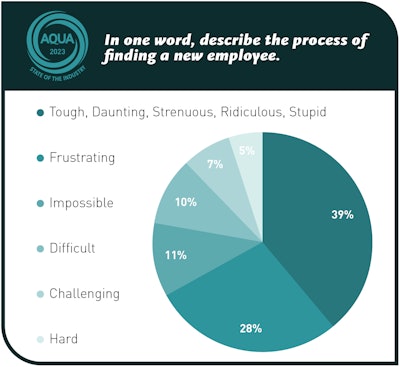 2. MANAGING EMPLOYEES
The nature of pool and spa business requires a concentration of effort at certain times — certainly the summer swim season but also opening and closing — and such times require all hands on deck, ready for battle. For employees, attendance is not negotiable.
Bjeckich-Wachowski refers to these weeks as "blackout dates," and makes sure that employees are aware of the necessity of working these busy weeks prior to even being hired. Setting those expectations from the start is helpful in keeping employees for the long term.
Just as imperative in this era is connecting with the individual and guiding their career within the company. "It's important to take genuine interest in who your employees are as people and what they're good at," Bjeckich-Wachowski says, "and to try to build opportunities within their daily work that really maximize their talents. You really have to pay attention to what skills your employees have. For example, I had an employee who was really great at caring for people, so I moved her into an assistant manager role because I thought she'd not only be good at it, but that she would really like it. It ended up working out great because she was eager to make sure everyone had and did what they needed to do, which is really what a manager is.
"Was she great at scheduling? No. So that's where I stepped in to help out. As a manager, you need to shore up what's lacking, and find people with complementary skills, which will holistically improve your company."
The most essential component of modern management is communication, and not just of policies and operational details. Young workers now expect managers to communicate something of themselves and often, to take an interest in employees as people.
"I'm a big supporter of one-on-one communication," Bjeckich-Wachowski says. "I have an open-door policy. Like if you need something, please bring it up to me and I'll pretty much drop everything to make sure you at least get what you need in that moment.I tried to encourage my employees on their good and bad days because let's face it, nobody's perfect. If I ever noticed someone had a really rough day at work, I would send them a text message saying tomorrow would be better and to take a deep breath. And then I might bring in their favorite coffee the next morning because I know small acts of kindness like that matter to me, so it probably also mattered to them.
"As a manager, you have to invest in both their personal and professional development. If they want to take a training course, let them. If they are a seasonal employee working towards a different career, help them. Don't gatekeep your employees, but instead, push them to succeed in whatever they're most passionate about in life. If your employees are fulfilled and are really working towards something they personally care about, they're going to work harder for you without you even having to try."
3. RETAINING EMPLOYEES
The payoff for good daily management is employee retention, without which a business descends into chaos. There are many facets to employee retention strategies, but an important one in the post-pandemic era is avoiding burnout, a prevalent cause of employee turnover.
Bjeckich-Wachowski would argue that the key is work-life balance; an idea truly embraced by millennials and Generation Z.
"Near the end of my career as a retail operations manager, I had kind of gotten to a point where I could tell if one of my employees was experiencing burnout," says Bjeckich-Wachowski. "This is because I have experienced it myself more times than I can count. Like some of my fellow pool and spa professionals, I'm an overachiever, so I know that sometimes it's hard for us to just stop working, but I also know how much overworking can affect both your physical and mental health. It's like pouring from an empty cup; you're depleted, so there's nothing to pour.
"I think that's why I value a work-life balance so much, because I've worked the 70-hour weeks, for weeks on end, and when it's all said and done, I'm just exhausted.
"Some of my younger employees, though, seemed to know when to say, 'Hey, I need a day off because I really need to get caught up in life.'"
"In this industry, however, it's really hard for people in positions of power to find a good work-life balance. Asa high-level manager or owner, you want to make sure that your business succeeds, so you want to put in as much time as you can in order to achieve this end goal." That mindset can push hard-working managers to the point of collapse.
Maggie Wood, retail manager at Hansen's Pool & Spa, tries to keep that in mind as she formulates vacation policy.
"Our full-time team members will typically keep the same days on/ off throughout the year," she says. "This helps create predictability in our very unpredictable industry. We are also closed on Sundays, which is something I implemented in the Spring of 2020 to give us all a true day off. That is something we have decided to continue, as it really allows my team to be able to spend time with their friends and family without needing to worry about what's going on in the store. Another thing we tried this year to help prevent burnout was a yoga morning — we had a local yoga studio teacher come in and hold a restorative yoga session with our team. Everyone loved it, and it's something we will absolutely be doing again."
WHEN YOU ARE FORCED TO SAY GOODBYE
One way or another, turnover is inevitable, whether it stems from natural forces, a bad fit or a failure of management. For these latter cases especially, it's important to figure out why the employee decided to leave.
Common reasons behind employees leaving a company include wanting a higher salary or more benefits, dissatisfaction with work-life balance, poor relationships within the company, seeking a new place to live or a new career path. Some of these issues can be solved through good management practices, and others can't, but learning from mistakes is essential for a manager looking to raise a company's rate of employee retention and help it compete for today's precious and elusive workforce.
This article first appeared in the June 2023 issue of AQUA Magazine — the top resource for retailers, builders and service pros in the pool and spa industry. Subscriptions to the print magazine are free to all industry professionals. Click here to subscribe.