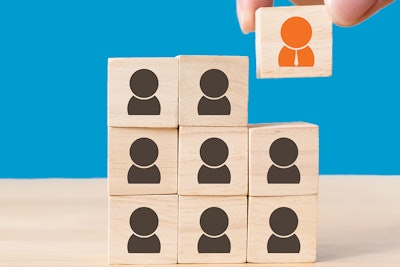 The industry has seen many changes since March 2020. While the surge in business and the struggle to maintain supply held the attention of managers, the employment landscape has been changing, too. Specifically, it's gotten harder than ever to find workers, and the efforts to retain them has become more complicated and expensive.
Workers themselves, as people, have changed nearly as much as the economy in which they work. Recognizing this reality, and strategizing for it, is crucial for companies trying to maintain a stable workforce.
One of the best labor strategies is figuring out a way to use less of it. That is, to cut out any wasteful or less profitable activity and shift workers toward the most essential and profitable segments of your business. In essence, to shape your company around your labor in the way a coach builds a football team around the strengths of its players.
Companies are ruthlessly excising jobs, hours and deliverables that are consuming the precious resource of work without providing a premium return. Late evening fast food is an example. Three years ago you could get it. Now, in many places, you'll find the lights off.
It's an ongoing process.
SHRINKING TO EXPAND
Steve Hood, of Crystal Clear Pool Company in middle Tennessee, an upmarket builder, called the idea "shrinking to expand" at a forum at AQUA Live last fall.
"Labor has been crazy hard for some time, and it's probably stillthe biggest problem — just finding enough guys. In the business I just sold, we did everything for a long time, but when this [pandemic] hit, we got out of renovations, got out of service and just did high-end pools — and that helped because that's all the labor I had anyway, so why not focus them on the most profitable thing?"
"It was so busy, we had to stop doing what we weren't good at, so that we could get rid of all that noise and concentrate on what we knew we were good at," says Lea Frederick, president/designer at Vue Custom Pools, Greensboro, N.C.
Reshaping a company certainly qualifies as a major adjustment,and it requires a nimble team and commitment from management, but the rewards are plentiful. It allows the company to fix its attention on what really matters and get better at it.
"I think that you have to kindabe flexible to do it," says Hood, "to shrink, and do less — maybe just the one thing you're best at. We tried to streamline things so they know what they're doing every day when they come to work. But that's a good part of solving your labor problem — fewer in-house workers, more focused."
At the same forum, Sue Rogers, former president of Oregon Hot Tubs in Portland, emphasized streamlining a company now, while business is good. "What are the 10 things that you can reduce, cut or remove that willnot negatively impact your customer experience, your ability to deliver, or your ability to sell? Get out a piece of paper and write those down.
"And you know there'll be things on that list, because we had this beautiful two-year run — we got fat and happy, and we started buying things and doing things that we didn't need to.
"Maybe, during the last two years, a customer said, 'I want water delivered.' And you said, 'Okay, whatever.' But maybe you don't need to be delivering water any more. Today is the day to look at the things that you can reduce or eliminate from your company."
RECRUITING: REACH OUT AND GRAB THEM
Even if you cut every extraneous activity out of your company, you still need to find workers. But where are they? You used to see them all over town, sometimes even lining up to apply for jobs. Now, you don't. Now, you have to go after them.
Passive recruiting may still work in countries with high unemployment, but here in the United States with an unemployment rate of 3.5% and the lowest workforce participation rate in modern history, some sort of proactive approach is needed.
One company, Cover Care, uses direct solicitation — cold messaging prospects on recruiting sites. Cover Care is a rapidly expanding automatic pool cover installation company, opening new territories across the United States. They commonly find themselves entering a new city, such as Des Moines or Pittsburgh (new locations in 2022), in need of a whole new team built from scratch.
"We have a recruiter who works remotely, going through different websites — LinkedIn, other recruiting sites like that. She messages people that might be good for the job, and gets people to respond to her. She's recruited about 15 people for us," says Chris Hunt, regional manager at Cover Care in Wichita.
"When she first came on, she knew how to reach out to people, but she didn't have an understanding of what we needed. She thought, 'I need to find people with pool experience.' But you're not going to find that. And even if you do, it won't be the right kind. Maybe they know how to test for chemicals or replace liners, but they won't know how to put in a pool cover, which is what we need."
"So we told her, 'Hey, forget about the pool industry. If you get somebody with experience, great, but widen your horizons. Find people who love to work, and we'll teach them the rest because all you need is somebody with four things:
1. a little bit of mechanical experience
2. a lot of care — they have to care
3. a willingness to work
4. and a willingness to learn
That's really all you need. If you start with that and train them well, next thing you know, you've got a good pool cover technician.'"
A lot of companies are using both recruiting websites and social media to recruit more aggressively than in the past. Mallory Bjekich-Wachowski, former retail operations manager at DesRochers Backyard Pools & Spas in suburban Chicago, now co-founder of Toolbox for Excellence, says those platforms are valuable, but word of mouth remains a great resource for labor, especially if you turbocharge it with rewards.
"Referrals are gold, and you should incentivize referrals with your current staff. I always found that they would never recommend someone that they knew couldn't handle it, because they didn't want it to fall back on them.
"Also, personal recruitment. If you see someone doing a great job in their current job, hand them a business card and say, 'If you're ever looking for a job, I'd love to talk.'"
WORKFORCE OF ATTRACTION
Regardless of how recruits havebeen enticed or intrigued, whetherby referral or IM or through a chance encounter at the host station in a restaurant, the first impression they're going to get of your company is its website company page or social media page. These pages should suggest that it's a great place to work.
Pictures of happy employees work very well. Bjekich-Wachowski recommends "involving your team with social media and documenting some of those team-building experiences, because that in and of itself is an advertisement for hiring.
"I can't tell you how many times I posted — even on my personal page — things that we did with my staff and then people, friends of mine, would reach out and be like, 'You know what? My son is going to be 16 next year, would you be able to hire him? Should he apply?'"
Young people especially aremore concerned about their work environment than ever before. They're looking for a team to join, with positive interactions, she says, "So when hiring, you need to convey an environmentof a team, and not only convey that, but live it. If you are hiring the [older] millennial group, I think you are looking for work-life balance, fair pay, and a feeling that they matter."
In either case, the images and feel of your company culture, as presented online, should be designed to appeal to the values of workers you seek to attract. And as Bjekich-Wachowski suggests, that company culture hasto be real, not just an internet facade. Otherwise, it's just bait and switch.
CULTURE CLUBS
Company culture may be the newest frontier of all the new frontiers of labor in the pool and spa industry. Most pool and spa company managers grew up in a time when that term might have drawn a smirk. Sure, a company needed a good environment, but workers stayed because the money was right.
It's different today. "It's not all about money anymore," says Hunt. "As crazy as it is, people can stay home and make money online. You have to think about it differently."
Stories about the changing workplace culture fill the pages of business journals now, as do the ideas of forward-thinking ownersand managers to create an attractive workplace. These managers know today that if another company looks like it's a more pleasant place to work, your well-trained, well-paid employees will wander that direction like cows to greener pastures.
Especially now, Rogers says, you cannot afford to watch your best performers walk out the door. Do whatever it takes to keep them, she says. "Identify the people that really make the difference in your organization, the ones you absolutely cannot live without, and take care of them. Because you don't want to lose those folks. If for some reason things go south, you're going to need those people standing by your side to get through whatever entertaining thing the world is going to throw at us next."
What, specifically, should companies do to retain their best workers? The answer is as varied as the personalities of owners. The details of creating an attractive company culture are not as important as the simple act of focusing on it. Ingenious, well-crafted company cultures are all around us, both outside and inside the industry.
"Jane Merritt of Anchor Pools does a great job at employee retention," Bjekich-Wachowski offers as an example. "She makes a team goal, and will take her staff on vacations and company outings if they make that goal — and they are big outings. She took some of her team to Italy, for example. This year, she's focusing on her service and construction sectors. They have some goals they want to make. But she starts by asking each branch, 'What are you interested in?' And they were interested in taking a fishing trip, but it could be a number of things."
"You have to treat them like your family," says Hood, "and have fun with them. We have nerf gun fights at the Christmas party — all the employees get involved, their kids, spouses.We do a canoe trip every year in the summer, too, and that helps build the team."
It's not all trips and barbecues, though. People want a stable, predictable solid company to work for, Rogers says. So you have to execute the fundamentals.
"When it comes to creating a company culture, something I think that we often overlook is consistency. If you come to work, and it's just a new crazy town every day, that only works for a certain number of people — the people who like crazy town. For other people, it doesn't work, and that includes customers.
"So I would say, as part of the retention program, be consistent. Pay your people on time, pay them correctly, and be consistent in your rules."
This article first appeared in the February 2023 issue of AQUA Magazine — the top resource for retailers, builders and service pros in the pool and spa industry. Subscriptions to the print magazine are free to all industry professionals. Click here to subscribe.