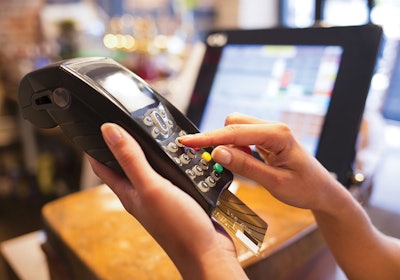 There are a number of things that can irritate a hard-working pool company finance manager, and on that list of transgressions, outrages and righteous peeves are credit card processing fees. It's scandalous how much credit card processors take from the sale of an automatic pool cleaner, VSP or spa, seemingly for doing almost nothing.
There is a way to minimize the pain, however. Business CC processing consultants can quickly analyze a company's merchant service contract and often spot useless services and pointless service fees that can be eliminated, saving the company tens of thousands of dollars each year.
One such firm, Merchant Cost Consulting, is focusing their cost savings service on the pool and spa industry, and has worked with a number of larger pool and spa retailers and builders to reduce fees, including Ultra Modern Pool & Patio in Wichita, Kansas, and Claffey Pools in Dallas/Fort Worth, Texas.
According to Jeff Digati, finance manager, Claffey Pools, "Merchant Cost Consulting did an exceptional job that will result in thousands of dollars of savings. The process was simple from the beginning to end and only required about 15 minutes of my time."
In describing the deal MCC offers pool and spa clients, Matt Rej, vice president of sales & business development, gets right to the point. "We're a cost reduction firm. Our main objective is to help businesses renegotiate their merchant service expenses without changing the provider software bank that they utilize currently."
Rej stresses the value of a small business manager's time and resources, and understands that any service needs to be quick and simple.
"We do this for all different types of industries, but it's been really helpful in the pool and spa industry because a lot of the retailers, builders and service companies use a specific kind of software that has an integrated credit card processing company as part of it — one that's been overcharging them for some time."
The company's stated objective is to reduce the fees, renegotiate the contract, and then share the savings with the business. Since MCC is paid a percentage of the money saved, there is no out-ofpocket cost for the business.
Moving forward, MCC continues to audit a client's merchant fees month over month to make sure the rates don't increase again, or that the credit card processing company doesn't just start charging new fees — which, Rej says, happens more than you might think.
"It's actually very similar to phone service companies, where you sign up for one thing, but then six months down the road, you're paying way more than you expected because they're adding additional fees, there was a boost in charges in the fine print, et cetera. You see that same thing in credit card processing, except it's 20 times worse.
"And frankly, the credit card processing industry has a black eye in terms of public relations just because of the deceptiveness of its practices where rates are increased or additional fees are added. And people hate that, obviously, because it's not honest work."
Amid the frantic pace of work in the pool and spa industry, these unnecessary fees and hidden rate hikes can go unnoticed, as owners and managers are pulled in all directions without the time or inclination to dig deep into long, verbose credit card contracts.
"Those are the two biggest pain points that we alleviate for the small businesses — the time and also the effort required to comb through a contract, because even if a small business owner can find the time to get into it, it's confusing — understanding all the rates and fees is like a different language.
"We've been super successful at helping companies in the pool and spa industry because a lot of businesses don't even realize what they're paying for," Rej says. "They just think the credit card fees are what they are, and that's the cost of doing business. But we see a lot of pool retailers and builders paying 4 1/2%. And when you can get it down to 2% and share that savings, that's a lot of money. So that's our model in a nutshell."
Rej notes that for sole entrepreneurs and very small businesses with minimal processing fees, the benefit of a renegotiated contract is small because the overall losses are small. "But for companies that have at least $2,000-plus in credit card processing fees per month, that's where we can really make an impact."
---
This article first appeared in the May 2022 issue of AQUA Magazine — the top resource for retailers, builders and service pros in the pool and spa industry. Subscriptions to the print magazine are free to all industry professionals. Click here to subscribe.