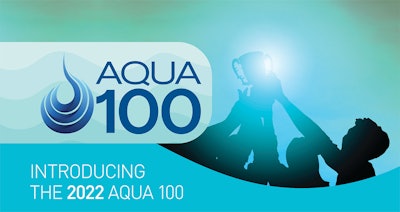 When the AQUA 100 was reborn, we asked the industry to define what makes a "great" pool and spa retailer — and most everyone said it's hard to say.
The industry could never have predicted the circumstances dealers have had to overcome during the global pandemic: Among supply shortages, price inflation, labor problems and more, many retailers have worked hard to stay afloat and that in and of itself is pretty great. Every single one of them deserves a pat on the back — and none more so than the 10 retailers selected as the 2022 class of the AQUA 100.
These 10 companies, located all over the country — including our first inductee from Canada — have risen above adversity and come out the other side stronger than before. With a deeply rooted commitment to the customer and a genuine love for what they do, AQUA is thrilled to shine a light on their success.
We hope you enjoy this year's AQUA 100 section and ask you to join us in congratulating the winners:
E-KONOMY POOL SERVICE & SUPPLIES