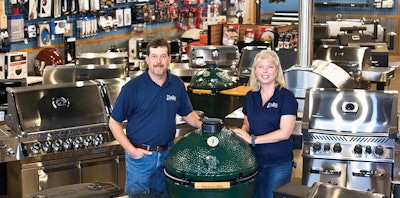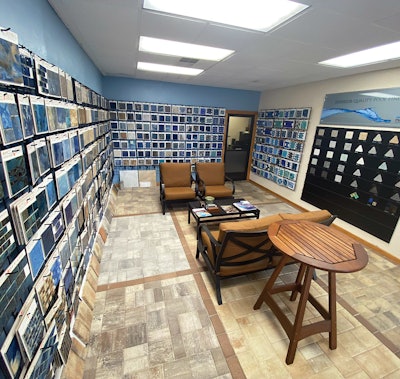 "We have learned that you can't sell out of an empty wagon, and that statement has never been truer, yet difficult, in 2021."
—Pat Ireland (Owner, Indigo Pool Patio BBQ)
Indigo Pool Patio BBQ Owners Pat and Michelle Ireland have been building and remodeling swimming pools since the company's inception in 2008. The idea to expand the business into the retail market came in 2012, when they saw a client's need for quality patio furniture, grills, outdoor kitchens, pool chemicals, parts and accessories after their pool projects were completed.
At Indigo, inventory is king: As the largest pool, patio and BBQ retail store in Southwest Florida, the company's five showrooms spread across 7,000 sq. ft., plus an additional 13,000 sq. ft. of warehouse space.
"Having what our customers need in stock in our building is one of the most important aspects to being successful," says Pat Ireland. "The convenience of having all of what we have to offer in one place makes a much more relaxing and hassle-free experience for all our customers."
Indigo is a true one-stop shop for the whole backyard: The showroom offers everything from outdoor furniture, grills, tableware and kitchen appliances to chemicals, heaters, water testing and automation systems. And they don't skip on the small details, either: a rub, spice and sauce wall features over 170 different flavors (with samples available), and the walls of the entire showroom are lined with a 3D metal wall art collection. There are over 100 different grills on display and five brands of outdoor patio furniture.
The company has earned a number of accolades, including 2021 Top 50 Pool Builder, authorized Platinum dealership with Big Green Egg, Diamond dealership with Napoleon, Full Service Weber Specialty Store, and the largest Ledge Lounger dealer in its area. In a testament to their commitment to variety, Indigo continues to integrate new products, and has plans to increase the number of product demonstration events they do throughout the year.
"As new products are rolled out, we schedule in-house training sessions with the pool sales, service and construction, and retail sales employees. The more that each of the sales team knows, the better it is for all our teams to work together as one," explains Ireland. "This results in an extremely knowledgeable team that can assist our customers in every aspect of their projects."
Over the past year, Indigo implemented a number of technology upgrades, including a new POS software that allows the team to take inventory using a wireless scanner or a mobile app. "This improves productivity and speeds up time, especially due to the fact that our warehouses are so large," says Ireland.
E-commerce features were integrated into the POS, as well. "We are now able to offer over 1,600 products to customers all over the country, as well as providing our local customers the ability to order online and receive curbside pickup or local delivery," continues Ireland. "This new integration has streamlined our inventory tracking procedures and has been a great asset to our retail staff."
As advocates of water safety education, the Indigo team does what they can to advance the cause. The company works with the FSPA's Florida Swims Foundation, an organization dedicated to providing Florida children with swimming lessons before they reach kindergarten.
"Florida has the highest number of drownings in the U.S., and we believe that swim lessons are critical for all children in the state," says Ireland. "Learning to swim is one of the greatest life skills for a child in Florida, and we would like to ensure all kids have that opportunity."
---
This article first appeared in the April 2022 issue of AQUA Magazine — the top resource for retailers, builders and service pros in the pool and spa industry. Subscriptions to the print magazine are free to all industry professionals. Click here to subscribe.