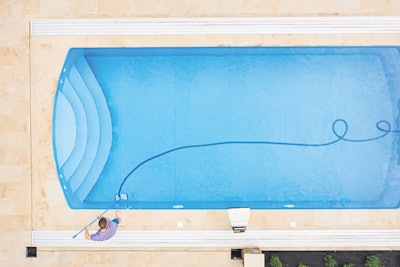 Over the last few years, pool service professionals have been battling the beast of backyard demand that emerged in the height of the pandemic. For a while, things were so fast and furious that it seemed as though they might never slow down.
While that surge in residential pool business remains, backlogs and lead times are tapering. The wild spike in demand may have peaked; we'll see what 2023 has in store for us.
We checked in with a few top-notch pool pros to gauge where things are at, and where they're headed, as we step into the new year.
WHERE ARE WE NOW?
Over the course of the pandemic, companies had to evolve quickly to adjust to the shifting economy and environment. Amid shortages of both product and labor, many pool businesses re-evaluated their operations and business practices to nail things down for maximum efficiency. In short, they're streamlining. It's a word we'll see a lot in the new year.
For Dick Abare of Algae Busters Pool Service in Tampa, Fla., that process paid off. "We did a deep re- evaluation of our business, and we downsized our workload with some long-term accounts. That's equivalent to walking away from a best friend, but it helped us to refocus and streamline our workload," he says. "And to be honest, I feel our customer service is better."
"Now, we won't even bid a job without price checking and availability, even if we priced out the same job a few days prior," he adds.
An unpredictable supply chain more or less forced most businesses to sharpen up their buying habits — Algae Busters included.
"We went a little stronger on inventory, because we didn't know how long supplies would last. We became much more aware of frivolous spending," Abare says. "We have always tried to be an educated buyer, but we dug a lot deeper. We widened our search with all the distributors for pricing and availability."
Many strategically turned to their connections to help ease supply insecurity, including Amy Lemieux of Patchouli Pools in Englewood, Fla. Now, she says, "I visit all the suppliers and build relationships to try and fill in gaps."
While price negotiation with distributors and manufacturers was mostly out of the question during the pandemic, for Lemieux, bartering is now back on the table. "I push back [on prices] and inquire to suppliers. It always helps to know who charges what. You still have to weigh the cost of running around to save a dollar, though."
But that's not the case for everyone: Jill Midgett of Nags Head Pools in the Outer Banks, says things haven't eased up much for her. "For most of 2022, we still had to take what was available, when it was available, and amend our prices accordingly," she says. "Out here, we are still struggling with supply and pricing. Certain pumps, filters, heaters and saltwater chlorine generators, in addition to many other parts, have been very difficult to secure...and 1-inch chlorine tablets were scarcely available for most of 2022."
"Even if we were always able to compare prices in the past and ask distributors to match or beat costs, we feel like the ship has sailed for that method," she continues. "Costs have gone up on raw goods and manufacturing, and we're lucky to have access to any resources provided by our distributors and manufacturers."
LABOR
The pandemic propelled changes in workplace attitudes across many industries, pool and spa included. For one thing, many people on the job market became more selective in their search for employment. "The cost of living compared to the average salary, and seasonal needs, has created the question of, 'Is this really what I want to do, and can this be my forever job?'" says Midgett.
In order to help with that decision, companies have had to up the ante on their side. "[Our] wages have increased for employees to compete with the other job choices that are available," says Lemieux.
Both managers note that their employees' motivations, wants and needs have changed. In particular, Lemieux says, they're increasingly interested in opportunities for professional development.
"[Employees want] to learn and be taught about options that might be out there that they aren't aware of," she says, adding that "to know more is to be worth more."
Midgett agrees. "They want the paycheck to reflect their value as an asset to the company," she says. "We are always seeking ways to reward and encourage our employees for a job well done, in addition to teaching them new tricks of the trade that would benefit their hourly wage or salary."
In turn, Lemieux has adjusted her mindset for management, as well. "I search out training opportunities and what is available out there that appeals to the younger generation," she explains. "And I am trying to reach different demographics to engage with those that might be overlooked, but are interested in our industry."
THE FUTURE
Just for fun, we asked Abare, Lemieux and Midgett to peer into the crystal ball and predict what might be next for the industry.
"The past two years have been more hectic than the past two decades in our area...but things seem to be evening out now with the higher interest rates, as property sales are slowing down," says Midgett. "We will definitely see a reduction in demand for new installation and sales, which is unfortunate now that supplies are getting back to, or at least closer to, normal availability."
Lemieux simply foresees a lot happening over the next two years. "But pools will always be there," she says. "We just have to educate our customers, ourselves and employees."
"There are constant whispers of a crash, which can always happen," Abare points out. Ultimately, though, he's optimistic. "What I saw this past year was other players in the industry stepping up their game, new and innovative products, and a new hunger for education. I see another profitable yet intriguing year ahead."
This article first appeared in the February 2023 issue of AQUA Magazine — the top resource for retailers, builders and service pros in the pool and spa industry. Subscriptions to the print magazine are free to all industry professionals. Click here to subscribe.