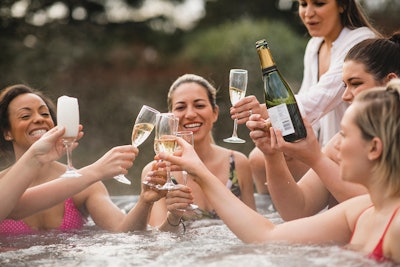 The pool and spa industry was not the only business sector that experienced exponential growth in the last three years — so did rental properties. And as property owners looked to appeal to more renters and maximize revenue streams, they sought to improve their space by adding a swimming pool or hot tub into their backyard landscape.
Jill Midgett, a former Pleatco "Perfect Pool Gal" winner, of Nags Head Pools (located in the Outer Banks area of North Carolina) saw this first hand. "A lot of these residential homes are switching over to rental properties," she says, "which has increased the demand for servicing pools and hot tubs."
While this growth in demand has come with an increase in revenue, it is not without challenges, especially in the labor department, as the rental units require more maintenance on a weekly basis. "These residential properties are almost used at a commercial level, so we can't just go and check on them once or twice a week anymore," says Midgett.
"With just a regular sand filter and pump, we have to go three, sometimes four times a week depending on how many rooms there are. For example, my biggest home has 32 bedrooms, so we have to service it four times a week just to keep the chemicals up to par and ensure the pump and filter are filtering out contaminants, like sunblock.
"And since we are on an island, we just don't have enough service people to satisfy all the needs of the resident homeowners, some from out-of-state, who are not opting to rent out their properties. That's our biggest struggle right now. Almost every pool company I know of in the Outer Banks area is short-staffed and stretched very thin."
Outside of service visits every week, equipment renovation that would have normally been completed has also been pushed back due to rentals, partly because the rapid turnover of guests leaves no time for anything but quick water maintenance adjustments.
"Vacationers used to only rent homes in our area in the summer months of June, July and August, but since the pandemic, the market has opened up from April through the end of October," says Midgett.
"Since 2020, we've had no vacancies whatsoever during those months, which also means we had no time to do repairs — only minimal maintenance between a six-hour checkout and check-in window. Meaning, we only get about three months to do any big renovations and repairs because December through February is just terrible weather, so it's difficult to get much of anything done outside." It's a small window of opportunity, especially when Midgett still has trouble sourcing inventory.
Meantime, impatient rental property owners sometimes opt to purchase hot tubs and parts off the internet, which can cause problems down the road.
"If a property owner buys anything off the internet, good luck getting any repair or warranty work done with those products," says Midgett. "I've seen people order hot tubs from big-box stores, and when they need maintenance, our service techs can't find a stock filter that fits it. Some of the parts are just proprietary, or all-in one units when it comes to the pack and the heater, so if the hot tub goes down, there's no quick fix."
Labor Frustrations
Midgett shares the burdens of the industry-wide labor shortage, which has only been exacerbated by the intense usage and maintenance needs of rental tubs. "I've always had about 150 accounts with five employees," says Midgett. "This year, I was two full-time cleaners short."
As a result, she had to turn down a lot of new service inquiries — and cancel some already-existing accounts — because she simply did not have the staff to take them on. "We started this company out to be selectively small, but in our 60-mile customer radius, it might take us three hours to get to a single property," she says. "I had to eliminate some of my northernmost properties because I just didn't have the capability to get to them in a timely fashion."
In addition, out of the three employees she onboarded this year, only one is still on payroll. "That's not normal, for only one to work out," says Midgett. "There used to be a surplus of people who wanted to clean pools and learn the trade, but now, it's just a job that's looked at as a means to an end: pay the bills. People also used to be all in. They wanted to work six days a week, whereas now, I'm finding people only want to work three days."
A new employee will typically train with Midgett for a minimum of two weeks, followed by a two-week period where she lets them service pools independently to see how things work out.
"I like when people come to me with no experience because we can shape how they service pools," adds Midgett. "Not that industry experience is a bad thing — there is just a high standard required of us here, especially with these rental properties. Even if it's a residential property that only requires our service once a week, there are a lot of boxes to check to ensure the pool will be efficient in between maintenance visits. And new hires can't cut corners based on past experience."
How then, does she incentivize her employees to do so?
Cash is always a good option. "We have tried to implement various incentives," she says. "For example, on the Fourth of July, we gave all employees a little extra pay.
"Anytime there is an additional service call, we surprise our employees with a cash tip to thank them for going the extra mile. I'm also thinking about offering things like insurance and a 401k; however, I find that people just don't care about those things as much as you'd think. The mindset is more about fast cash and, 'What can I get right now?' And you know what, I'm fine with that. If I'm able to, I will offer my service technicians, at least three of them, year-round work, so that they can keep accumulating that cash."
Midgett says she keeps her focus on retention, retention, retention, as it's vital to her business and the future success of the pool and spa industry.
"We need to get the youth in this industry revved up," she says, "and wanting to work and make a career out of being a service technician. I truly believe that pools and hot tubs are an asset to any property — they're definitely an amenity renters seek in our area — and these pools aren't going anywhere, so we have to have the workforce to maintain, replace and repair them for years to come."