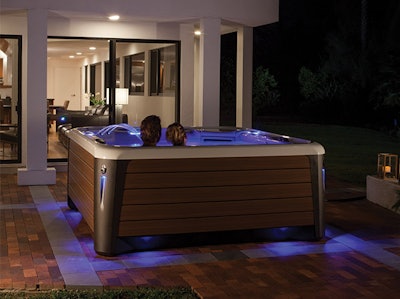 As we all know, just about everyone dreams of going home to a beautiful backyard — one with a pool, spa or simply lots of cushy seating under beautiful lighting.
The problem is, not everyone can.
Of course, such backyard paradises don't come cheap. And many deal with space constraints, especially in urban areas. (Not to mention those who rent and don't have backyards to begin with.)
In these people, who love the backyard experience but can't achieve it themselves, Justin Almeida and Eric Rogers saw a market. Almeida and Rogers are both San Francisco-based professionals who teamed up to create an app called Nookzy, which allows homeowners to rent out their backyard spaces by the hour.
RELATED: Uber for Pool Service — Will On-Demand Service Take Off?
Essentially, it's Airbnb for backyards.
As the creators outline on the Nookzy website, the concept is rooted in the sharing economy.
"Because of how little they are used by the average owner, we see the hosting and booking of backyard amenities as a delightful way to begin sharing spatially-fixed resources—ideally as one small step toward a generally more shared urban life. We see hot tubs, saunas and swimming pools as a fun way to prime the pump for a broader program of resource sharing."
Unlike Airbnb, Nookzy transactions don't have to be financial. Hosts who wish to use the app to rent to friends and family for free, for example, can do so with custom conditions, like watering the garden or adding chemicals to the spa after use.
Beta testing is currently taking place in San Francisco and Oakland, plans for expansion are in the works. To learn more, visit nookzy.com.