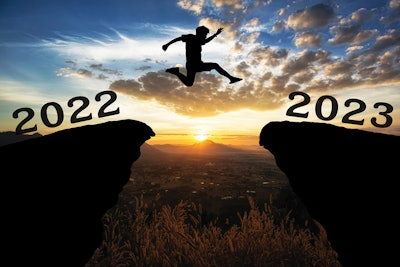 The interesting thing about making marketing recommendations for the pool industry in 2023 is that — unlike most of the last 20 years — we have a pretty good idea of what's in store for us this year.
It's no secret that (1) inflation is up, (2) the economy is shrinking, and (3) new pool leads will shrink dramatically from where they were over the last few years.
So that makes my job of predicting the future much easier.
In a nutshell, my recommendation for you in 2023 is to be clear, nimble and sharp.
Clear
By "clear," I mean you should be 100% crystal clear in your marketing about your unique advantages versus all your competition. In a 15-second elevator pitch, I should understand clearly what you do, and at least get a hint of why you might be a safe and superior choice for my scarce monetary resources.
On your website, in a brochure, or in a three-minute elevator pitch, I should hear and read that same basic story, but with more details and evidence to back it up. Not empty platitudes. And not features either, unless you can link these features directly to benefits.
Ultimately, I should see ample evidence of your unique advantages, and what benefits I'm likely to experience if I choose you.
At the same time, if your message is crystal clear, I'll also get a sense of whether or not I'm the right prospect for you. For example, if I'm looking for a budget pool, and your projects start well into the six figures, then we probably aren't a good match.
Wouldn't it be great if we both knew that right up front, and didn't waste each other's time?
You'll get that advantage when you take the time to make sure your marketing message is crystal clear. So polish up your message with clear advantages and benefits, anywhere and everywhere the buying public is likely to see it.
Nimble
My second recommendation is that you be nimble. With new leads falling off in 2023, you'll need to be ready to pivot to renovations, or repairs, or maintenance, or upgrades, or solar heating, or anything else to keep your team busy while we wait for the economy to recover.
If you're going to change your offerings, then you'll need to be nimble about adjusting your advertising messages, as well as your social media and the content on your website.
If you are promoting something new and different, it should be front and center obvious to all your potential new clients.
You also need to be nimbly responsive to any and all leads and inquiries. Two years ago, homeowners often had to wait a week or more to hear back from you. Now, I wouldn't want to make them wait more than five minutes, if possible.
One of the best ways to be nimble with your prospects and clients is to automate your marketing and other communications. From the moment a prospect first makes contact with you until 20 years after you've provided your services, 98% of your communications with these people should be automated. E-mails, texts, phone calls, voice messages and even letters in the mail can and should be automated.
Sharp
I think 2023 is the perfect year to bring back the old adage "sharpen your ax." For the past three years, everyone was drinking from a fire hose, which means there wasn't time to get every little aspect of your company and your image fine-tuned and perfect. There certainly wasn't much time to sharpen your ax.
Now that things are slowing down, and leads are harder to get, it's time to "tidy things up" and "get sharp" in everything you do.
If you're expecting someone in this economy to spend more than $100,000 with you, for a non-essential item, you'll definitely need to look like you're worth it.
Has your website been updated in the last five years? If not, it's probably time for some modernization and a revamp. If you don't have some high-quality photos to add to your galleries, you should make plans to capture those this spring and summer. But don't put off updating the website just because of photos. There's a lot more to your image than just the gallery.
How does your facility look? If you have a showroom or design center, it's probably time to take a fresh look at that, and see what can be cleaned up, freshened up, rearranged and/or otherwise upgraded to make you look sharp.
What about your vehicles? Have they been driven hard and somewhat neglected over the past few years? Maybe it's time to get those repaired, detailed and looking pristine again, also.
And what about your people? I'm not talking about facelifts and makeovers. I am, however, suggesting that they can be sharply dressed. Do they have fresh logoed, collared shirts, hats, jackets and other accessories that help convey that you are, in fact, the sharpest team in town?
And let's not forget your online reputation. It broke my heart to see so many top-notch businesses get "dinged" online with one-star reviews because an uninformed homeowner felt like you should have dropped everything and responded to them instantly when they (and 10 million other angst-ridden homeowners) suddenly realized they needed a new swimming pool.
So if your online reputation has been knocked down a notch or two these past few years, either deservedly or undeservedly, you should seriously consider investing in a service to help you generate more five-star reviews.
Bottom Line
We can expect 2023 to be a challenging year for most businesses in the swimming pool industry. That's why you'll want to make sure your marketing message is crystal clear. And you'll need to remain nimble and agile, to make adjustments quickly to this changing economic environment. And finally, with a dwindling number of leads coming in, you'll be smart to make sure you're the sharpest-dressed company in town.
---
Brett Lloyd Abbott is the founder and CEO of Pool Builder Marketing LLC (www.PoolBuilderMarketing.com), a marketing consulting agency that works exclusively with swimming pool builders, pool service companies and high-end landscape professionals throughout the world. He is a frequent keynote speaker and leader of workshops and seminars.
This article first appeared in the January 2022 issue of AQUA Magazine — the top resource for retailers, builders and service pros in the pool and spa industry. Subscriptions to the print magazine are free to all industry professionals. Click here to subscribe.