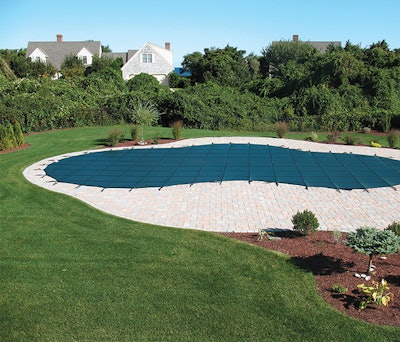 Pool safety covers can sell themselves. After all, what savvy homeowner doesn't want to keep their water clean and their backyard safe? So the question isn't necessarily how to sell customers a new cover — although there are strategies for that, too — but rather when.
This year, more so than in seasons past, cover manufacturers are encouraging builders and installers to get their orders in early, citing potential production delays because of increased demand.
Dave Kelly Jr., owner of K&H Enterprises, a Wakefield, Pa.-based designer and installer of vinyl liner concrete pools since 1974, is encouraging that approach. "A lot of my covers are with new installs, and I like to get my orders in with my liners. Because, come fall when the leaves start falling around here and everybody is thinking about closing their pools, customers don't want to wait. I know lead times have definitely been higher than usual."
Indeed, demand for covers, vinyl liners and just about everything else related to swimming pools has increased commensurate with the number of projects being built for homeowners who turned the coronavirus shut down into their own staycations.
"It's been a pretty wild year," says Alyssa Selvaggio, marketing manager for Merlin Industries in Trenton, N.J., and a leading manufacturer of safety covers and vinyl liners. "When we were all sent to go work from home in March 2020, we weren't sure if we'd have jobs or even a business when we came back. But it's just been completely the opposite. We are the busiest we've ever been in all product lines, and we're incredibly blessed and lucky that people are putting money into their backyards."
"We went into this season anticipating that business would go back to quote-unquote normal, and it didn't," echoes Dawn Cular, customer support, sales and marketing coordinator for Fallsington, Pa.-based Garrett Liners & Safety Covers. "It went over the top from last season, so we're rethinking how we handle things and doing what we have to do to get products made and out the door."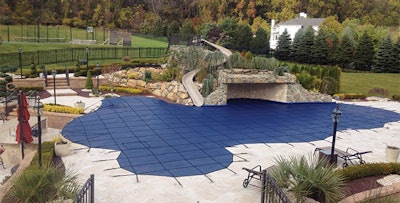 While lead times might be longer than usual (as they are with many product segments of the pool and spa industry), cover manufacturers were able to meet demand last year. Merlin Industries, for example, temporarily expanded production to Saturdays, and manufacturers say they ordered early for 2021 in order to have enough fabric and hardware on hand. Neither Cular nor Selvaggio are anticipating supply shortages, but that doesn't mean things couldn't change.
RELATED: Selling Winter Safety Covers
"We also do vinyl liners, so we've used what happens in that market to predict what's going to happen with safety covers," Selvaggio says. "And it does seem like dealers are ordering vinyl liners earlier than in the past. Our motto has always been — especially for replacement safety covers — that when you open the pool for the summer and see a cover with rips and tears, or one that's not performing like it should, get that order for a new cover in right away. You can take measurements onsite or just send the cover to us to use as a template for a replacement."
SALES STRATEGIES
Like many other builders, Kelley plans to place as many early cover orders as he can this year. "I saw longer lead times with the pandemic, and I imagine that has to do with demand," he says. "If you wait until the end of the summer, you're just putting more strain on the manufacturers, and that increases wait times for both you and your customers."
That's why Kelley and his crews pitch replacement covers to customers in need of them when they open their pools. For new customers, K&H waits to order a cover with a liner, because last-minute changes can alter a pool's dimension and affect the size of its surface area.
If customers ask him why they should bother to order a cover at the beginning of the season — when closing their pool is probably the farthest thing from their mind — Kelly explains that it's an expense they will need to incur at some point over the next few months.
"Some customers understand that and realize they're getting ahead of the game by purchasing one early," he says. "Others might think a new or replacement cover is really unnecessary at that time and prefer to hold off. So we always offer discounts early in the season to promote the importance of not waiting until crunch time."
Manufacturers offer early-bird discounts to builders and installers, who sometimes pass them on to homeowners.
RELATED: With Winter Pool Covers, End With the Start in Mind
"Each dealer has their own sales practices, and some of them use the discount that they're getting from us at their discretion," Cular says. "Every homeowner is different, too, and you have to use different sales tactics based on the person you're talking to."
Kelley still has a few customers who use waterbags to hold down tarps over their pools for the winter. "They've probably had their pool for 30 years and have been doing it that way all along," he says. "No matter what I say to them, they tell me their way works fine — especially if they view the installation of a pool cover as more of a convenience for me than for them, because they would then have to pay us to put that new cover on and take it off."
More common these days are customers who prefer to open their own pools in the spring but rely on K&H to help them winterize the pool.
"In the fall, if I see that somebody's cover might be getting worn and ready to be replaced, we may make a suggestion that they give us a call come spring," Kelley says. "We'll tell them, 'A new cover can make your openings a lot easier for you.' We'll also suggest they upgrade their cover from standard mesh to ultra-mesh by explaining the benefits of blocking UV light — including how much money it's going to save them in cleanup and chemicals in the spring when they open the pool on their own."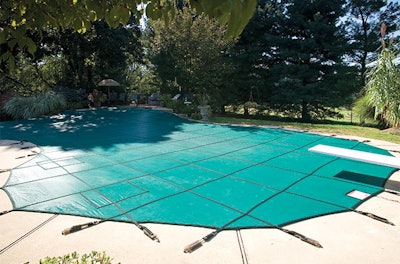 POST-PANDEMIC OUTLOOK
Manufacturer discounts for dealers on safety covers placed early in the season — usually between January and July — have been common for years, and promoted via trade magazine ads, email marketing and industry expos. More recently, however, suppliers that don't sell direct to consumers have taken to social media to help educate homeowners about the importance of replacing covers and suggesting when to consult with their local pool professional about the best time to do so.
"We've changed how we get our message out, in terms of talking to customers via Instagram and Facebook," Merlin Industries' Selvaggio says. "We can still do our marketing to, and have conversations with, the dealers. But social media gives us that opportunity to communicate with homeowners and help them directly with specific questions. We have that cool relationship with homeowners that we've never had before."
RELATED: Selling the Safety Features of Fences and Pool Covers
Many builders sell a cover as part of a new pool package, and if the 2021 season keeps pace with 2020, demand for pools will be high again this summer.
"The numbers are crazy right now," Cular says, adding that 2021 could be a record sales year for Garrett. "I don't know if it's still the pandemic push."
"We used to have a lull between our liner season and our cover season, but last year, there was no lull, and we're not really expecting one this year either," Selvaggio adds. "We're just going to go right from liners into covers, so getting those cover orders in early certainly applies more than ever this year."
And if builders and installers still need to wait a little longer than usual, she hopes they understand. "Have a little bit of patience, a little bit of grace, and know that we're all just trying to get products out there," Selvaggio says. "We're all on the same team."
---
This article first appeared in the July 2021 issue of AQUA Magazine — the top resource for retailers, builders and service pros in the pool and spa industry. Subscriptions to the print magazine are free to all industry professionals. Click here to subscribe.
---