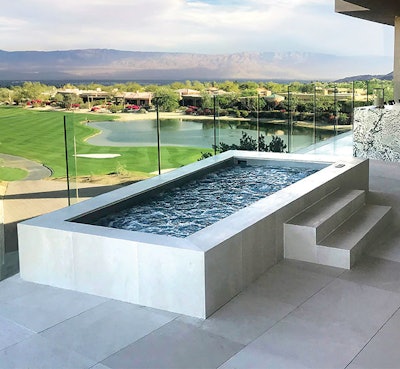 Companies that manufacture spas and other vessels to custom specifications arguably have more in common with high-end custom pool builders than they do portable hot tub manufacturers. The spectrum of features, finishes, contours and functional modalities rival that of the most sophisticated aquatic designs found anywhere.
We talked to three professionals who work for custom prefabricators for their thoughts on what drives customer decisions in this rarified corner of the industry. In one way or another, they indicated that all roads lead back to a single word that seems to define the entire industry at its best: experience.
THE ART OF THE BATH
The customer's experience with the spa drives the process, according to Jim Milligan, owner of Nespa Tiled Spas. It's how the spas relate to and express the clients' personalities, properties and desires that carries their true value and beauty.
"Our customers can be quite dynamic," he says. "When we first meet, it's like a blind interview and it's fascinating to find out what they're about and what they're thinking. From the customers' perspective, it's like they've just walked into a specialty restaurant and we're going to cook you a meal. So, we need to know where you are with your body and personal tastes."
As is true of customers at all levels of the hot water industry, Nespa's work rarely strays very far from health and wellness as a primary decision driver. "For many people that's the core of the conversation," Milligan says. "They see the spa in the context of overall wellness. Sure, we'll talk about the hydrotherapy jets, how many and where we're going to place them and a variety of specific issues like that, but we try not to get too tripped up by that because the main reason they're investing in one of our spas is that they want healthier and happier way of life. You have to keep the spa design in the context of those greater concerns."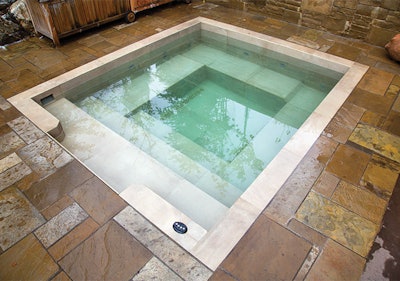 RELATED: Hot Designs in Hot Water
Unsurprisingly, the high-end demographic that drives Nespa's business includes a great many people who are advancing in age and not hesitant to place their luxury, and experience, on the highest level of personal priorities.
"Not only do they want to make the most out of their lives by being healthy, they want to have the fast car and the custom spa when they can enjoy it," he says. "People often tell me, 'When I win the lottery, I want one of your spas.' It's very much about mental satisfaction, that's a big part of the motivation. You hear a lot about the experience, but that really is what it's all about. It's holistic, it's how you take care of yourself. For all of the beautiful features and finishes, contours and designs, ultimately, we're providing a healthful experience that improves people's lives. It all comes back to that."
Milligan uses various features such as different hydrotherapy arrays, swim spa current systems, LED lights, seat configurations, stand-up wells, cooling baths and even water treatment the way some painters use brush strokes and pigments — all exist to serve the greater composition.
"Of course, all of this changes with every person you talk to and work with," he says. "We've talked about health, but for a lot of people what motivates them and inspires them is all about experience with family. Even with swim spas, it's about health, but it's also about different ways to use the water that brings people together."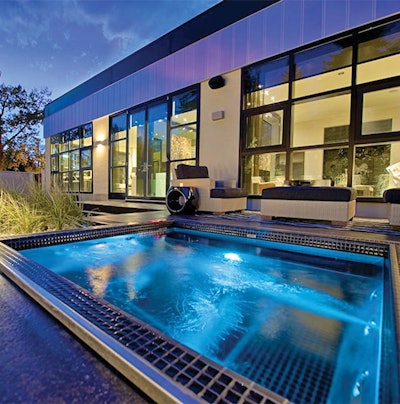 EXPLORING THE FACETS
Charlie Snider is the pool and spa sales manager for Diamond Spas, a custom prefabrication firm that works largely in metal spas and other bodies of water. He sees an ever-growing niche where the lines between pools and spas have become blurred with designs that combine the best of both worlds.
"The trend we see is that people want much more than just a hydrotherapy tub in their backyard," he says. "Their interests are turning towards something they can use for different types of activities during the summer and winter at different temperatures. Maybe they want it a little bigger, but not quite the size of a pool. And since it's such an attractive item, why doesn't it become an artistic water feature? Then that opens the doors for fountains, sprays, waterfalls or an infinity edge — all of that seems to come into play. It's not just a few people using a hot tub; it's a larger body of water with a lot more of a wow factor associated with it."
As a result, he says, many of the company's projects may be tough to categorize exactly, but the creative and functional possibilities are virtually endless. "I didn't use the word 'spool,' but that is the trend for a lot of different reasons. Maybe the space they have available is on a rooftop, so they'll shrink it, reduce the weight, increase the pizzazz and control function with a smaller body of water with more versatility. Or maybe they just have a small yard, which is very common these days, even with affluent customers. People don't necessarily need a large body of water, but they still have different things they want to do with it, so we're able to accommodate that in a body of water that's comparatively smaller than a traditional swimming pool, but larger than a typical portable hot tub. You do more with less. That conversation comes up all the time."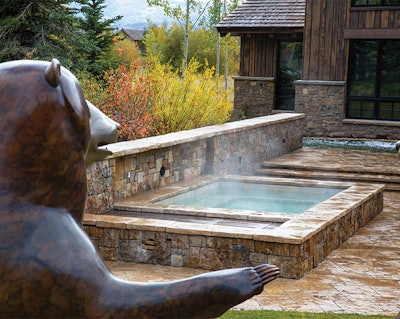 RELATED: Is Wellness Working?
For example, he explains, multiple uses can require multiple temperatures, which in turn drives both the design of the vessel as well as the temperature control systems. "People don't want to swim in 100-degree water or hang out in the summer in hot water. So then the question becomes how do we change the temperature, and chillers come into play or separating the bodies of water for different temperatures, which is becoming more common."
One of the ways that the company has been accommodating multiple us is by segmenting the design into two or more sections.
"A customer may want a small hot tub on one end and then a kid's play area on the other and maybe an adult lounging section in another area. You can do that in 8 by 20 feet. You have a 6-by-8-foot hot tub and a 14-by-20-foot spool area, where you might incorporate a swim system and/ or a treadmill. And then you can have acrylic windows, sprayers, speakers or whatever they want."
In some cases, Snider reports that simpler designs are the preferred mode. "Some people just want a bench. They don't want all the lounges or bucket seats because they might have experience with some of the molded tubs where if you don't fit in that seat, it's not comfortable. So they want just a typical bench. We do offer a standard model, because they just want a spa that looks great and they don't want to go through the design and coordination process."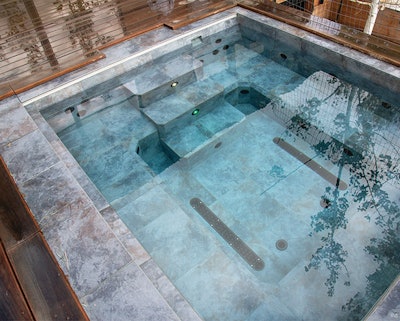 BROAD BANDWIDTH
Mike Sage is vice president, sales and marketing for Bradford Products, a company that is pushing the boundaries of prefabricated customization into a range of traditional and atypical design modes.
"We're working in every possible segment that you can think of when you're talking about making pools, spas and other bodies of water out of metal," he explains. "The unifying factor is definitely the expertise in stainless steel. That's how Bradford got its start. Long before they got into building pools, the patriarch of the family had a stainless steel fabricating shop in Connecticut and was making a bunch of other stuff and went on a vacation to Napa in 1970 and found himself sitting in this thing he'd never seen before, called a hot tub, one of the wine barrels that were popular way back then. He came back and decided to build his own. That's how the company was started and we've been expanding into different designs ever since."
With the company's pedigree based in the hot water side of the industry, Bradford has remained an innovator in hot tub/spa design. While the material, stainless steel, is the common thread in terms of construction, user experience is the primary objective when it comes to design. "It's all about the intended use," Sage explains. "Is it for relaxation, for therapy, is it for a single person, two people or an entire family, or more? There are all sorts of things we can do to enhance the user experience. That can mean elaborate designs or projects that are simpler in concept and function."
RELATED: Hot Looks in Hot Water
Sage believes that flexibility is one of the key elements that sets the company's work apart from the traditional portable hot tub market. "We see a sort of nuclear arms race in terms of how complicated you can make the seating, jet configurations, loungers, etc. We take the opposite approach because we've found that probably 90% of the people who use these bodies of water are turning off the jets after a month or two because they become annoying and they don't like the predetermined seating. We have open seating that is more comfortable when you become buoyant in water. Freeform seating enables you to use the vessel more easily for multiple purposes, whether it's lounging, relaxing muscles, cooling off, going from hot to cold, having a party or a quiet night with your significant other."
The "spool-sized" vessel has also become a growing category within the Bradford spectrum of products. "A lot of times we're trying to take advantage of a limited amount of space. It can be taking advantage of a view, that's a part of it, or advancing a larger landscape concept. We're trying to draw upon a number of different things. Many of our designs are driven by some very specific desires. We built a rooftop spa with an acrylic floor because the homeowner wanted to be able to lounge and swim, while looking at his car collection in the garage below," he says with a laugh.
"You can never anticipate what it's going to be with each client. I think what we do best is make a signature product for each and every one of our customers. It's an exciting way to do business because you never know what the next challenge is going to be."