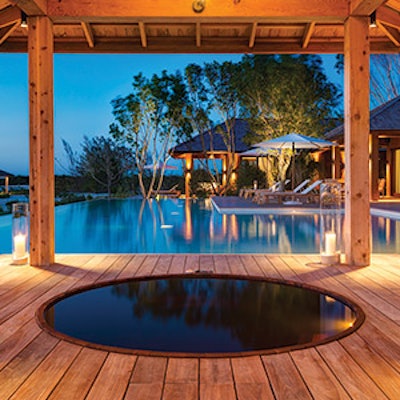 Hot tub design has come a very long way from the days of wine barrel tubs and the early portables. The industry now features vessels that complement and harmonize with architecture and landscape design in ways once reserved for their concrete counterparts.
Back in our July issue, Senior Editor Eric Herman discussed how portable and pre-manufactured hot tubs have evolved in aesthetic design in recent years. The main point was simple: Where in-ground concrete hot tubs have traditionally offered the most visually attractive design options, pre-manufactured units, which are typically less expensive and far easier to install, can now in many cases compete with vessels built on site.
Being an opinion piece, a column per se, the discussion didn't include photos (save the opening treatment from our wonderful art director Maribeth Fleischmann). But as the adage goes, seeing is believing. With that in mind, we thought it would make sense here in our Hot Water Issue to continue the discussion with a pictorial aimed in the same direction, all to further make the case about the upward trend in hot water aesthetics.
RELATED: The Wide World of Custom Spas
To assemble the following set of images, we turned to manufacturers and custom spa fabricators who have made it their business to design attractive hot tubs/spas and show how they can enhance the aesthetics of the backyard. Choosing these images was subjective; our only criteria was to find photos that reveal how terrific manufactured hot tubs can look when placed in an attractive setting.
What we find in all these examples are hot water vessels that function as beautiful parts of the landscape and architecture, all the while delivering the benefits of hydrotherapy. We see examples across a range of architectural and landscape settings.
No longer is the hot tub a simple "box of water" that some consider awkward looking or even unattractive. Indeed, the geometry, colors and textures of today's hot tubs can be every bit as visually harmonious with architecture and landscape as a well-designed custom swimming pool.
---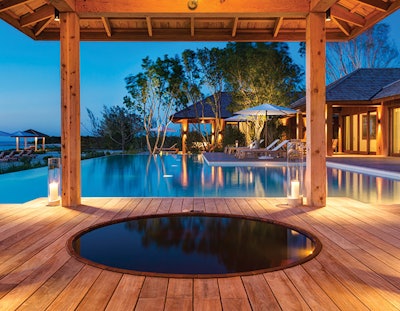 TROPICAL SERENITY
This home, located in the Turks and Caicos Islands, features a unique blend of contemporary styling — plenty of full-length windows and an emphasis on lines and geometric shapes — and earthiness, with exposed wood playing a large part in the home's exterior aesthetic. It's only natural that this aesthetic would carry through to the backyard, where an impressive infinity-edge pool is met by a round wooden spa by Maine Cedar Tubs, which is sunk into the deck and topped with a wooden pergola.
---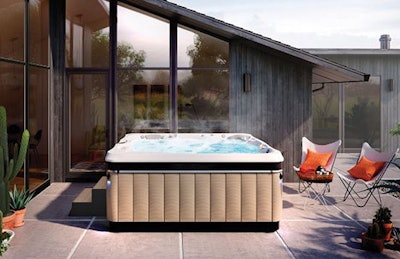 MID-CENTURY MODERN
Demonstrating versatility of the line, Caldera offers this image of another Utopia hot tub at a stylish mid-century "Martini Modern" home. This time the sand and arctic white color scheme is a natural companion for the earth tones and distinctive architectural setting.
---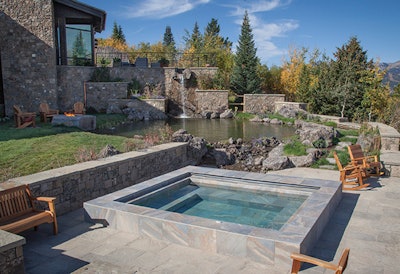 INTO THE VIEW
Nespa has been designing and manufacturing prefabricated tile spas for 27 years and has long been at the forefront of advancing hot tub aesthetics. In this stunning installation, the hot tub elegantly recedes into the deck architecture, providing a perfect spot to relax and absorb the sweeping vista in Saddle Butte, Mont.
---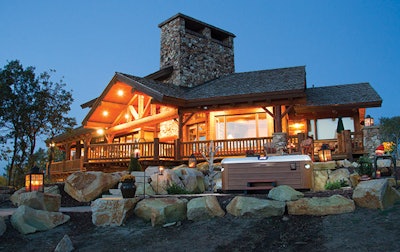 RUSTIC CHIC
This gorgeous log-cabin-style mountain home in Park City, Utah, has a rustic ambiance that perfectly harmonizes with its ski-town surroundings — and the hot tub is no exception. This model by Bullfrog is clad in the company's Hazelnut color that matches the colors found in the home's wooden beams, and rests on a terrace flanked by natural stone. It's easy to imagine the homeowners, after a long day skiing, soothing their sore muscles in this tub while admiring the stars above.
---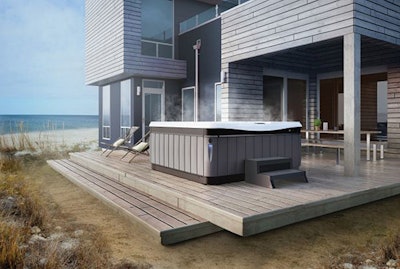 CONTEMPORARY COASTAL
Watkins Wellness brand Caldera features the Utopia Series of portable hot tubs, which are designed with architectural harmony in mind. Here we see an example of a hot tub perched on the deck of a coastal home with modern architecture. Rather than visually retreating into the setting, the hot tub becomes a prominent exterior feature. The slate-colored Avante cabinet blends beautifully with the color palette of the home and deck.
---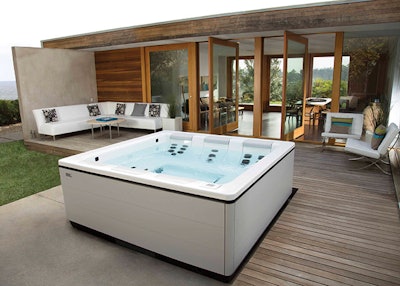 ARCHITECTURAL EXTENSION
The clean lines and smart design of this Bullfrog STIL model looks almost as though it's an extension of this stunning contemporary home. Its sleek contours and subtle coloring beautifully coordinate with the styling of the home's interior.