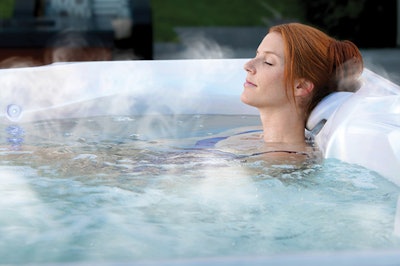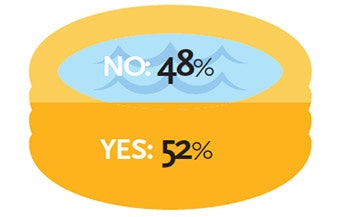 Back in 2016, spa manufacturing giant Watkins changed its name to Watkins Wellness. It was an attention-getting move that not only demonstrated the company's commitment to the wellness message, but was also in many ways indicative of the hot tub industry's overall direction. From manufacturers to industry associations such as the National Swimming Pool Foundation, APSP's Hot Tub Council and the International Hot Tub Association, many in the hot tub industry have worked to promote the profound benefits of hydrotherapy.
Indeed, recent data strongly supports the notion that using a hot tub regularly improves emotional well-being, speeds recovery from injuries and illness, improves sleep and can even improve personal relationships, among other important benefits. Some have even asserted that hydrotherapy is in some ways "better than exercise."
It's a powerful message that seems light-years away from the once purely hedonistic perception of hot tubs. Yet questions remain: Have dealers embraced the wellness message? And, even more important, has that message gained traction among consumers?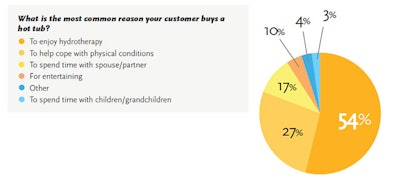 So far, the answer is something of a mixed bag. For example, in AQUA's 2018 State of the Industry survey, hot tub dealers were evenly divided on the subject. When asked directly if the wellness message is working, 52 percent said yes and 48 percent said no. When asked for the main reason consumers purchase hot tubs, 54 percent said their customers buy to enjoy hydrotherapy. In a related question that might also be informative, 67 percent of survey respondents said they sell swim spas, which rely almost entirely on fitness and wellness as the primary consumer benefit.
MANUFACTURER PERSPECTIVE
From the manufacturer perspective, Shelly Roberts, senior manager of marketing content for Watkins Wellness, says the company's dealers have enthusiastically embraced the message — but becoming successful using the approach requires going beyond the rhetoric.
"More and more dealers are focusing on the wellness aspects and getting better results," she says. "But just putting a wellness message in an ad or an email doesn't typically get great results. The dealers that get results do so because they walk the talk. Their entire staff and culture is about more than selling hot tubs — it's about helping people feel better, enjoy being more connected, having more vitality, etc."
For as powerful as the message can be, Roberts asserts that the key to success with the wellness approach comes down to how strongly dealers embrace the information and make it part of their DNA.
RELATED: Watkins Announces New Name, Wellness Focus
"When dealers have that kind of focus in their mission, when they are passionate about wanting to help people come to life or make every day better, they experience better results. Their staff is more engaged, their customers are more engaged, and so on. There's a growing segment of dealers who 'get it' and are developing a strong passion and commitment to helping people in their community feel better through hot tubbing. For Watkins Wellness, it's core to our mission and as such, we are focused on communicating the benefits across all channels and audiences."
When consumers do make purchasing decisions with wellness in mind, she says, they often tend to become believers, which may be the most powerful marketing message of all. The company maintains a growing list of testimonials from buyers that closely echo the wellness message. "When your physical, emotional and spiritual well-being are in balance," Roberts says, "you tend to feel better. When any one of those areas gets out of balance, it has an impact on the other two areas. It's the mind-and-body connection. People understand that because they live it."
THE DEALER VIEW
Don Riling, president of Seattle-based Olympic Hot Tub, has been with the company for 23 years and is one of the industry's most vocal proponents of the wellness movement. The company, founded by industry pioneers Alice Cunningham and Blair Osborn, was a staunch public advocate for the wellness benefits long before it became vogue. Now as company president following Cunningham and Osborn's retirement two years ago, Riling is committed to carrying on and expanding Olympic's focus on the health benefits of using both hot tubs and saunas.
"Alice was far ahead of the curve and was talking about wellness for years, and I've tried to keep that as our focus," he says. "As the world has evolved, there's still nothing that will replace the appeal, the escape and retreat and what it will do for you when go into your backyard. That's something that's always going to have staying power."
A Hot Springs dealer, Riling agrees with Roberts about the nature of success in promoting the wellness message — it requires focus and commitment.
"It works as much as you're willing to put effort into making it part of your position statement and the culture of your company," he says. "I've been continuing to expand on that concept through our marketing and website. As an example, I came up with the 'Welcome to the Wellness Generation' idea a couple years ago at the Hot Springs dealer meeting. We were talking about where the brand was going and what the common denominator is for all the generations of people that use the product."
While Olympic Hot Tub remains firmly committed to the direction — so much so that it promotes information about all facets of wellness, including nutrition, proper sleep, emotional and even spiritual well-being — Riling is quick to point out that promoting wellness may not be a priority for everybody.
RELATED: Sell More Hot Tubs By Selling Wellness
"Many companies that sell hot tubs are not in a position to make wellness their primary focus," he says. "They might have outdoor furniture, grills, hearth products and pools. As a result, they have to divide their attention, and that makes it difficult to go down the wellness path. The advantage we have is that we just sell hot tubs and saunas, which gives us the ability to expand on the wellness idea and develop what it can really do for you if you use your hot tub or your sauna on a regular basis."
Riling believes consumers are increasingly getting on board with the wellness movement and, like the Watkins corporate office, finds testimonials to be a powerful tool. In a recent blog post on the company's "Welcome to the Wellness Generation" section of its website, Riling shares a letter from one of the company's long-time customers, Jon Sheldahl, as an example of the power of the wellness movement.
"Since being a dedicated tubber for nearly 15 years, I couldn't live without my spa," Sheldahl wrote. "The health benefits from hydrotherapy are truly important to me as I age and aim to stay flexible. I begin my day with an early morning soak to help loosen my joints and stretch my muscle groups. The peace and solitude from soaking daily enhances how I navigate through my day. Relieving stress, sweating toxins and lowering my blood pressure are just a few of the health benefits I experience in becoming mindful of my body. Just soaking the warm in the warm water without the jets and gazing into the sky has a profound and calming effect on my body and mind."
Whether or you believe wellness can be an effective sales message, it has clearly become a vital part of many customers' lives.