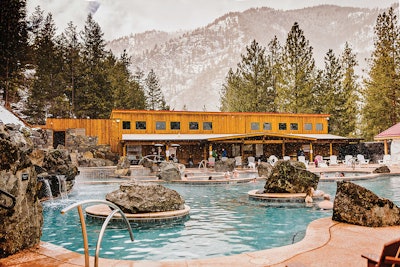 Photo courtesy Quinn's Hot Springs Resort
Hot spring history runs deep in the state of Montana. Early on, Native Americans in the area wintered near the springs, believing them to be sacred. Eventually, trappers, miners and other settlers latched on to the idea.
"During Montana's gold rush years, in the 1860s to the early 1880s, crude hot spring bath houses and guest cabins were built near many of Montana's geothermal resources," writes Jeff Birkby, in his book Geothermal Energy in Montana — A Consumers' Guide. As time went on, railroads and urban development brought more luxury to these early lodgings.
Of the 120 known hot springs in the state, about 20 are commercially operating today, according to an estimate by Birkby. One such example is Quinn's Hot Springs, tucked into a remote location about an hour outside Missoula. Established in 1885, the resort was named after founder M.E. Quinn, who discovered the springs for himself during his river transports as a miner.
These days, the resort is livelier than ever. "We used to consider the summer our busy season, but we're busy all the time now," says Marketing Director Rachel Nore. "For the most part, we're completely sold out every day. When people ask about availability, we have to tell guests that they may have to wait up to three months. And if they want to visit on the weekends, it might be six to eight months."
When the chance does arrive, Quinn's offers travelers a variety of accommodations, plus seven swimming pool options. Five of those are completely natural, flow-through pools fed by the hot springs.
"The pools fed by the hot springs have differing temperatures, ranging from approximately 99 to 106 degrees Fahrenheit," says Nore. "The hot springs water itself, when it comes out, is hotter. We cool it down so people can comfortably enjoy it."
"Of course, we can't make guarantees, but natural springs like these offer a range of health and heart benefits," she continues. According to Quinn's website, the hot springs water naturally contains calcium, fluoride, magnesium, potassium, sodium, sulfate and silica. Sulfate, for example, is said to rid the body of toxins and help with respiratory problems, while silica is said to strengthen bones and promote healthy nerves, hair and nails.
Such minerals are abundant because, as Nore points out, nothing is added to the flow-through pools — chemical or otherwise. Water sanitization at places like Quinn's was a hot topic back in the '90s, when state health regulations were proposed to require chlorination of all hot springs swimming pools. This was met with opposition by resort owners, since visitors flocked to the springs specifically seeking benefits from the natural water.
"The Montana Mineral Hot Springs Association was created in 1994 to address this chlorination issue," describes Birkby. "In 1995, the Association helped pass a bill in the Montana Legislature that clarified water quality issues for Montana hot springs resorts."
"All natural hot springs pools at resorts may now operate without chlorinating their water, provided all of the hot water is exchanged in the pool at least once every eight hours, and the pools are drained and cleaned every 72 hours. This helps ensure the safety of all soakers while avoiding chlorination of the hot springs water. Temperature and pH in the soaking pools must also be carefully monitored."
This article first appeared in the November 2022 issue of AQUA Magazine — the top resource for retailers, builders and service pros in the pool and spa industry. Subscriptions to the print magazine are free to all industry professionals. Click here to subscribe.