In the pool and spa industry, a truck wrap is an essential part of marketing and branding. A wrap is an opportunity to advertise yourself and what you do, but it's also a canvas on which you can show off your personality. What's your company story? What are you all about? Your wrap can answer those questions and more, all in the time it takes for someone to glance at it while stopped at a red light.
We launched the Truck & Van Contest last year to help highlight just how creative and impressive the pool and spa industry can be, and this year's crop of entries didn't let us down. Read on to see this year's winners.
RELATED: Announcing the 2018 AQUA Truck & Van Contest Winners...
---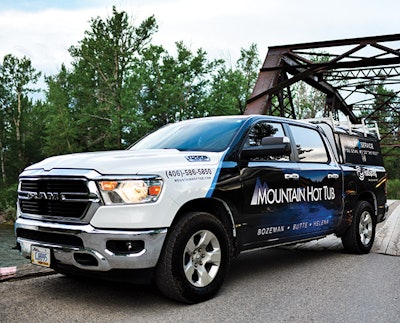 1st Place: Mountain Hot Tub (Bozeman, Mont.)
There's nothing quite like relaxing in a hot tub under a brilliant, starry night. This year's winning truck wrap from Mountain Hot Tub (Bozeman, Mont.) takes that intoxicating concept, bottles it up and turns it into a one-of-a-kind truck wrap that leaves a lasting impression on everyone who sees it.
The wrap, created in conjunction with local firm SCS Wraps, is the outcome of several discussions, strategic decisions and a little back and forth. For example, the Mountain Hot Tub team wanted a uniform wrap that could work on a variety of vehicles, making the design process a little trickier.
"We've got full size trucks, one-ton trucks, little Chevy Colorados and half-ton trucks," says Max Blaser, marketing manager at Mountain Hot Tub. "There was temptation to tailor it to a very specific body style, but because our fleet is ever evolving, we wanted something that would work across the board."
The design process was also an exercise in restraint. Business owners often feel compelled to include as much company information on their vehicles as possible. The pros at Mountain Hot Tub felt the same compulsion, but wisely held back in favor of focusing on the key details.
"Getting the company name out there was the most important thing to us," Blaser says. "...There were discussions of mentioning saunas and swim spas and all these other things we do on there, but it just wound up making the design too busy. We figured we'd keep it simple."
You may notice the phone number is rather small, another deliberate choice.
"We have the phone numbers and that sort of thing on there, but I think it's less common for somebody to pull the phone number right off the moving vehicle and call in," Blaser says. "It's much more likely that they're going to Google the company and go from there."
Blaser says the memorable wraps have led to a noticeable uptick in business.
"Anytime I've had someone call and say, 'Hey, we saw you do valet service,' or 'We didn't realize you service this far out,' they're always calling in response to one of those wrapped vehicles."
---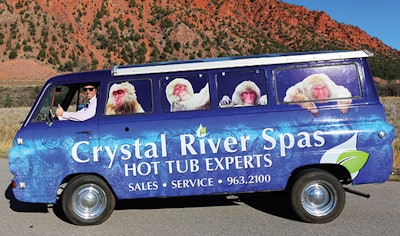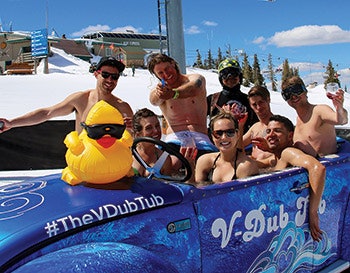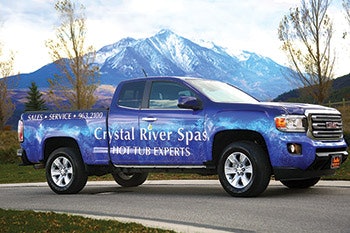 2nd Place: Crystal River Spas (Carbondale, Colo.)
Crystal River Spas doesn't just have one wrap, it has three. In addition to a "standard" wrap — a crisp, professional wrap in a bold blue — Crystal River has two other wraps that make the company stand out from the competition. For example, there's the V-Dub Tub, a classic Volkswagen Beetle outfitted with a hot tub. The wrap bears its name (in a groovy '60s-inspired font to keep with the spirit of the vehicle) and hashtag to encourage sharing on social media. There's also a 1969 Dodge van wrapped with images of snow monkeys, the animal most known for bathing in natural hot springs. Now that's some smart marketing!
---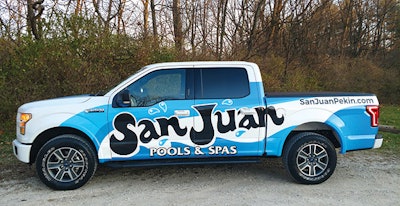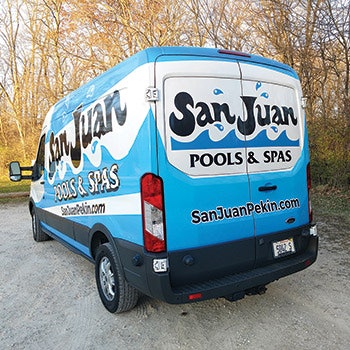 3rd Place: San Juan Pools & Spas (Perkin, Ill.)
It doesn't take much to turn a wrap into a showstopper, and this wrap from San Juan Pools & Spas (Pekin, Ill.) is the proof.
"Because of our 50-plus-year history in our local area, our name and logo is well known," says company owner Joseph Privett. "We wanted a design that played off that and not have a cluttered look. Taking our logo and blowing it up across the vehicle accomplishes that."
---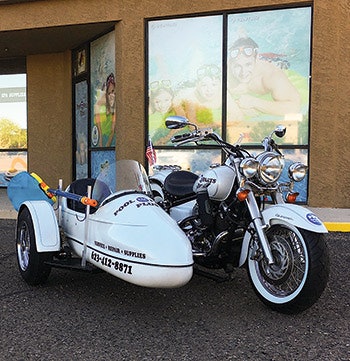 Most Unique Work Vehicle: Pool Parts Plus, Inc. (Glendale, Ariz.)
A motorcycle may not be the most practical vehicle for a service business, but it's certainly one of the coolest. The bike is a 2004 Yamaha 650 V Star, which Mark Hammond uses to drive to work and pick up parts at the distributor.
"I get a thumbs up from people on the street wherever I go," Hammond says. "My two grandkids, Chyanne and KJ, are always begging for rides."
---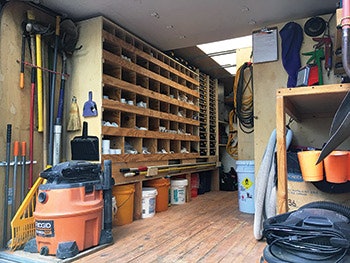 Most Organized Truck: EZ Pool and Spas (East Greenwich, R.I.)
Liner replacements, equipment repairs, openings/ closings, leak detection, hot tub repair — you name it and EZ Pool and Spas can do it. When your service menu is that comprehensive, organization isn't just important, it's critical for success. Luckily, organization is second nature to Ed Zaborski, company president.
"Every inch of the truck was planned to scale on a drawing. We knew where every item would go before the build started," Zaborski says. "We need to be as efficient as possible to hold as many parts as possible to get the job done."
The truck is divided into sections, with each section separated by a wall. Toward the front of the truck you'll find expensive tools and parts, like new pumps and hot tub circuit boards. As you move to the back, you'll find the smaller, cheaper stuff used most frequently — things like O-rings and valve parts, for example. Even then, there's room for a 3,000 watt power inverter to keep cordless devices charged and provide power to corded tools if no power is available on the site. Finally, there's a feature that's sure to make fellow service techs jealous: a truck microwave to help techs get a hot meal while on the road.
"Everything has a place. There is still enough room to put a pallet at the end of the truck when we need to pick up an order from distribution," Zaborski says.
---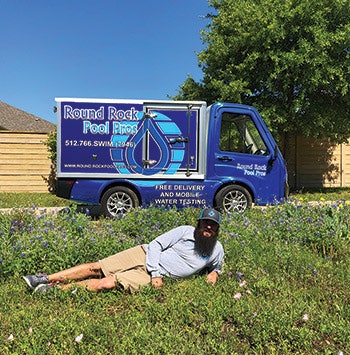 Honorable Mention: Best Model Award
Round Rock Pool Pros (Round Rock, Texas)
According to Justin Pinson, owner of Round Rock Pool Pros, this photo was taken for Instagram to poke fun at the masses of people who take similar springtime pictures among the bluebonnets.
We didn't have that context during contest judging, though, which made this entry both puzzling and hilarious. We're not sure what it is — the beard? The effortless pose among the flowers? Whatever it is, this entry simply has an X-factor we cannot explain and yet thoroughly appreciate.
---
Honorable Mention: Most Educational Vehicle (Tie)
HAYWARD
Many pool pros learn best by getting hands-on, an experience Hayward can provide with its Mobile Technology Vehicles. These vans are equipped with an impressive array of technology, including automation, salt sanitization and lighting products, all of which are fully functional for those who want to get up close and personal. The automation station features an integrated Echo Dot to allow guests to see how they can control pools via voice control. Collapsible workstations allow for easy product access while monitors throughout the interior and exterior can stream videos and product trainings.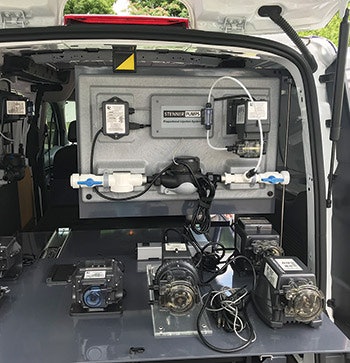 STENNER PUMP COMPANY
The new Stenner Pump Company Training Vehicle was specifically designed for training in Florida. The interior, custom designed by Stenner owner and CEO Tim Ware, is equipped with metering pumps and systems that can be demonstrated for customers or prospects while parked at the customer's facility. The custom design also includes room for parts, literature and the sales representative's luggage.