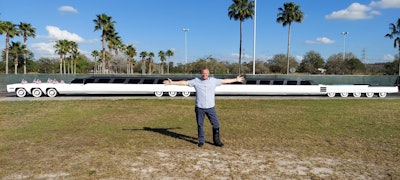 All photos courtesy Michael Manning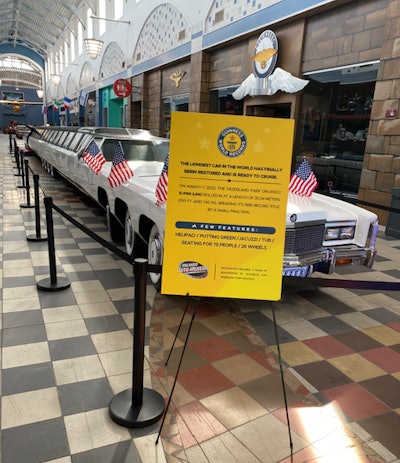 After being out of commission for decades, the longest limo in the world has finally been restored — and it now features a functional swimming pool.
The "American Dream" was built by famed car customizer Jay Ohrberg, the man behind vehicles like KITT from Knight Rider and a number of Batmobiles. In 1986, it rose to fame after recognition by Guinness World Records.
The massive Eldorado originally measured 60 feet, with 26 wheels and V8 engines on both ends. Back in the day, Ohrberg said, "Of all the cars I ever built, this one got the most attention."
Over time, however, the limo faded out of public interest, and maintenance efforts came to a halt. The American Dream sat unused for years until many of its parts rusted beyond repair.
Eventually, it was listed on eBay, where it caught the attention of Michael Manning, owner of an automotive teaching museum in New York. Manning made an offer, and after striking a deal with the seller corporation, he hauled the massive vehicle to New York with dreams of reviving it.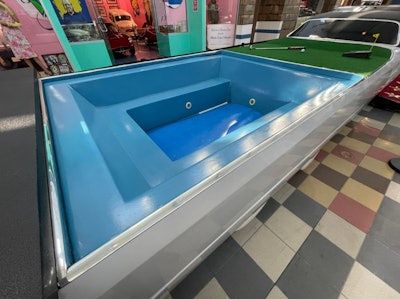 But the stars weren't aligned just yet. "We were going to restore it at my [automotive] school, but there wasn't enough funding to take on the project. It sat behind my building for approximately seven or eight years," says Manning.
By 2019, the American Dream found itself listed for sale online yet again. This time, it captured the interest of Michael Dezer, owner of the Dezerland Park Car Museum and tourist attractions in Orlando. Dezer made an offer, and tapped Manning to help him with the restoration.
Manning shipped the limo to Orlando and headed south to start the project. With help from auto body repair students and fellow auto repair experts Paul Novack and Stephen Wepprecht, the American Dream slowly came back to life.
According to Manning and Dezer, the endeavor ended up being "more of a civil engineering project than an automotive restoration." It took three years and an estimated $250,000, but once done, the American Dream broke its own record at a whopping 100 feet, 1.5 inches. In addition, it now features a mini golf course, pool table, helipad and even a functioning swimming pool.
"The pool is made of fiberglass, it just has a drain at the bottom," explains Manning.
He says he'll miss working on the iconic piece of history. "I feel an attachment to it. Everybody thought that I was out of my mind for wanting to restore it, but I had a vision."
Thanks to years of dedication and hard work, visitors can now see that completed vision on display at the Dezerland Action Park in Orlando.
---
This article first appeared in the May 2022 issue of AQUA Magazine — the top resource for retailers, builders and service pros in the pool and spa industry. Subscriptions to the print magazine are free to all industry professionals. Click here to subscribe.