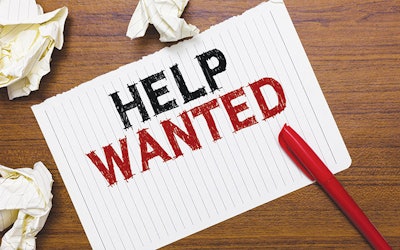 From part-time retail staff to tenured industry veterans, finding new employees is an uphill battle. Today's job market allows candidates to pick and choose — meaning businesses need to get creative when writing help-wanted posts.
Here, we take a look at three help-wanted listings from pool and spa businesses that show how thinking outside the box can help snag more applications.
RELATED: Hiring for Summer: How to Write a Better Job Listing
---
1) BLUE RIBBON POOLS, SOUTH DAYTONA, FLA.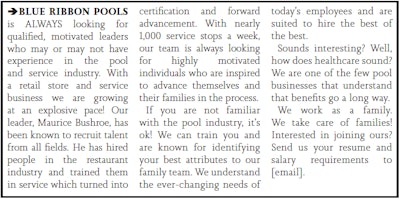 WHY THIS WORKS:
This post preemptively tackles the most common question applicants will have about working at a pool and spa business: What if I don't have any experience? To assuage that concern, Blue Ribbon uses a reassuring tone, cites examples of past success and underscores the system of support a new employee will receive.
"Family" is another important message here, and Blue Ribbon uses it in a powerful way. This post speaks to the company's family-friendly culture (healthcare benefits, etc.) and expresses how working at Blue Ribbon Pools can blossom into a career — one with advancement opportunities and a salary to support a family. For parents and couples planning to have children, those are compelling points.
---
2) DESROCHERS BACKYARD POOLS, NORTHERN ILL.

WHY THIS WORKS:
This post is effective because its brief (ideal for Facebook, where we discovered this post), but still packs a punch. Like the first job posting, it quickly makes clear that anyone who comes on board will be trained. The second paragraph does a great job of concisely detailing the mission statement behind the business — "creating the perfect sanctuary in the customer's backyard" — and suggests the company may be a great match for those looking for a new career path. Who hasn't given thought to dropping their job in favor of a fresh start? It's an appealing suggestion.
---
3) BELL POOL & PATIO, GRETNA, NEB.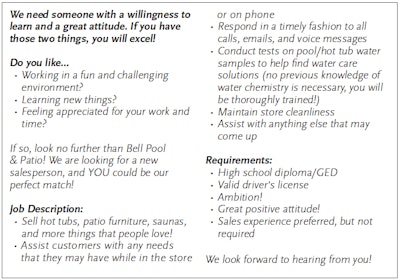 WHY THIS WORKS:
This post doesn't just advertise a job, it sells it. Take a look at the top — there's no mention of what the job is until the third paragraph. Instead, Bell Pool & Patio takes a softer approach by describing their ideal employee (upbeat, ambitious) and, more importantly, what their employees gain by working there.
This post is like a marketing campaign you may run for your store. You wouldn't run a hot tub ad that lists only the water volume, size, shape and color, right? You'd paint a picture by selling the experience of what the hot tub provides. That, in essence, is what this post achieves.
---