When summer rolls around, many pool and spa retailers face the same conundrum: Finding seasonal help. You're looking for a few entry-level employees, high-school students or college kids home for break, who have that rare combination of work ethic, intelligence and professionalism.
The problem? So is every other business in town.
Yet competition is just part of the issue. Millennials are picky with their job opportunities; they're less interested in grunt work and instead want something that can help them stand out on college applications, land internships and generally advance their career goals.
If you're looking for millennial employees, it helps to think like them. With that in mind, we crafted two job listings — an average ad you might see for any summer job and a second listing designed to appeal to younger job applicants. We examine the wording from both the store owner's perspective and the applicant's perspective to see what may pull them in — and what definitely pushes them away. To see them, take a look at the slideshow at the bottom of this page. (Note: Once you've clicked into the slideshow, you can enlarge the image by clicking the grey box in the upper right.)
The takeaways:
Make the experience valuable. Millennials know they have to be competitive to succeed, and that competition begins early. Even summer jobs can be used as valuable leverage when filling out college applications and applying for scholarships and internships. By creating job positions that imply more responsibility — think "retail specialist" versus "summer staff" — you're more likely to attract focused, bright applicants.
Offer perks. We've all heard stories about the perks of working at Google or Facebook, like free food and a shuttle to and from work. While Google-level perks are obviously rare, even the smallest incentives (like soda, coffee and tea in the break room, or donuts on Saturdays) will make it easier to attract job candidates. And perks are a great retention strategy for your longtime employees, too.
Offer flexibility when possible. Maintaining a decent work-life balance is critical to millennials. (In fact, a study by the Heartland Monitor Poll found a healthy work-life balance is more important to millennials than it is to baby boomers.) Of course, store traffic is at its heaviest on weekends, which makes weekend flexibility challenging. If regular weekend hours are an expectation for your company, make it clear in the listing. If it's possible to accommodate weekend plans on an occasional basis (with advance notice, by swapping shifts with other staffers, etc.), note that as well. And be sure to discuss this during the interview process so both you and the applicant are on the same page.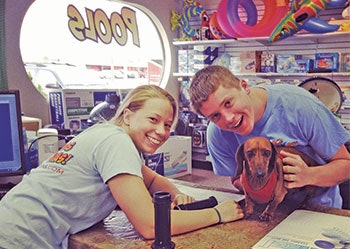 Keep fun in mind. A 2014 study by The Brookings Institution found almost two-thirds of millennials would rather make $40,000 at a job they love than make $100,000 at a job they find boring. (Sure, those values refer to salaried positions, but the principle still rings true for your summer staffers.) And according to a study by PGI, 88 percent of millennials want to work in a "fun and social" environment. So how do you make your workplace more fun?
Here's just two ideas:
1. While creating weekly tip videos to distribute on social media, Brandon Windsor of Fox Pools & Spas (Hendersonville, Tenn.) got the rest of the team involved in filming. Each video now begins with a funny "sketch" featuring different staff members, followed by a pool care tip. The videos are a hit with customers and a blast to make, too.
2. Corinne Kraft, owner of Valley Pool & Spa and RB Control Systems (Pittsburgh, Pa.), implements sales contests for her staff. Each week, she picks an item or two and whoever sells the most will receive movie tickets, an afternoon off, a gift card, etc.
Address their future. As a retailer in the pool industry, you have a valuable advantage in the hiring game: the ability to bring back great staffers. Be sure to emphasize that fact in your job listing and, at the end of the summer, have a discussion with each staff member about his or her plans for the future. If possible, create extra incentive for them to return in the form of a raise or a promotion. If all goes well, you'll not only have stellar help for the summer, but for the coming years, too.